Inside the American Community Survey - A Non-Planner's View
The apartment where Ishmael Sanchez lives was randomly selected to participate in the U.S. Census Bureau's American Community Survey. He's not a planner or a demographer, and doesn't use or particularly care about Census data. But, because he was required by law to do so, he responded to the survey.

I recently received a postcard from the U.S. Census Bureau informing me that I would soon be mailed a copy of the "American Community Survey". The postcard also informed that I was required by law to respond.
The American Community Survey, I found out, is a data-collection process that is part of the U.S. Census. It collects data on a rolling basis, unlike the main Census, which is only conducted once every ten years. I'm not a planner or a demographer and don't really use any census data in my job or in my daily life. The following is a summary of my experience filling out the survey.
Two days after my first correspondence from the Census Bureau, I received a thick envelope containing a dense 28-page booklet, a prepaid envelope, and a note from the Census Bureau reminding me that I was required by law to complete the survey. Various pamphlets were also included, describing what the survey is and what it does, along with help documents explaining how to complete the survey and FAQ's about the survey itself. After sorting through all the documents I placed them in my "to do" pile. Three days later I received another postcard from the Census Bureau saying that they just recently sent the "American Community Survey" and, once again, reminding me that I was required by law to respond to the survey. My prompt response, they said, would be beneficial.
I opened up the booklet, read the directions and dutifully began filling out the survey. The directions stated that it takes, on average, approximately 40 minutes to complete. I quickly answered the basic questions: age, sex, martial status and how many people reside at my residence. These were pretty straightforward questions, and
Next I was asked whether I am Spanish, Hispanic or Latino. I am, so I mark an X next to the subchoice labeled "Yes, Mexican, Mexican American, or Chicano". However, the next question was a bit perplexing. It asked "What is this person's race?" -- a question I thought I had just answered. Above this question was a blurb stating that Spanish, Hispanic and Latino were not considered races by the survey! Seeing that my group was not an option, I was left with the following choices: White, Black or African American, American Indian or Alaska Native, Asian Indian, Chinese, Filipino, Japanese, Korean, Vietnamese, other Asian (print race), Native Hawaiian, Guamanian or Chamorro, Samoan, Pacific Islander (print race) or some other race (print race). I picked "other" and entered "Mexican American".
The set of questions that followed were much more straightforward: place of birth, citizenship, school enrollment, educational attainment, ethnic origin, languages spoken, residence one year ago and children born in the past twelve months.
The subsequent series of questions was focused on my housing, and I had to answer questions pertaining to the building I live in: the number of units in the structure, the year it was built, the date I moved in, the building's acreage, whether any businesses or medical offices are located on the property, and the number of rooms and bedrooms. The last couple questions didn't quite apply to me, as I live in a studio apartment.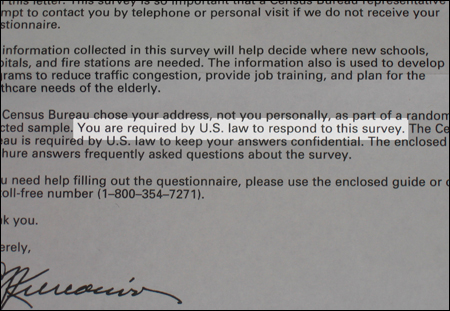 The questions then got more detailed and asked whether I had piped water, what kitchen appliances were available (sink, stove and refrigerator), what telephone service I used to make and receive calls, what fuel/s was/were used in the unit. Other questions asked about the cost of utilities and which utilities were used by the building, whether I owned or rented the building, cost of insurance, rent cost, taxes on the property, real estate taxes and my estimated value of the building overall.
Once I completed that section I was asked to fill out information about the other people residing with me. I live alone so I was able to skip about a third of the survey.
The next set of questions seemed concerned with disability, work and labor. I was asked if I had any long-lasting disabilities, if I was a veteran and when I served. I found this line of questioning interesting because it actually applied to me; I did serve on active duty in the military and I do have a long lasting disability.
Next, I had to answer whether I was currently working, and how many weeks and hours I worked, on average, in the past twelve months, and what type of industry I was in. The survey also asked about the location of my current employment and how I got to work on average (car, public transit, walk, etc.), and my income (I had to cite various sources: salary and disability income, accrued interest and investments) and my overall income during the past twelve months.
After I completed all of the sections that applied to me (approximately 12 of the 28 pages) I closed the booklet and placed it in the postage-paid envelope according to the directions stated on the survey.
Aside from the confusing race and ethnic questions, the annoying reminders, and some intrusive questions, my experience with the American Community Survey was fairly painless. I just hope that all the information I provided helps out.
---
Ishmael Sanchez is a web developer for Urban Insight Inc., a Los Angeles-based internet consulting firm. He is a native of Madison, Wisconsin. He really enjoys living and working in Los Angeles.