Seattle activist Jim Diers takes his expertise on cultivating neighbor power 'Down Under'.
---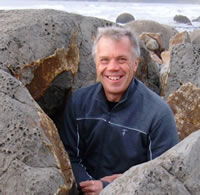 Participatory planning and development has been at the heart of Jim Diers work for the past 30 years. The first director of the City of Seattle's Department of Neighborhoods (he served in this capacity for 14 years), Diers has strived throughout his career to "get people more involved with their communities and with decisions that affect their lives." Diers was recently able to share his experiences and expertise with audiences in Australia and New Zealand.
What brought you 'down under' this winter [summer in the U. S.]? Have you traveled in this region before?
I first visited Australia in December of 2006, because of invitations that came from two different sources – which led to my traveling to Australia and New Zealand in July and August of this year.
One invitation related to my work as an adjunct faculty member with The Asset-Based Community Development Institute at Northwestern University. Jody Kretzmann, the co-director of the ABCD Institute, has done a great deal of work in Australia helping agencies shift from a top-down approach focused on needs, to a bottoms-up approach empowering communities to recognize and build on their own capacity. Peter Kenyon, director of Australia's Bank of IDEAS, and Judith Geggie, a professor at The University of Newcastle, Australia, are leading proponents of a more asset-based and participatory approach to development in Australia. They invited Jody, Dr. Mary Nelson [of Bethel New Life] and me to conduct a series of train-the-trainer workshops in Sydney and Melbourne.
The other set of invitations came as a result of my work as the founding director of Seattle's Department of Neighborhoods. Linda Campbell, a manager with Shellharbour City Council, NSW, had visited Seattle to learn from our experience. Not only has Linda worked to replicate some of Seattle's programs in Shellharbour, but she urged me to write a book to help other cities.
Linda reviewed my book, Neighbor Power: Building Community the Seattle Way(University of Washington Press), for Australia's Community Management magazine. Larry Galbraith, aide to Lord Mayor of Sydney Clover Moore MP, read my book, and both he and Linda arranged for me to speak in their respective cities. John Hennessy, with the Municipal Association of Victoria, also read the book and invited me to keynote a national conference on neighborhood planning.

What surprised you about your visit?
I was overwhelmed by the level of interest! Both of the ABCD workshops were filled beyond capacity by participants from throughout Australia, New Zealand, and even South Africa; there was so much demand, we had to add additional workshops. Our conference sessions also had to be repeated in order to accommodate the hundreds of people who wanted to participate, and the presentations in Shellharbour and Sydney's Town Hall were also well attended by elected officials, managers, and community activists.
What do you think drove this strong positive response to your work?
There are several factors that can account for the large turnouts. For one, the events built on the innovative community development work that has been going on for many years in New Zealand and Australia. There is also growing awareness by local governments of the need to decentralize in a climate of amalgamation and to partner with the community at a time when federal and state governments are devolving more responsibilities than money to the local level. The rationale for amalgamation, I would guess, is to create a scale that enables better coordination of services and increased efficiencies. One effect, however, is that residents are feeling further removed from their government and losing their identity of place. That's one reason for the increased interest in neighborhood-based planning.
I think that Australian and New Zealand cities are facing some of the same pressures as cities in the US. Social issues that used to be the responsibility of the state and federal governments are becoming more complex, and the funding for such issues is not keeping pace. The responsibility tends to fall on local government, because it is at the local level that citizens are feeling the impacts. And, when it comes to key issues like gangs, drugs, prostitution, homelessness, etc., there is only so much that government can do. There is a huge role for communities in addressing these issues, and that is why I believe there is an increased interest in asset-based community development in the region. ABCD is a way of tapping formerly underutilized resources in order to accomplish what government cannot do on its own.
There is also an intense interest in issues of environmental sustainability, due to climate change. When I left Seattle, we had just experienced the wettest month in the city's history. I arrived in Australia to learn that it was in its eighth year of drought. Flying from Melbourne to Sydney, I saw nothing but the smoke of bush fires. I was told that there are children in Australia who have never seen rain.
What did you appreciate?
I heard wonderful stories of community building activities throughout Australia and New Zealand, but I was especially excited to learn about the Municipal Association of Victoria's Lighthouse Program, which is promoting bottom-up planning throughout the state. The model came from the rural community of Golden Plains where farmers had been picketing City Hall to protest inadequate services. City officials had very few resources, so they turned to the only untapped resource they could find – their community members. In 2000, they involved one quarter of the municipality's 16,000 residents in the creation of 23 community plans. The plans resulted in the identification of 120 priorities; 600 citizens volunteered to manage the implementation of these recommendations. Thanks to broad ownership, the community and government together found ways to implement 96% of the plans' priorities. The Golden Plains Council received the highest citizen satisfaction rating of any local government in Victoria.
One idea that I would love to borrow from the City of Sydney was the way in which they dealt with a property owner who had chopped down trees in order to improve his view of the harbor. The government responded by installing a large banner where the trees had stood and, now, that banner is all that the property owner and passing cars can see. The banner reads: "Trees chopped for view. SHAME!"
I was truly inspired by the large numbers of people who care so passionately about their communities.

What outcomes of this are you most excited about?
The most exciting outcome for me is that I got invited back. The City of Sydney and the City of Port Phillip allocated money to establish their own Neighbourhood Matching Funds patterned after Seattle's, and they asked for my help in developing the programs. The Municipal Association of Victoria asked me to come to their Annual Councilors Retreat to help develop their programs of neighborhood planning. And Peter Kenyon arranged for another dozen invitations from municipalities and organizations in Tasmania, Western Australia and New Zealand, so I spent nearly one month throughout the region during the summer of 2007.

What was challenging about your visit?
Trying to understand the game of cricket. Seriously, though, I was so impressed with what seemed to me to be a genuine commitment to community on the part of so many of the local elected officials I met. The challenge will be in getting them to go beyond community service to community empowerment. Although it is laudable that so many municipalities are implementing programs of neighborhood planning, for example, most of the planning is not sufficiently decentralized or community-driven. Some local governments are doing a great job of using surveys, focus groups, and task forces to solicit community input, and they are also working hard to implement the resulting plans. But, that isn't enough. Neighborhood planning can be a wonderful tool for gaining broad and inclusive community engagement, for building a stronger sense of community, and for tapping local knowledge, skills, and other resources in both planning and implementation, but those benefits will only be realized when communities are empowered to develop their own plans. Getting local officials to take that leap of faith is a major challenge everywhere but I think that it will be less challenging in Australia and New Zealand than in most other places.

Any plans to return any time soon?

I have spent most of this summer giving talks in six different countries, so I need to focus on my work in Seattle for awhile. I do hope to return to Australia and New Zealand late next year. I feel fortunate that my new friends in the cities I have visited have asked me to return and that I also have invitations to visit some of the many places where I have not yet been.

Jim Diers lectures at University of Washington and around the world, in support of building stronger communities and more democratic governments. Jim can be reached via his website at www.neighborpower.org.
Mark Tirpak works as a planner and urban designer in Sydney, Australia. He completed a Master of Science in Community and Regional Planning (MSCRP) from The University of Texas at Austin, School of Architecture. Mark can be reached via email at [email protected]
Green Alleys: A New Paradigm for Stormwater Management
Rather than shuttling stormwater away from the city and into the ocean as quickly as possible, Los Angeles is now—slowly—moving toward a 'city-as-sponge' approach that would capture and reclaim more water to recharge crucial reservoirs.
Property Appraisal Caps Unlikely to Pass in Texas
Critics of a proposal to limit property value increases to reduce homeowners' property tax burden say the measure would destabilize the housing market and cause cities to raise other taxes to compensate.
This six-course series explores essential urban design concepts using open source software and equips planners with the tools they need to participate fully in the urban design process.
Learn the tools for implementing Universal Design in planning regulations.
View More