With Americans living in ever larger homes, the growth of the self storage industry demonstrates the irony of an American solution to an American problem -- overabundance.
---

An episode of the television sitcom, Yes, Dear, deals in a new way with a joke that has been told many times over-the husband and wife differing on what stuff should be thrown out of the house. The husband, Greg, agrees to get rid of his stuff but then takes them all to a self-storage place that he rents, and then converts that self-storage unit into his private den. He then finds out that the adjacent storage units are also being used as dens by other guys whose wives think that they have gotten rid of the junk. (Yes, summer is a great time to catch up on such reruns!)
Many a true word spoken in jest. The episode neatly captures the growing practice of renting storage spaces because of a lack of space in the regular dwellings. The episode also reveals the irony, which is what I want to discuss here: Greg's family lives in a reasonably large home-he is an executive in the movie industry-with a pool house too. Despite the spaciousness of their home, the couple do not have place for the stuff that Greg likes, which is why he rents the storage facility. So, what is the irony? Well, storage facilities have increased dramatically at the same time that the average new home size has increased.
The chart below shows that the size of the median new home in 2005 is significantly larger than one in 1970-it has almost doubled!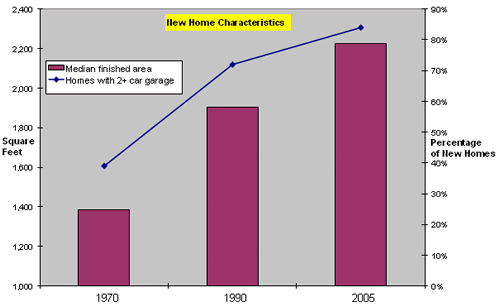 At the same time, these homes have larger garage spaces too: in 1970, less than forty percent of the new homes had a garage that could accommodate two or more cars. Thirty-five years later, 84 percent of the new homes had garages that were big enough to park two or more cars. Of course, as many of us have observed, but for which data don't exist, most homeowners seem to fill their garages with refrigerators, freezers, bicycles, treadmills, etc., and then park their cars on the driveways or by the curb. When things have to be put away, households find that they have more stuff for which they need additional space, which is where the self-storage business comes in.
Self-storage is truly an American solution to an American problem. What do I mean here? Well, a few weeks after I came to this country for graduate studies, it was nearing Thanksgiving and the television ad for Alka-Seltzer that I watched then is what I refer to as American solutions to American problems. In this ad, the audio commentary and the pictures presented all the wonderful foods that the viewer would end up eating at Thanksgiving, which then resulted in stomach aches and heartburn. And, presto, Alka-Seltzer to the rescue! My reflexive thought was simple: if the problems came from overeating, then why not simply advise the viewer to eat less? Of course, as I have come to realize, to consume less is not American. (Yes, I, too, am an American!) Instead, the American way is to consume more, and then when problems develop savvy entrepreneurs provide solutions to facilitate further consumption.
Storage facilities are the Alka-Seltzers addressing the over-consumption that households like Greg's indulge in. Thus, even as new home size has increased, the storage industry has seen an even faster growth as can be noted in the following chart from the Self Storage Association.
Cumulative Primary Self Storage Facilities by Year
Before 1985 through 2006*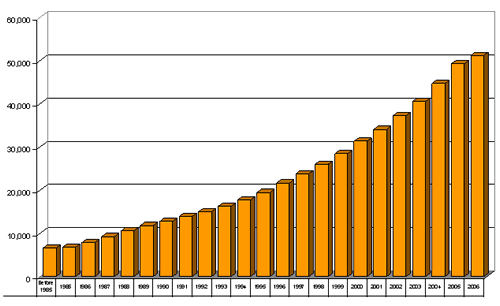 From this chart, which is about the number of storage facilities, we might speculate that there was a corresponding growth in the storage space also. However, it appears that the growth in storage space was even more rapid: the Association notes in the industry fact sheet that "it took the self storage industry more than 25 years to build its first billion square feet of space; it added the second billion square feet in just 8 years (1998-2005)." All right, more space for the Gregs!
I do wonder how long such consumption can go on. Can I dream that the problems in the housing market will somehow trigger an overall reduction in the size of new homes? However, will a decrease in home size then contribute to further growth in the self-storage industry? Tough questions, indeed. But then, if I do get depressed thinking about these issues, there is always another American solution: Prozac!
Sriram Khé is an Associate Professor of Geography at Western Oregon University. Prior to this, he taught at California State University-Bakersfield, and was an Associate Planner with the Kern Council of Governments.
The Right to Mobility
As we consider how to decarbonize transportation, preserving mobility, especially for lower- and middle-income people, must be a priority.
This six-course series explores essential urban design concepts using open source software and equips planners with the tools they need to participate fully in the urban design process.
Learn the tools for implementing Universal Design in planning regulations.
View More