Building A Home Everyone Can Visit
While multi-family housing is increasingly built with accessibility in mind, single-family homes have largely escaped any accessibility requirements. But with the boomer generation ready for retirement, the argument for basic accessibility requirements is stronger than ever.

Does housing in our cities and towns accommodate people with disabilities? That's at the heart of an important debate occurring around the country. While for some years multi-family housing has been subject to accessibility requirements, advocates are now pushing local governments to require developers of single-family housing to also incorporate accessible features.
Here's how Jordana Maisel, Director of Outreach and Policy Studies at the University of Buffalo's Center for Inclusive Design and Environmental Access describes the situation:
"The lack of accessible housing most directly impacts people with mobility impairments and the elderly. This includes many with disabling injuries, a number that is increasing dramatically with tens of thousands of wounded Iraq war veterans. But it can also include just about anyone who, at one time or another, has broken a leg, a hip, or had some accident limiting mobility. The design of the house and its entryway can pose serious obstacles, and also hinder many individuals' ability to remain actively engaged and participate in the community."
Maisel says that the surge in baby boomers and the growing interest in "aging in place" makes this an issue all of our communities will be grappling with.
Some statistics on aging back her concern:
Since 1900, the percentage of Americans 65 years and older has more than tripled (4.1 percent in 1900 to 12.4 percent in 2000), with the actual number of elderly citizens increasing eleven fold (from 3.1 million to 35.0 million) over the same period.
Projections based on U.S. Census Bureau data indicate that the number of persons age 65 and older will grow to almost 40 million by the year 2010 and 70 million by 2030.
Developers have often led the opposition to mandatory requirements, citing increased costs and lack of market demand. According to the National Association of Homebuilders, "visitability features are costly and impractical in many cases mandatory laws impose design and construction requirements beyond the scope and purpose of building codes unfairly restrict consumer choice, and significantly reduce housing affordability."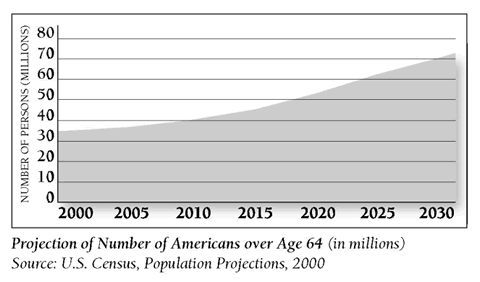 To overcome resistance, advocates for more accessible housing -- such as Eleanor Smith, Director of the non-profit advocacy group "Concrete Change" -- have increasingly focused on what they view as the three most essential features needed to ensure what they have come to call "visitable" housing: a no-step entry; wider interior doors and hallways; and at least a half-bathroom on the main floor.
Smith cites increased costs of under $1,000 per unit for incorporating these three key features. She also points to the dramatically more expensive alternative of retrofitting units not built with these items: a $3,300 average cost for retrofitting a front entry to eliminate the need for steps, and some $700 to widen an existing interior door and doorway.
In addition, Smith stresses that a key benefit of building visitable features into new housing is that more people will be able to age in place, lessening the demand for more expensive housing alternatives, such as placement in nursing homes. She notes that the average cost of nursing home care is $62,000 per year. The bottom line is that providing basic accessibility in single-family housing could yield enormous financial savings.
But do these benefits warrant putting mandates on homebuilders, and passing on higher costs to homebuyers not interested in accessible design features?
For Wayne Lemmon, a real estate economist who works for a regional homebuilder in the New York City metro area, the answer is "no." According to Lemmon, the issue is not even about costs. As he notes, "the resistance to fixed allocations of accessible units is not from the nominal additional costs that most of these enhancements incur." Instead, as Lemmon puts it:
"There are two main issues that concern builders. One is the no-step entry path. In areas of the country where ground slopes and varied topography are more common, this becomes even more difficult to achieve. The other main issue is simply this: virtually zero demand for accessible units has yet to appear in many homebuilders' sales offices. For all of the people who may appear in wheelchairs at public hearings in support of such measures, few are actually showing up on the sales floor."
One alternative that Lemmon suggests is requiring the availability of accessibility enhancements on request, instead of requiring the actual construction of accessibility enhanced units. As he explains, "this would mean that structural, finishing, and hardware options would be pre-designed and ready to implement, but not actually built unless requested by the purchaser." Lemmon adds that "this would prevent the builder from being saddled with problematic inventory, but still be able to respond to needs when they actually appear."
This is the approach being taken in California. As of January 2006, California law requires all residential homebuilders to provide a "checklist" of universal accessibility features to potential home buyers. This requirement applies to single-family, duplex, townhouse, condominium, and other dwellings. The builder is required to check off whether each of some one hundred possible exterior and interior features (e.g., no-step entry; wide doorways; accessible light switches and appliances) is either "standard," "limited," "optional," or "not available" on the house.
Another approach is voluntary homebuilder certification, comparable in some ways to the Energy Star rating system. The EasyLiving Home program (established in Georgia in 2002 and expanded to several other states) is perhaps the principal example of a certification program designed to encourage builders of single-family homes and townhomes to incorporate accessibility features. Homes that incorporate key accessibility features receive a seal of approval from the Easy Living Home Coalition.
But why not just require basic accessibility, such as no-step entrances and wider doorways? It seems off the mark to argue that it's inappropriate to place this kind of requirement on homebuilders. After all, there are many other components of housing that municipalities typically require, from minimum square footage and setbacks to compliance with a range of detailed building code requirements (often dealing with dozens of items, from door, window, and stairway configuration, to the appropriate use of various building materials).
Indeed, I think most of us would concur that more and more communities will be heading in the direction of requiring accessible housing, until it's the norm that we take for granted. But for now it will take much more persistent lobbying by advocates of accessible housing, including planners and planning commissioners, as well as an understanding by homebuyers that incorporating accessible features may well be in their own self-interest.
Wayne Senville is publisher and editor of the Planning Commissioners Journal. He served as a member of the Burlington, Vermont, Planning Commission from 1990-1999, including three years' service as Chair. Senville was also honored by the Northern New England Chapter of the American Planning Association, and the Vermont Planners Association, as Citizen Planner of the Year in 1999. Between 1988 and 1991, Senville was Director of Local & Regional Planning Assistance for the Vermont Dept. of Housing & Community Affairs.
Links:
An interview with Jordana Maisel can be found on the PCJ Plus blog.
Ms. Maisel's article on visitability is available for ordering and download from the Planning Commissioners Journal.
Read Wayne Lemmon's response to Maisel's article, offering a homebuilders perspective, the PCJ Plus blog.
Concrete Change - www.concretechange.org
Topics