Planopedia
Clear, accessible definitions for common urban planning terms.
---
What Is Multi-Family Housing?
Often discussed in contrast with single-family zoning, multi-family housing includes buildings and complexes that house more than one household in the same property.
---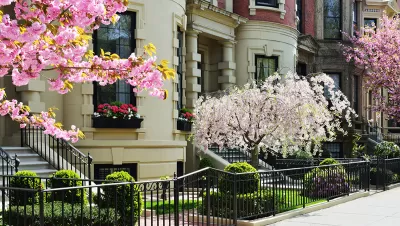 Multi-family housing refers to housing divided into two or more independent units and includes apartment buildings, condominiums, duplexes/triplexes/fourplexes, and other multi-unit complexes such as bungalow courts. In most U.S. cities, zoning regulations separate multi-family residential housing from single-family neighborhoods and limit the areas where multi-family housing can be built.
According to the U.S. Census Bureau, multi-family residential "includes all buildings containing at least two housing units which are adjacent vertically or horizontally.  If built side-by-side, they (1) do not have a wall that extends from ground to roof, or (2) share a heating system, or (3) have interstructural public utilities such as water supply/sewage disposal."
More recently, multi-family housing has been at the center of discussions about housing affordability, with supporters claiming that relaxing restrictions on multi-family units and other housing types that increase density, such as Accessory Dwelling Units (ADUs), would create more available housing and ease the housing crisis. This practice, referred to as upzoning, is designed to alleviate pressure on tight housing markets and create more housing units in desirable neighborhoods close to employment centers and transit. Increased density can take many forms, such as raising height limits in traditionally low-rise areas, allowing the construction of backyard units, or permitting the subdivision of formerly single-family homes.
Opponents of increased density argue that multi-family units can destroy "neighborhood character" by changing the aesthetics of an area, reducing amenities such as green space and privacy, and increasing traffic and pressure on local parking. Supporters of upzoning argue that, with smart planning, neighborhoods can both increase the number of available units and maintain their historic character and livability. Using appropriate building designs, paying close attention to vehicular access elements, and adding quality streetscape to developments can mitigate any perceived negative impacts and keep neighborhoods livable and attractive while adding more housing.
More planning terms