Telling the Planning Story
During my term of office as president of the American Planning Association, I made my theme "telling the planning story." My point then – and today – is that we need to do a better job of explaining to our many publics what it is that planners do and why it makes a difference.
During my term of office as president of the American Planning Association, I made my theme "telling the planning story." My point then – and today – is that we need to do a better job of explaining to our many publics what it is that planners do and why it makes a difference.
In some ways we have made progress. APA itself has a more proactive public relations effort than it had a decade ago. APA's publication of books like Gene Bunnell's Making Places Special has added richness and depth to the general interest literature on our field.
We have also benefited from other efforts. Reading files from prospective students for the College of Architecture and Planning at Ball State, I am frequently reminded of what SimCity has done to build awareness of larger scale urban issues among game-oriented young people. Planetizen has developed a user-friendly resource that brings information about planning and planning issues to many people outside the planning profession. At a smaller scale, The Planning Commissioners Journal and its website have done the same thing.
Local planning issues also appear to draw more attention than they once did – in large part because of the widespread concern over urban sprawl that began to attract journalistic attention in the mid 1990s. Twenty years ago, planning stories were often relegated to the "local news" page, often below the fold. Today, stories about sprawl – and citizen reactions to projects that they believe represent the bad side of sprawl – often make the front page. Unfortunately, such stories often focus on the problems, or even the symptoms of problems, and not on planning solutions.
Although far more people today recognize planning issues and actually seem to be interested in them than was true a decade ago, I do not think that we have achieved a comparable increase in the knowledge of local plans and planning solutions to real-world problems. I recently sat and watched a small-town plan commission in Indiana go carefully and diligently through three zoning cases, carefully considering the facts, citizen concerns, the text of the ordinance and staff recommendations – but not once mentioning their adopted comprehensive plan. Although most plan commissions may do better than that, far too few citizens who are interested in planning issues know much about planning in their own communities.
As I reflect again on this subject, I recall a visit to Shanghai several years ago. There I found the Shanghai Urban Planning Education Hall, a four-story, freestanding building devoted entirely to presenting past and future plans for the city. A large-scale model of central Shanghai dominated one section of the museum. Another section had excellent graphics, explaining the operation of the public water and sewer systems. Other exhibits told the history of planning in Shanghai and laid out future plans for the city. There were many tourists in the museum, but there also appeared to be many local people – certainly a majority of those visiting when we were there were Chinese.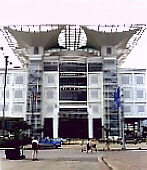 I was not impressed with the planning in Shanghai in general, but I was very much impressed with their efforts to "tell the planning story." When I take a reflective break from writing, teaching and working with local communities on planning issues, it crosses my mind that we could do something similar but perhaps more simply. I visit several dozen city halls, county courthouses and other public buildings every year. Many of them have grand lobbies and other public spaces that are largely empty or that are decorated with mediocre portraits of previous office holders. Why do we not mount rotating planning displays for those spaces? When my mother was leading the riverfront restoration effort in my hometown, Pueblo, Colorado, we stopped at city hall on one of my trips home to see a model of the project. What was interesting was that we were not the only ones there on a quiet Saturday afternoon. There was another family there. A 30-something individual wearing blue jeans and talking like someone who lived in the community but knew little about planning in general was explaining the model with pride to his visiting mother (or aunt?). I found that more exciting than seeing the model. (for information on the Historic Arkansas River Project, see http://www.puebloharp.com
Years ago, a widely traveled family friend offered us some advice before we left on a family trip to Europe. "If you are asking directions, never show a native a map – they will get so interested in the map that you will never get an answer to your question." Although he may have over-stated his case a bit, I have found a lot of truth in that statement – and it is a truth that we could use to our benefit. Let's get those future land use and future transportation maps up on the walls – not just in the meeting rooms, but in the public spaces where lots of people can see them. People will be interested. Let's extract key sections and illustrations from our complex on-line documents and get them out in public, so people can talk about them.
Although the often empty lobbies of our major public buildings offer obvious opportunities for such displays, we need not be limited to that. Let's ask to be put on the rotation schedule for displays in the malls. Let's consider focused forms of plans to post in neighborhood community centers and high schools.
Posting plans on the web is great for people who know that they exist and go looking for them. It is certainly a more effective means of distribution than selling copies of the plan from the planning office, as so many communities used to do. But both of those distribution methods are ones that most effectively reach people who are already interested in the topic.
Our larger, and, in many ways more important, challenge is to tell the planning story to the rest of the people. Of course it would be fun to have our own planning museums, like the one in Shanghai, but we do not need separate buildings, big budgets or high-tech solutions to expose our plans to the public. We just need to be practical and use the resources that we have.