As a note of introduction, I am a Master's student in Community Planning at the University of Maryland. I'm happy to be part of this exciting project. With a series of new urban libraries opening in U.S. cities recent years, its been said we're living through an 'urban library renaissance.' Whether it is the enthusiastic reception of the new Seattle library, or lending and attendance up in urban Canadian libraries, there seems to be an increased awareness of the critical role libraries play, even in the information age.However, no such renaissance has happened here in Washington, D.C. -- at least not yet. Here the former mayor's plans to build a new library were stalled by what the Washington Post has termed the 'Mies Mystique.'
---
As a note of introduction, I am a Master's student in Community Planning at the University of Maryland. I'm happy to be part of this exciting project.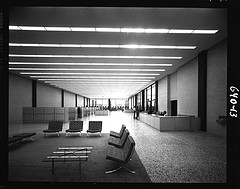 With a series of new urban libraries opening in U.S. cities recent years, its been said we're living through an 'urban library renaissance.' Whether it is the enthusiastic reception of the new Seattle library, or lending and attendance up in urban Canadian libraries, there seems to be an increased awareness of the critical role libraries play, even in the information age.
However, no such renaissance has happened here in Washington, D.C. -- at least not yet. Here the former mayor's plans to build a new library were stalled by what the Washington Post has termed the 'Mies Mystique.'
First, some background. Former D.C. Mayor Anthony Williams was an ardent supporter of constructing a new downtown library to replace the system's downtown Martin Luther King Memorial Library, a worn but stately modern structure designed by Mies van der Rohe. Nobody was surprised with a Williams-appointed Blue Ribbon Task Force proposed a new central library several blocks away (on part of the site of the city's old convention center) in their 382-page report issued last November. However, the plan ran afoul with the city's historic preservationists, intent on preserving the only building in Washington designed by architect Mies van der Rohe, and leery of the mayor's plans which call for leasing the structure for offices. The bill to fund a new library didn't make it past committee hearings before the D.C. Council last year and the new mayor Adrian Fenty has been quiet thus far about his plans for the library, which serves as a busy community hub despite chronic heating and cooling problems, leaking pipes, and limited funds. Most recently, the broad coalition of supporters of saving the Mies library have created an online petition.
Mies aside, the library faces bigger problems than deciding on a downtown strategy. The sprawling system operates 27 branches ranging in size from full-sized libraries to a book kiosk, however with years of deferred maintenance the system is badly in need of facilities investment. The library closed 4 of its full-service branches for reconstruction in 2004, but scrapped those plans after the appointment of the Mayor's task force -- leaving the neighborhoods stranded without library service for over two years. Today only one of the four closed locations has a temporary facility installed while the other are served by bookmobiles. Since the appointment of Ginnie Cooper as Chief Librarian last summer, the branch reconstruction program seems to have been accelerated, Sunday hours have been introduced at many location, and the library has introduced free wireless internet.
However, the biggest decision -- what to do downtown -- lingers unresolved.
The image shows the lobby of the Martin Luther King Jr. Memorial Library shortly after it opened in 1972. Photo courtesy DCPL Collection, DC Community Archives, Washingtoniana Division, DC Public Library.
---
The Right to Mobility
As we consider how to decarbonize transportation, preserving mobility, especially for lower- and middle-income people, must be a priority.
Early Sharrow Booster: 'I Was Wrong'
The lane marking was meant to raise awareness and instill shared respect among drivers and cyclists. But their inefficiency has led supporters to denounce sharrows, pushing instead for more robust bike infrastructure that truly protects riders.
This six-course series explores essential urban design concepts using open source software and equips planners with the tools they need to participate fully in the urban design process.
Learn the tools for implementing Universal Design in planning regulations.
View More