The Daunting Task Of Airport Planning
Airports connect us to the world, generate enormous economic benefits, and provide an important first impression of a city. It's high time the airports shed their bad rap and are planned not as nuisances, but assets.

Rarely do you open your morning paper and read the headline, "New airport opens", unless you happen to live in Southeast Asia where airports seem to reproduce like bunnies. The fact is that in the United States over the past 30 years less than five new airports have opened -- Washington Dulles, Denver, and Austin are the only major ones.
I wish I could say that building a new runway or opening a new terminal was slightly easier, but even these feats take more than a decade to complete and keep numerous attorneys employed along the way. The third runway project in Seattle will, at completion, have taken close to 15 years.
A few places -- Las Vegas, Chicago, San Diego, and everyone's favorite destination, St. George, Utah -- are playing with the idea of building brand new facilities in the distant future (God bless them). But for most of us, the airports we use today are likely going to be around for a long, long time.
The sad fact is that airports have a perception of being undesirable. They are loud, create traffic, emit air pollution, bring in-laws that you never want to see, and are generally a hassle to deal with on any given day.
Yet the importance of airports has never been greater. The number of passengers that are transported by air continues to increase year after year, even after the hiccup in 2001. As the cost of air travel continues to decline, (largely thanks to the low-cost carriers like JetBlue and Southwest) the ever more geographically nimble consumer is flying more and more. Most agree that the retiring Baby Boomers, with plenty of disposable income for travel, will also lead to large increases in the number of passengers.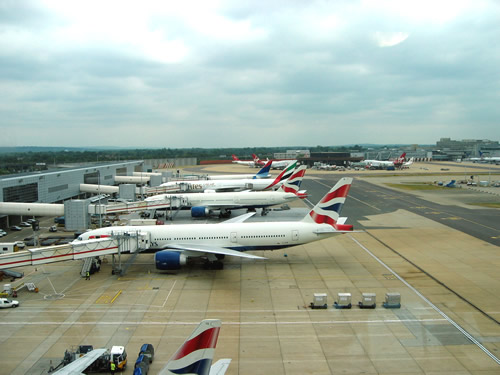 In addition, airports provide an unparalleled amount of regional economic benefit -- particularly with trade and tourism. Even in the Internet age, many businesses demand good air connections for passengers and cargo. And while cities often seek to spur their local economy with new hotels, cruise ships, conventions, or theme parks -- they mean little without having adequate airport infrastructure to support them.
So rather than being viewed as "a necessary evil" by both residents and the planning profession, airports across the United States should be viewed as "a necessary good". Particularly in light of the developments in technology and operations that allow airports to be quieter, cleaner and greener -- communities should think of airports as a valuable piece of public infrastructure that deserves special attention. After all, airports can be viewed as the welcome mat to a city.
How can airports, planners and communities work together to create airports that people can be proud of? Here are some first steps to making airports better assets.
Make Plans To Accommodate Growth
With passenger traffic expected to increase substantially, airports are not going away anytime soon. And working collaboratively with stakeholders to create plans and strategies for dealing with projected air traffic is vital.
Every commercial airport in the United States has a passenger forecast that is done by the FAA on an annual basis, looking out about 20 years. The Terminal Area Forecast, as it is called, can be accessed on the FAA's website at www.faa.gov . The passenger forecast is a good bench mark to understand what your airport may look like in the future.
Evaluate All Your Options
There are very, very few new airports built in the United States for a simple reason -- there are very few places to build them. Because of important factors such as market accessibility and environmental concerns, the chance of building a new facility on a greenfield site is pretty remote.
But while building a brand new airport may not be in the cards, other options exist in many communities. Military base conversions offer a few limited possibilities. For example, planners in the Los Angeles region are trying to actively develop no less than three former military bases (Norton, George and March) into commercial service airports.
Take Your Time
Airport planning is a difficult endeavor. Projects take a long, long time to complete and are riddled with litigation and politics.
With no new airports coming online anytime soon, we are being forced into handling record passenger loads with the airports that were mostly designed and built in the 1930's and 1940's. For planners this means two things -- the chance of an existing airport closing is highly unlikely, and if a major capital improvement project is initiated, it better be done right.
While most airport improvement projects are highly contentious, by fostering a comprehensive and inclusive planning process, successful compromises can be reached that will result in the best project for all involved moving forward.
Show Me The Money
Understanding airport finance is key for anyone working on airport-related projects. Briefly summarized, airports are funded through user fees -- namely ticket taxes, parking revenues, landing fees and rent. So if you don't use the airport, you don't pay for it. Because of this user financing scheme, the FAA gets doesn't allow airports to use money for projects that are not on-site, unless solely dedicated to the airport. So absent a change in federal law, airport revenue can only pay for airport services. When it comes to airport construction the equation gets even more complicated -- but local tax dollars don't get touched.
Talk With The Tourism Sector
It is vitally important that any new development plans relating to the convention/tourism industry include the airport as a stakeholder. If airport facilities and services do not keep pace with construction of hotels and convention centers, the target visitors will have little or no means to get to the rooms intended for them.
Las Vegas is a primary example of a place where the airport has partnered with the business community to effectively market new airlines to enter the market and expand terminal facilities. Over the course of the past 20 years this sleepy airport in the desert is now the 6th busiest in the United States. With the growth in traffic, airport officials are now looking towards building a new, second airport in the nearby Ivanpah Valley in the coming decades.
Think Global, Act Local
Airports are decidedly different than other types of transportation infrastructure because they do not exist in isolation -- when an airplane takes off it has no choice but to land at a different airport. The more than 400 commercial service airports in the United States are part of a valuable national system. This is a system that supports much of the trade, commerce and communication on which our economy depends. What happens at your airport creates ripples that impact airports all across the U.S., and even the world. This is not a responsibility to be taken lightly.
There is no question that airport issues are difficult. But by keeping some of these points in mind, cities can begin to decide how their community will address the growing demand for air travel. Together -- airports, airlines, neighborhoods and jurisdictions can work out almost any issue by sitting down, patiently listening to each others' needs and coming up with a collaborative plan that will work for all.
Airports bring the world to your front door -- is the welcome mat out?
Ryan N. Hall is an airport planner with the San Diego County Regional Airport Authority.
Topics