---
While the benefits of cheap consumer goods from global manufacturing and trade are widespread, the environmental costs are dumped on a few communities.  Some tiny fraction of the benefits need to be redistributed to effectively mitigate the human and ecological health costs of the globalized goods movement system.

Back in December 1991, Lawrence Summers, who was then Chief Economist at the World Bank, signed off on an internally circulated memo which opened with the speculation that the economically efficient way to deal with toxic waste might be to ship it to nations with the lowest life expectancy. Folks there were going to die younger, the memo is said to have suggested, and so the costs of pollution in terms of reduced human life years would be lower if they were to bear the impacts of toxic waste.
Of course, the memo leaked, hit the papers, and generated a suitably outraged reaction from all. Dr. Summers apologized, explaining that the statement was intended as ironic commentary on globalization. He was promoted upward into the International Monetary Fund and the US Department of the Treasury, and Washington settled back into its conventional torpor.
If you felt any outrage at the notion implicit in the original assertion, you need to examine that outrage somewhat carefully. For, as it turns out, Dr. Summers was merely predictive, because that is quite precisely what the West has been doing in the decades since. The only difference is, instead of merely shipping our toxic wastes to less developed economies, we have instead shipped the entire polluting manufacturing process overseas. And that seems to have been accepted by most of us quite calmly, and certainly unthinkingly, as the "price of progress." The poor need work, some work is dangerous, and we all accept risks as we consider our own personal calculus of occupational risks and benefits. Besides, they have choices, don't they?
I would argue that this so called progress is merely an instance of an extremely distorting externality -- one that demands correction. As matters stand today, the monetary benefits of globalization rest at least partly on the externalization of pollution costs. The manufacturers and buyers of a diverse array of modern-day consumer goods have successfully pushed onto others some chunk of the costs of modern-day consumerism, while retaining for ourselves the bulk of the benefits.
The average US consumer gains on at least two counts -- not only are Americans able to buy consumer goods at a fraction of what they would have cost if they had been manufactured within the US, but we are also able to capture the quite significant benefits of reduced toxic environmental pollution, and claim those benefits as the earned rewards of our own putatively enlightened modernization project.
There's little doubt that there are substantial benefits being generated by spread of global manufacturing and trade, as economies of scale are captured, and as information itself becomes a primary factor of production. And, as in all things, there are costs as well. However, in this case, the benefits and costs are distributed in a quite lumpy and incommensurate way. A few people, in a few localized areas, seem to be bearing the brunt of the environmental health impacts of the production and the transportation processes -- while entirely different and substantially more diffused populations of producers and consumers are capturing its benefits.
One such sub-population of people upon whom we are imposing these sorts of externalities are the usually low-income families that live and work in close proximity to the various pieces of goods movement infrastructure – the container ports, railyards, and truck depots – that enable this capture of benefits. Children born with respiratory impairments, higher incidences of cancers and other sorts of air pollution-related illnesses are part of the price that is being levied upon the poor and the oppressed so that we can buy that flat panel large screen television set at a fraction of its legitimate market cost. And so it is that some few people sicken and die, every day and in very factual ways, to make the American way of life affordable for others.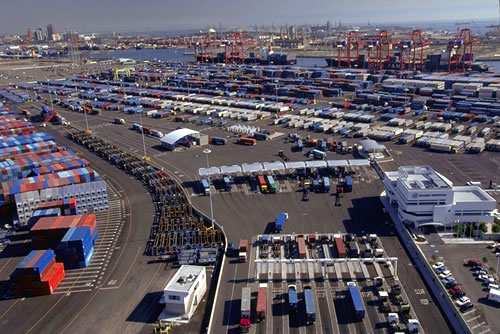 The neighborhood surrounding the San Pedro Port complex comprising the adjacent ports of Los Angeles and Long Beach, California, can be visualized as one of these impacted areas – a small place of concern in the global production-consumption complex that is the world economy.
Processing about 132 million tons of cargo each year, the San Pedro Port complex is by far the largest U.S. sea port in terms of both the volume and the dollar value of cargo processed, and the fourth-largest U.S. sea port in terms of tonnage. Some 13 million twenty-foot equivalent unit (TEU) containers flow through this port complex, serviced almost entirely by a single freeway, the I-710, and the Alameda Corridor rail line.
A report recently released by the Ditching Dirty Diesel Coalition, titled Paying With Our Health: The Real Cost of Freight Transport in California, asserts that the freight industry "generated $231 billion in revenues from their California operations in 2005." And while benefits of overseas production and low-cost consumption flow out from the port, the residents living around the San Pedro Port Complex and to either side of the I-710 and the Alameda rail corridors are paying part of the actual human health costs of transnational industrial-manufacturing and trade.
The San Pedro Port Complex is under substantial pressure to expand its facilities to accommodate the conservatively estimated doubling of sea-borne goods movement traffic that has been projected as a result of booming overseas trade Residents living around this goods movement complex are insisting that this progress in economic development not be built upon their health. And port planners and officials now face the challenge of growing the port while reducing its environmental impact.
This is only as it ought to be. Because there are things we can do, in the here and the now, to make for different, fairer outcomes. Why should the few poor folk carry the brunt of the burden of improving life for the rest of us, without redress? What is needed is a multi-level mitigation scheme that can gather up some tiny fraction of the diffuse benefits accruing to a majority of the individuals throughout the entire system, and then redirecting these monies to those specific areas were people are being asked, unfairly, to carry a share of the burden that is not, properly, theirs to bear. Such a mitigation scheme can be structured in a way that assures the implementation of design and operational improvements that can be used to reduce or eliminate adverse impacts in these few places.
We can act to accelerate the replacement of older, higher polluting trucks with new, lower-polluting ones. We can accelerate the shift toward the new low-sulfur diesel fuel, which would allow the installation of catalytic converters and other emission control technologies onto trucks and dock equipment. We can heavily subsidize smart growth sorts of urban infill and densification projects in the communities, so as to give those currently living around the ports and the freeways an alternative but neighborly residential location option. We can even acquire properties that are most severely impacted by this increased flow of goods movement, with very, very generous compensations and reparations, and then plant suitable species of native trees in dense groves around these polluting facilities.
The bald fact of the matter is, there are actual actions that can be taken today, to reduce these adverse human health impacts of this particular form of industrial globalization. Environmental justice demands that some tiny portion of the benefits accruing to all consuming Americans, everywhere, be gathered up and transferred back to help pay for these sorts of actions, and to offset the localized costs imposed by goods movement-related pollution.
Markets are legitimately useful mechanisms for planning and social decision making, but they can only operate in an informative way if we are conscientious about rooting out distortions and externalities. We have targeted tobacco, in getting it to pay its fair share of the human and social health costs of its use. Now let's move on that other oh-so-cancerous addiction--conspicuous consumption.
Ashwani Vasishth is an ecological planner and an Assistant Professor at the Department of Urban Studies and Planning, California State University, Northridge. His doctoral dissertation, titled Getting Humans Back Into Nature: A Scale-Hierarchic Ecosystem Approach To Integrative Ecological Planning, lays out the basis for an ecological approach to planning practice, and advocates for a richer integration of humans with nature.
The Right to Mobility
As we consider how to decarbonize transportation, preserving mobility, especially for lower- and middle-income people, must be a priority.
This six-course series explores essential urban design concepts using open source software and equips planners with the tools they need to participate fully in the urban design process.
Learn the tools for implementing Universal Design in planning regulations.
View More