A resident of a touted New Urbanist development in San Diego, California, comments on its failure as a walkable community.
---

I recently learned, to my surprise, that I am living in a Traditional Neighborhood Development (TND). I was surprised because it does not really resemble a traditional, walkable neighborhood. Rio Vista West in San Diego is an enormous luxury apartment and condominium complex with many of the desirable qualities of a New Urbanist development: attractive architecture and landscaping, quaint first floor retail, and a very convenient trolley station. However, few pedestrians wander beyond the pleasant confines of the central courtyard and trolley platform. Despite the tree-lined sidewalks, this community and its environs are ruled by the automobile.
Rio Vista West is a suburban infill project located in the Mission Valley area of San Diego, a sprawling region best known for its abundance of shopping malls. While the new transit-oriented residential units in the valley are a welcome improvement, their designs have incorporated more of the old-style sprawl elements that prioritize automobiles than New Urbanist characteristics. For starters, Rio Vista West is enclosed by huge, multi-lane thoroughfares, which feed rapidly-flowing traffic to Mission Valley's freeways and malls. Compounding the problem is Rio Vista's main retail component -– a big box shopping center set upon acres of asphalt surface parking. The immediate surroundings are also scaled for cars, not people, including an expanding 1960's-era mall and a new office park. Pedestrians who venture into the adjacent areas not only face daunting intersections, but also find themselves lost among parking lots and traffic. As a result, the Rio Vista West development is not walkable beyond its own driveways.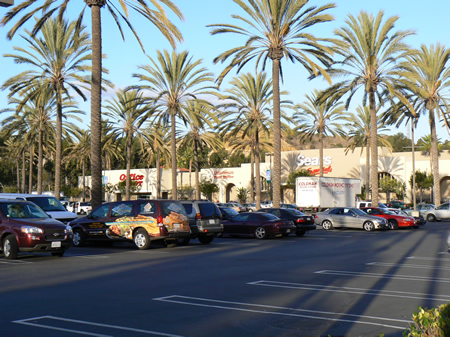 In addition to the hostile environment, other key factors actually promote car use and discourage walking. There is no accessible grocery store -- not within Rio Vista's borders nor in the many nearby shopping centers. In fact, residents must travel by freeway to grocery stores, farmers markets and non-fast-food restaurants. A car is also needed to access outdoor recreation areas because park space is scarce in Mission Valley. Even though the apartments border the San Diego River, the isolated river trail system is not really a safe space for children or women to brave alone, and is interrupted by highways. Finally, expensive trolley fares ($3 to go one stop, round trip; $4.50 to travel downtown, round trip) mean that it is cheaper to drive to stores and attractions, many of which are less than 5 miles away.
Rio Vista West is technically considered a Transit Oriented Development (TOD), so perhaps walkability was sacrificed for transit access. Still, developers began with a blank slate site: a former gravel quarry along the river. The original site plan, by New Urbanist firm Calthorpe Associates, was clearly designed for pedestrians and trolley riders -- it offered a network of paths and plazas, a community center, a possible grocery store, and plenty of green space. Unfortunately, developers abandoned the original plan in favor of yet another shopping mall, with the same tired discount chains and restaurants intended to serve freeway commuters.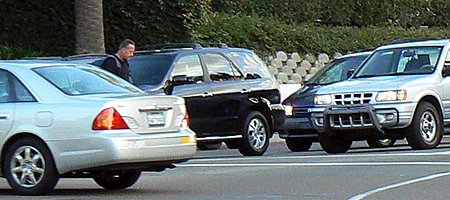 Auto-centric New Urbanist communities are not uncommon, at least in Southern California. In fact, the challenge for pedestrians lies in the nature of these expansive, master planned projects that are built from scratch on greenfield or infill land. On paper, they look like dense, mixed-use settlements; in reality, they are constructed on such a large scale that they end up mirroring conventional subdivisions, particularly in their use of wide collector and arterial roads. In the San Diego area, Otay Ranch (Chula Vista), Bressi Ranch (Carlsbad) and 4S Ranch (Rancho Bernardo) are far-flung greenfield TND's accessible only by car. While they offer pedestrians more open space, their street networks tend toward classic Southern California suburban sprawl. Infill projects like Rio Vista West, though located closer to urban amenities, may be squeezed into an already car-dominated environment. Many of the suburban TND's in the San Diego area fail to meet pedestrians' basic needs, such as human-scaled dimensions, narrow streets, diffused traffic, a nearby market, and active building fronts (many buildings are security gated). These large-scale projects also tend to be homogenous, lacking the authenticity and diversity that make for an interesting walk.
Of course, New Urbanist signatures are found throughout the country, displaying a cornucopia of scales and styles. The most promising developments for pedestrians are actually redevelopments -- revitalized neighborhoods within and around city and town centers. Often constructed before the age of the automobile, these older neighborhoods are set upon a narrow and almost continuously walkable street grid. Revitalized neighborhoods grow organically, in smaller steps than master planned TND's and TOD's, sometimes one cafe at a time. Here in San Diego, wildly successful Little Italy integrates vibrant mixed-use apartment buildings, from several different designers, with historic establishments and refurbished structures. The neighborhood is still growing, as locally-owned businesses sprout along once-blighted city blocks. Modest New Urbanist housing projects that emerge within revitalized neighborhoods are also good options for pedestrians. For example, residents of the Uptown TND in urban Hillcrest (just uphill from downtown San Diego) can easily walk through blocks of shopping, or across town to Balboa Park. These existing urban streets are an untapped resource here. Vast stretches of San Diego's outer urban mesa villages lie desolate, even though they have the vestiges of main streets.
I remain a staunch supporter of the New Urbanism movement. Since I have lived in some of America's most pedestrian-friendly enclaves, I realize that my standards may be set unreasonably high, given the powerful moneyed interests that surround the construction process. Yet I maintain that walkability is the single most important pathway toward a clean, livable city. If New Urbanist developments fail to entice pedestrians, then they fail to adhere to one of the movement's founding principles.
Diana DeRubertis is an environmental journalist and a seasoned pedestrian. She has a PhD in Geography from UC Berkeley, where she specialized in climate change science and policy.
San Francisco Just Ended Single-Family Zoning
The San Francisco Board of Supervisors voted to Tuesday to eliminate single-family zoning, but pro-development advocates say additional changes are needed to unleash a wave of construction.
This six-course series explores essential urban design concepts using open source software and equips planners with the tools they need to participate fully in the urban design process.
This course aims to provide an introduction into Urban Design Sketching focused on how to hand draw master plans using a mix of colored markers.
View More