---
In this final installment of Planetizen's three part series on parking, Mott Smith, Principal of planning and development firm Civic Enterprise Associates in Los Angeles, analyzes the urban design problems generated by gratuitous "onsite" parking requirements, which ruin street life and force property owners to use their lots inefficiently.

Onsite parking requirements, which have crept into many cities' laws over the past 50 to 70 years, have sucked the potential out of commercial properties on main streets and in downtowns everywhere. Perhaps more than anything else, rules requiring onsite parking -- to be distinguished from "on street" or "offsite" parking -- have created the blighted conditions that characterize many older North American commercial districts and boulevards.
The Geometry of Parking
How this has happened is simple geometry. Parcels in older commercial areas are often small by today's standards. A typical one might be 50 feet wide by 150 feet deep, or 7,500 square feet (Figure 1).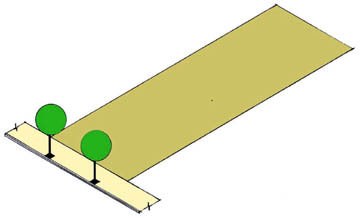 This is traditionally the perfect size for a small businessperson to build a shop and maybe even housing or office space above, with minimal capital. An entrepreneur with a property like this could get a lot of bang for his or her buck by building right up to the front and side property lines, so land-use efficiency is maximized and pedestrian-friendliness is encouraged. Moreover, once several such properties are developed in a single area, an authentic community of small owners and businesspeople can emerge. (Figure 2 shows a one-story, full-lot building typical of an older commercial district.)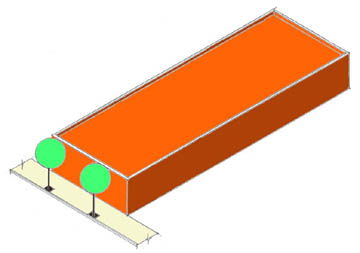 Figure 2. Typical parcel with one-story building, built to the property lines.
But onsite parking rules have made this sort of development nearly impossible. Now, it's often economically infeasible to build anything at all on a 7,500 square foot parcel, let alone something that's pedestrian-friendly.
In a city that requires four parking spaces for every 1,000 square feet of retail space, for example, the largest store you could build on a typical property would be 3,000 square feet -- less than half of what was possible before onsite parking requirements came into play. Figure 3 illustrates such a retail development, with its 12 surface parking spaces separating the building from the street.
Figure 3.
For restaurants, the requirements are often even more stringent. In a city that requires 10 spaces per 1,000 square feet of restaurant, the largest building you could construct on a typical property would be 1,600 square feet -- less than 25 percent of the potential build-out area before parking-requirements (Figure 4).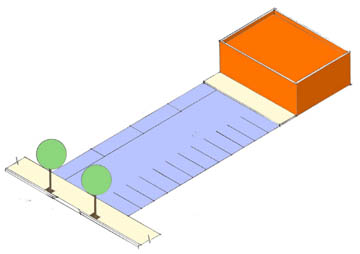 Figure 4.

Parking Rules Create Blight
As a result of these rules, a familiar dynamic emerges in our older commercial areas. Some property owners keep old buildings for storage and other low-performing uses, because improving the properties or changing them significantly would mean complying with today's parking rules -- often a deal killer. Rather, they prefer to sit on their properties until a developer or public agency comes along, hoping to assemble a larger parcel for a corporate-style development.
Other owners opt to undertake changes of use themselves and either replace existing buildings with new ones that are 50 to 75 percent smaller, or they buy and bulldoze the buildings next door to make parking lots.
Neither of these strategies fosters vibrant, pedestrian-oriented commercial districts that provide economic opportunity for non-corporate owners.
So what's a city to do? Is it possible to encourage economic vitality and create opportunities for the little guy in an automobile age?
Thankfully, the answer is yes. But it takes a fundamental shift in how we think about parking.
Cheap and Free Parking is OK
First of all, in most parts of North America -- particularly in struggling commercial areas -- low-cost parking can't be eliminated. Area shopping mall owners will always offer plentiful, cheap parking as a loss-leader to draw customers. And these customers, given the choice between shopping in a clean place with free parking versus a gritty one with expensive parking, will usually opt for the former.
Provide Parking, But As a Community
So, if parking is a necessary evil, it should be provided by the community rather than by individual owners, on a site-by-site basis. This can be accomplished using on-street spaces (metered or not), public lots, public garages, and/or public valet services to increase capacity.
When retail parking must be provided onsite, owners have a strong incentive to "trap" visitors in their stores' lot and discourage them from traveling anywhere elsewhere on foot. (If they didn't discourage walking to other properties, their parking could potentially be filled by people shopping at competitors' establishments.) The result is that shops are designed to be inward-looking, and opportunities to encourage pedestrian activity are quashed.
But when parking is public, the incentives are flipped. All customers arrive on foot, so retailers do best by building stores that are attractive and accessible to pedestrians.
Don't Forget the Entitlements
Many cities have invested heavily in downtown parking lots or garages only to see business decline and customers lost to suburban malls. Clearly, lack of market potential, poor urban design, and other factors can contribute to such failures. But even when all other stars are aligned, building great parking facilities in an older commercial district with booming demographics will accomplish very little if the local property owners don't enjoy relief from the parking standards most cities still apply.
The key is for small property owners to be able to develop modest pedestrian-oriented projects by-right for a reasonable cost.
Some cities have accomplished this goal by eliminating parking requirements in downtown areas. Others have created mechanisms that let property owners purchase waivers from parking requirements, often as part of lengthy and expensive discretionary review processes. A third, exciting solution has cropped up in two Southern California cities, Pasadena and Los Angeles.
Pasadena attributes much of its success in revitalizing its Old Town area to the decision to build public parking garages and allow property owners to get entitlements to convert underperforming space into shops and restaurants by leasing "parking credits" instead of building onsite parking. The program, which has an even more fundamental effect than the parking management strategies proposed by Don Shoup, has restored much value to older commercial properties without necessitating large-scale use of eminent domain to create super-sized parcels.
And now Los Angeles, long identified as the world capital of car-culture, is exploring a parking credits system that would make use of underutilized on-street spaces. The result will be a tool for revitalizing older boulevards with pedestrian-oriented uses, without need for significant public investment.
The Bottom Line
We're all living with the consequences of well-intentioned rules that seek to saddle property owners with the burden of providing parking for occupants and visitors. These rules, while perhaps fair on paper, have had the effect of eviscerating the value of typical properties in our older commercial areas and making sprawl-style development the only option for many owners.
The solution is not, as many have suggested, to turn back the clock to the days before the car. Rather, it is to accept that many people will drive for most trips and, accordingly, to make communities, not individual shopping centers, their destination.
Mott Smith is Principal of Civic Enterprise Associates, LLC, a planning and development firm in Los Angeles that helps revitalize emerging neighborhoods in Southern California and beyond through strategic planning, real estate development and targeted investment in community assets.
This six-course series explores essential urban design concepts using open source software and equips planners with the tools they need to participate fully in the urban design process.
Learn the tools for implementing Universal Design in planning regulations.
View More