The Temporary Urbanism of Critical Mass
Critical Mass, a monthly gathering of cyclists originally founded in San Francisco, has quickly become a worldwide phenomenon. Rocco Pendola discusses the origins of this loose confederation of bike riders, its philosophical underpinnings, and its relationship with New Urbanism, smart growth, and temporary urbanism -- an alternative way of looking at public space.

Critical Mass is back in the news again. Shortly after last year's arrests in Buffalo and the recent police crackdown in New York City, the monthly deluge of urban cyclists onto city streets made headlines a few weeks ago in Portland. The city's Mayor, Tom Potter, kept a campaign promise by joining the January ride with 250 other cyclists. Not surprisingly, critics are taking Potter to task for condoning - even encouraging - the so-called lawlessness. The Oregonian recently chastised Potter for his part in "keeping Portland weird."
It's hard to believe that anyone interested in urban planning is unaware of Critical Mass, but just in case, here's the nutshell history and "definition:" Back in 1992, a number of folks in San Francisco posited themselves along Market Street, holding signs that read "Make Room for Bikes," while encouraging passing cyclists to join them that Friday night for a bike ride through the city. A few people showed up for the initial ride that September night, so they decided to do it again the following month. More riders showed up in October, more in November, and so on. Since then, crowds averaging one thousand cyclists (often quite a bit more) crowd Justin Herman Plaza on the Embarcadero for what has become a monthly San Francisco staple. The phenomenon has spread around the globe to about 300 different cities.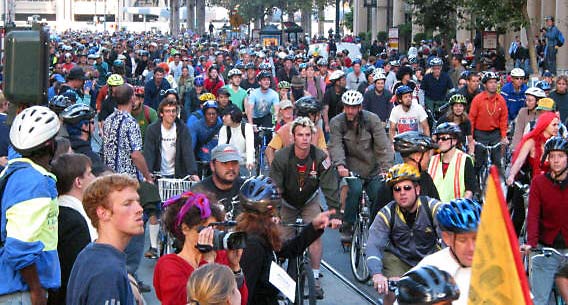 Wherever there is a Critical Mass ride, there is controversy. The disdain usually emanates from two sources: the police department (often in cahoots with City Hall) and non-participant observers. The cops claim that cyclists should not be permitted to break traffic laws, as the Mass typically ignores stop signs, red lights, and halted auto traffic in an effort to keep riders bunched together, both for unity and safety reasons. The bystanders, consisting of some motorists, newspaper critics, radio hosts, and assorted public and private figures, offer similar criticisms, along with cries that Critical Mass is "counterproductive," only serving to set cyclists back in their undying quest for "space on the road." I find the argument over vehicle codes and protest tactics to be tired and boring. After all, if Critical Mass was nothing more than a monthly traffic jam, it would hardly enjoy an infamously legendary status that has endured for more than a decade. By religiously participating in the rides here in San Francisco, I find that Critical Mass not only physically transforms the familiar urban environment; it also throws a kink in the relationship most have with the status quo - hence the strong reactions to the event.
Critical Mass is neither a protest nor demonstration. Generally, riders are not out to make some previously agreed upon point. Critical Mass is not an "organization" or a "cyclists' rights group," as the media so often refers to it; rather, the term "spontaneous coincidence," commonly used by participants, best defines it. One of the so-called founders of Critical Mass, Chris Carlsson, sums it up nicely when he says the rides are "about the demise of public of space... [and] the breakdown of human communication and community." According to Carlsson, while Critical Mass was originally intended to secure space on the road for cyclists, it has evolved into a form of "self expression," where "bikes are curiously incidental." Most importantly, Carlsson contends that "every individual brings something of their own to the ride," showcasing what he thinks is "a better life in urban America."
Critical Mass participants, especially in San Francisco, recognize what Carlsson says is more than abstract philosophical rambling. The monthly gathering of friends and strangers, the subsequent reclamation of the streets, and the temporary urbanism created is the antithesis of what the American city has become. Riders assemble, chitchatting and sharing stories with people they may have never met before. Friendships develop. Often, riders pass around free food and drink. Capitalism and fear of the other rests, if only for a few hours. A sense of community takes hold. Never on time, real people - whole families, teachers, activists of all shades, messengers, nine-to-five office workers, old folks, teenagers, you name it - flood the streets, producing an unfamiliar picture of the city. Riding a bicycle in the middle of this scene is exhilarating, to say the least. For all intents and purposes, cars are absent in and around the Mass; the ones that are present sit and wait - powerless, sometimes dismayed and agitated, but more often than not, supportive and intrigued. With bikes and pedestrians occupying car-free streets for blocks - hooting, hollering, and cheering - it is as if streets designed for the singular purpose of facilitating auto traffic have been renovated into the finest of European public squares.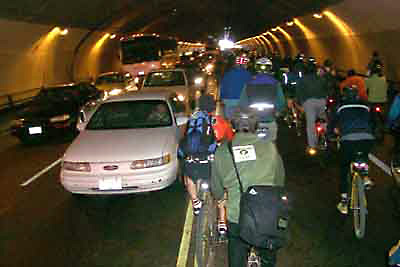 Isn't this, when it comes down to it, what the New Urbanism and smart growth movements are all about? Taking our present reality and implementing wholesale cosmetic, physical, and attitudinal changes to it. Critical Mass provides the perfect illustration of such lofty goals put forth by those concerned with the sad state of American life and place. Critics have called suburbia everything from "ugly" to "boring" to "car-dependent" and "socially and morally bankrupt." Many of our central cities have been left for dead. Our best cities are far from perfect. The New Urbanism seeks to retrofit the sub par environments of the present through application of neotraditional design. Practitioners of the craft can look into a brown field and see vibrant neighborhoods like Portland's Pearl District or San Francisco's North Beach. Whether one seeks mixed-use development, car-free cities, pedestrian friendly streets, public spaces for neighbors to come together, or all of the above, showing the skeptics that these notions should supplant the prevailing car culture is a monumental task -- one that, frankly, we are not winning.
Critical Mass, in its own way, serves as a vision of what the city can be. I am not suggesting that it is a solution in and of itself; rather, it displays numerous qualities month after month that many claim our society lacks - community, human-scaled streets, active lifestyles, non-polluting transportation, and more. It is common for urban planning professors to take their students to the best developments in their particular city or town, in an effort to demonstrate how their craft "should" be done. Why not make them ride in Critical Mass, in order to show them the manifestation of the type of public realm they support, yet have probably never experienced? Instead of vehemently opposing it and suppressing alternative visions of the city, public officials and private citizens, especially planners, politicians, and urban thinkers, ought to observe Critical Mass, even take part in it like Potter did. Such an education might help transform other parts of America into places as "weird" as Portland, or as Kunstler says, into "places worth caring about."
---
Rocco Pendola lives in San Francisco with his wife and daughter. He is an urban studies student at San Francisco State University, who intends on beginning pursuit of his PhD in 2006. For more information on Critical Mass vist http://www.critical-mass.org and http://www.scorcher.org/cmhistory/.