The Portland Residential Infill Project is expected for approval by the Portland City Council today, culminating a six year process that became more and more ambitious with every iteration.
---
[Update: the Portland City Council voted to approve the residential Infill project on August 12, by 3-1 vote, according to a press release from Portland: Neighbors Welcome.]
"Portland's city council seems certain Wednesday to set a new bar for North American housing reform by legalizing up to four homes on almost any residential lot," reports Michael Andersen. 
The Residential Infill Project, the name of the package of planning and zoning reforms, is expected to pass with a 3-1 vote, after years of headlines describing the reforms proposed by the project as more controversial than they appear in the end. Planetizen has been tracking the Residential Infill Project through ups and downs and twists and turns since 2016, but Andersen traces the origin of the project back six years, to a letter by a local micro-developer.
Andersen expects the effects of the new rules to present a turning point in the history of the city. "The measure will make it viable for nonprofits to intersperse below-market housing anywhere in the city for the first time in a century."  
Among the specifics of the Residential Infill Project are a "deeper affordability" option that will allow four to six homes on any lot, "if at least half are available to low-income Portlanders at regulated, affordable prices," explains Andersen.  
The new rules also include big time parking regulation reform, removing parking mandates from three quarters of land zoned for residential use in the city. 
All in all, Andersen says the new rules are: "the most pro-housing reform to low-density zones in US history."
The Sightline Institute is sharing this infographic, created by Alfred Twu, to illustrate the kinds of housing development legalized by the Residential Infill Project.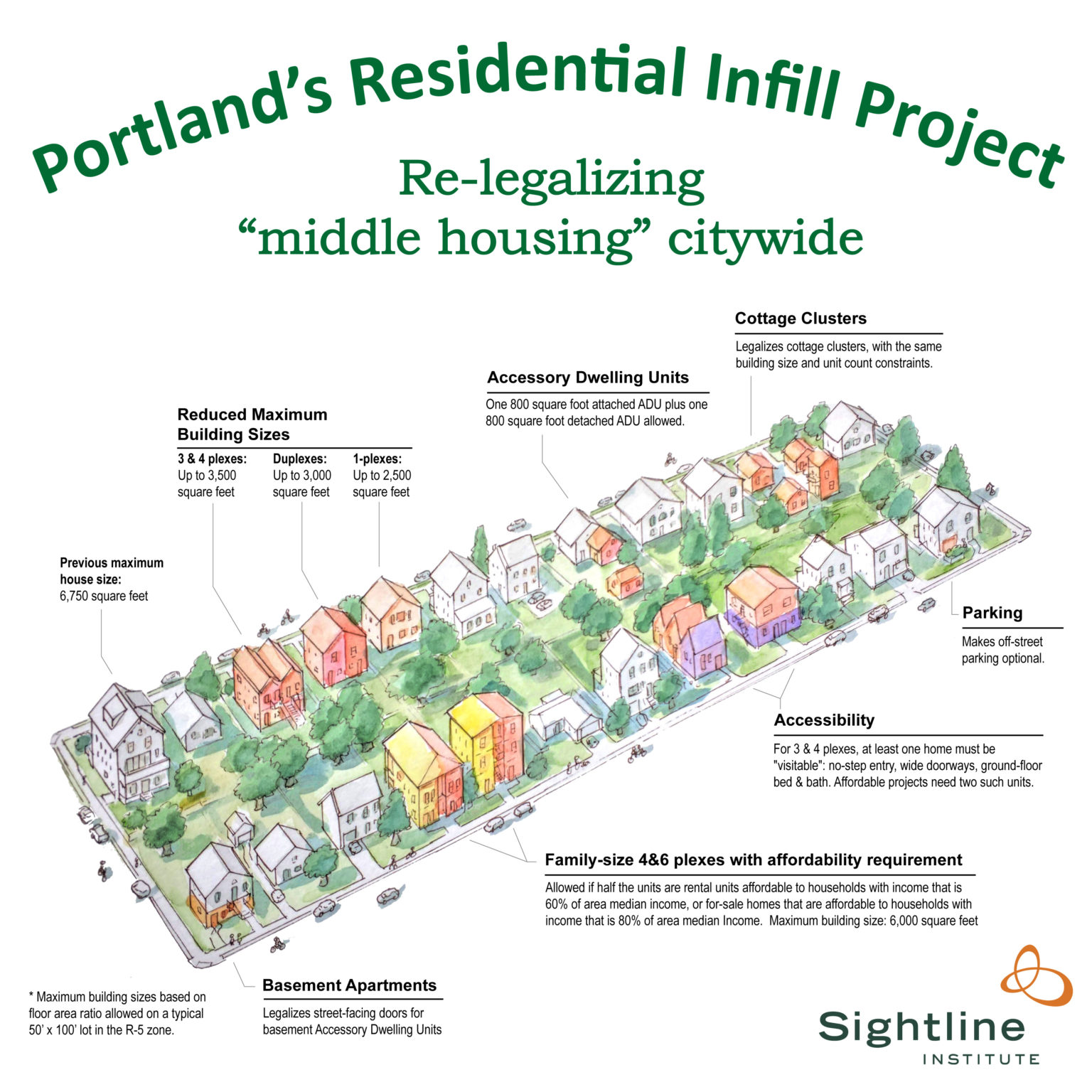 Image by Alfred Twu, courtesy of the Sightline Institute.
Included in Andersen's in-depth article is a lot more detail about the reforms implemented by the Residential Infill Project, the evolution of the project as it made its way through the planning and political process in Portland, and a comparison of how this new planning reform compares to other recent, ambitious planning innovations implemented in cities like Minneapolis, Austin, Seattle, and Vancouver. 
Finally, Andersen concludes with a call for more cities to follow Portland's example, and for the federal government to aid in that effort.
FULL STORY: ON WEDNESDAY, PORTLAND WILL PASS THE BEST LOW-DENSITY ZONING REFORM IN US HISTORY
The Right to Mobility
As we consider how to decarbonize transportation, preserving mobility, especially for lower- and middle-income people, must be a priority.
Early Sharrow Booster: 'I Was Wrong'
The lane marking was meant to raise awareness and instill shared respect among drivers and cyclists. But their inefficiency has led supporters to denounce sharrows, pushing instead for more robust bike infrastructure that truly protects riders.
Tacoma Developing New Housing Policy
The city's Home in Tacoma plan is designed to address the region's growth and rising housing prices, but faces local backlash over density and affordability concerns.
Green Alleys: A New Paradigm for Stormwater Management
Rather than shuttling stormwater away from the city and into the ocean as quickly as possible, Los Angeles is now—slowly—moving toward a 'city-as-sponge' approach that would capture and reclaim more water to recharge crucial reservoirs.
This six-course series explores essential urban design concepts using open source software and equips planners with the tools they need to participate fully in the urban design process.
Learn the tools for implementing Universal Design in planning regulations.
View More