Planning Department Director Aubrey McDermid discusses planning's role in the Oklahoma City's ongoing reinvestment and revitalization.
---
At 620 square miles and an estimated population of 631,000, Oklahoma City covers more territory, at a lower population density, than any other major American city short of Anchorage, Alaska. That's a lot of territory to tend to, especially in a state that, in some ways, invented sprawl. As the New York Times put it in its recent profile of the city's new favorite son, Russell Westbrook, the city went from 0 to 10,000 "in one chaotic afternoon" in the 1889 land rush. While the city's fortunes have waxed and waned, often in concert with oil prices, a boom is well underway. Since 2010, the city has grown by 50,000.
Rather than let the Oklahoma City sprawl into oblivion, Planning Department Director Aubrey McDermid is overseeing the rise of a new, urban city on the plains. Indeed, the action in OKC has enthusiastically turned to the city's downtown, with the relocation of a highway, adaptive reuse of industrial districts, and the arrival of the NBA's Oklahoma Thunder. Mindful of the city's history as a boom-and-bust oil town and the tragedy that befell it in 1994, McDermid brings defiant optimism to her task of turning Oklahoma City from a place of expansive Sooner enthusiasm into a mature inland metropolis. She recently spoke with Planetizen's Josh Stephens for the latest installation of the "Planners Across America" series.
What major projects are you working on now?
We just launched a multi-year, multiphase process to update our development codes. That includes all our zoning and planning codes, subdivision regulations—anything that affects the built environment. It's an opportunity for us to revisit some of our old, probably outdated ways of doing things, to improve efficiencies, and get the type of thoughtful development that we want.
This is one of the most important initiatives that the Planning Department has undertaken, aside from our comprehensive plan, which we did from scratch and was adopted in 2015. Our City Council adopted our comp plan, which is not a requirement by state statute. But they wanted to put extra emphasis on how important it was to follow. The city departments that help influence where development goes are on board as well. In the past, it was the Planning Department's document, and they barely knew the document existed.
There is clarity and transparency and predictability for developers. They know this plan is a tool for them. They know whether they're going to get a thumbs up or a thumbs down. Before it was just so generalized that they would invest in a piece of land get 95 percent of the way through the process, and then they're told no.
What's most interesting about working in Oklahoma City?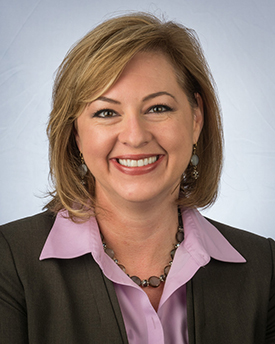 I am fascinated by the transformation that the city has undergone in the last ten years. Our community agreed to tax itself through this MAPS program (Metropolitan Area Project), a sales tax initiative of one penny. The initiative has been building out our city based on the vision we've created in our long-range planning documents.
Interstate 40, which goes east-west through Oklahoma City and smack through downtown, was relocated closer to our river. We gained a whole bunch of real estate that wasn't part of our downtown before. Now we're envisioning how people are going to interact in our urban core and engage the river.
We created a central park concept, which became one of the projects in our most recent MAPS initiative. This amazing asset is going to spur redevelopment in an area that was declining and full of old industrial, worn-down developments. It has revitalized our downtown core, way beyond what other cities are ever able to accomplish in that short a timeframe. In the past five years, I've seen this wave of creative, new entrepreneurial development.
We have this perfect storm of wonderful things happening here that other people would love to emulate. I don't know if it's good planning or luck!
What are the other factors? The energy industry? The Thunder?
All of those elements are part of that perfect storm. When Oklahoma City started reinvesting in itself, it came about because of some pretty devastating losses.
The MAPS program was born out of losing opportunity to bring a major airline to Oklahoma City. We were competing with another city. When we lost, they had a frank conversation with our mayor and said, "we can't see putting our employees there. We don't think you have the quality of life that our employees deserve." That was a kick in the gut. That's when they started this MAPS program to create qualify of life amenities.
Then the Murrah bombing happened. The federal funds through Murrah loan program gave us an opportunity to think about Oklahoma City as being reborn.
Then the hurricane hit New Orleans. We got the Hornets here. We could test whether Oklahoma City was a good basketball community, and it showed that we were. Then the story unfolds after that with the Thunder and continued support of MAPS.
Oklahoma City has an enormous amount of territory within its city limits. What's the relationship between sprawl and the downtown?
It's the biggest challenge that planners have: to influence a smart, manageable, cadence of growth when you have flat, easily developable and relatively inexpensive dirt, all with in the city limits. It's almost impossible to hold it back.
When that land was annexed, city leaders wanted to gain land along major interstate highways so that eventually, as development and industry located along the corridor, we would be able to get the property tax and sales tax.
The sales tax structure changed after that. Oklahoma became the only state with tax structure that limits the city's ability to use property taxes. The cities have to rely primarily on sales tax. Having all this land in our jurisdiction does not feed into the coffers of the city to maintain the infrastructure. It's a very big challenge for us financially.
When we adopted our comprehensive plan in 2015, we started focusing on building on where our infrastructure exists and trying to maintain a service level that we can afford as get new population. We're one of the cities that slightly above average in terms of people moving in.
When we project how many people and jobs we have to make room for in the city, we have to be smart about our areas of growth. Our comp plan is a great example of looking at service efficiency and balancing that with where people want to go based on statistical surveys and analysis of the land.
If you could have a magic power or pass your own law, what would that be?
I'm going to go there: 
One of the biggest issues that drives people's decisions on where they live is where they're going to send their kids to school. Oklahoma City has 23 separate school districts within its municipal boundaries. It's the most I've ever heard of within one city.
Oklahoma City's core school district does not have the best reputation. Everybody else who feels that they want to give their kids the best education moves to suburban areas. I've been in that situation myself. It's really hard to influence people's decisions on where they invest, shop, and live if the school issue is the primary of focus. The State Legislature is cutting public education, and it's a huge crisis in our community.
If we had a really solid school system, people could choose to live anywhere. That would change the patterns of development and improve our communities like crazy.
We're doing this interview a few weeks after the inauguration of the new president. Given that Oklahoma is a very Republican state, and Oklahoma City is slightly Republican—more so than its peer cities but less so than the state—do you have a sense of what the new administration means for cities?
A big portion of what our department is responsible for depends on federal funds from HUD. All of our Community Development Block Grant programs—which do a lot of social services for homelessness, environmental services, housing—are subject to allocations. The CDBG funds have been reduced pretty consistently over the last ten years. Everybody is concerned that those programs will be cut further.
We have a strong oil and gas industry in Oklahoma. I think a lot of people are hopeful that the new administration will help them, which then in turn helps feed our economy. But it's a double-edge sword. If funding is cut on the other side for the all the social services, there will be people without jobs or places to live.
You're a native of Oklahoma City. What inspired you to get into planning? Was it connected to working specifically in Oklahoma City?
I went to college at the University of Oklahoma and got a master's in landscape architecture. They had a dual program in landscape architecture and planning. I worked in the architecture and engineering field as a young professional. I was always drawn to that, versus the design fields, because of the people component.
I switched gears from working in landscape to the city planning department back in 2000. I've been in this department ever since. I started on the ground floor and have been in every position from the bottom of the chain to department head.
What's changed most about the department?
When I was hired, I was one of two professional women. The rest were longtime 20-30 year veterans: all older white men. In the time that the city has grown up and diversified, so has our department. It's 50 percent women now, with all age ranges. People have been attracted here because there's so much neat stuff going on in the planning world.
This interview has been edited and condensed. 
The Right to Mobility
As we consider how to decarbonize transportation, preserving mobility, especially for lower- and middle-income people, must be a priority.
Early Sharrow Booster: 'I Was Wrong'
The lane marking was meant to raise awareness and instill shared respect among drivers and cyclists. But their inefficiency has led supporters to denounce sharrows, pushing instead for more robust bike infrastructure that truly protects riders.
This six-course series explores essential urban design concepts using open source software and equips planners with the tools they need to participate fully in the urban design process.
Learn the tools for implementing Universal Design in planning regulations.
View More