Raleigh, NC has hopes for turning 300 acres of land near its downtown into a beautiful park. Elite landscape architecture firms are eager to help, and selecting the right one for the job won't be easy.
---
Two years ago I wrote about the city of Raleigh's hopes of creating a large urban park on 300 acres of gorgeous land near its downtown. After a successful financial deal, the project is now looking like a go—at least on paper. A highly anticipated RFQ released in October attracted nearly 20 teams of planners and designers interested in reimagining what had been the campus for the state-owned Dorothea Dix Hospital. An initial shortlist limited the group to six landscape architect led teams, who were interviewed before the field was reduced to the final four powerhouses. They are now scheduled to interview again for the project in February. Whichever way the selection committee ultimately goes, it will be a huge win for Raleigh. There really isn't be a bad choice among them. The hard part is going to be reaching a decision. Here's why.
James Corner Field Operations
James Corner will probably have to wear the "Designer of the High Line" label for some time yet to come. There are, of course, worse things for a landscape architect to be known as, but the celebrity gained from this one project has deflected attention from some of the firm's other exceptional work. Relevant to the Dix project are the massive Freshkills Park on Staten Island and the even more massive Shelby Farms Park in Memphis. Although the Dix property is much smaller, there are definite similarities between the projects. In addition to having to carefully consider how best to use of a lot of land, Dix will more than likely have to follow a similar multi-phased approach to realizing a master plan vision. Field Operations has more experience with the "hurry up and wait" realities of long-range projects than it probably wants, but it could certainly benefit Raleigh to have the firm's expertise maneuvering what will undoubtedly be a long and arduous process.
I'm confident the selection committee has been impressed with Corner. As I have written about before, he is a unique figure in the world of landscape architecture, with an unsurpassed combination of gravitas, intellect, and the gift of persuasion. When he presents his work in a competition setting, it is hard to not buy into his proposal as being the right answer. The firm's built work rarely disappoints, either. I recently visited Tongva Park in Santa Monica and was more impressed than I thought I would be. The park's design beautifully responds to the specificities of the site from an ecological perspective in regards to planting design and water use—as you would expect—but it also perfectly captures the quirky urban vibe of the unique beach community. That sort of response is not easy to do well, and is something the committee should take into consideration.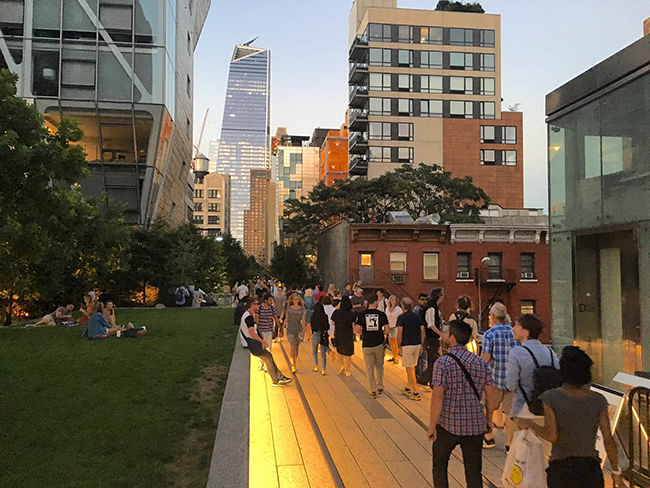 Michael Van Valkenburgh Associates (MVVA)
After producing stellar landscapes for nearly 30 years, Michael Van Valkenburgh and his firm have managed to not only thrive in an increasingly competitive market, but they also have consistently kept ahead of trends and set the bar for best practice. ASLA awarded MVVA the landscape architecture firm of the year for 2016, which is well deserved, but also long overdue, as I pointed out in my nomination letter. The firm's recent work in Chicago and New York City—which includes the ongoing transformation of Manhattan's west side waterfront—are significant legacy-making projects on their own. When you add to those current high profile park projects in Tulsa, St. Louis, and Dallas, MVVA becomes an obvious choice for the Dix project—or any large urban park for that matter.
One of the things I hope the selection committee recognizes and appreciates in MVVA is its unwavering commitment to high quality horticultural practice. While some landscape architects shy away from talking too much about plants—especially in the urban realm, for fear that someone might take them less seriously—MVVA celebrates the role plants and trees play in creating great outdoor places. The firm educates its clients on how critical it is for the below grade conditions to be of the same high quality as the design that sits on the land. The results of this can be seen at Brooklyn Bridge Park, where the trees are thriving and continue to grow at a seeming record rate. There is a sense in North Carolina—a land of trees if there ever was one—that trees can grow with little effort; but that is not necessarily true. The success of Dix Park will depend a lot on the health and success of its urban forest, and the folks in Raleigh would be wise to take seriously how MVVA prioritizes soils and drainage in its design strategy. Landscapes can look beautiful on paper, but they are meaningless without the proper infrastructure in place to ensure they survive.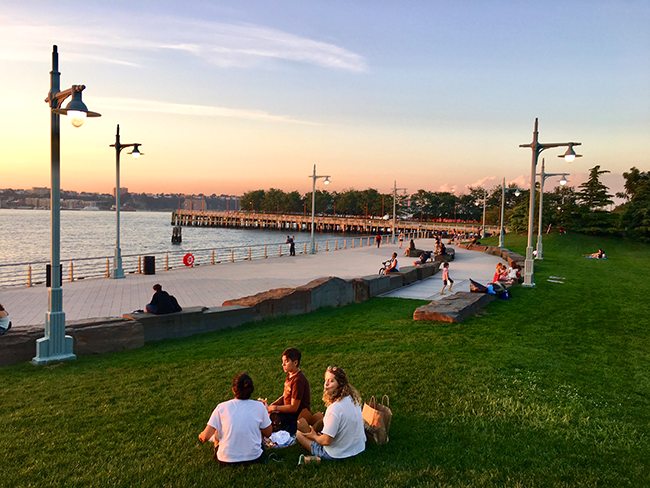 Nelson Byrd Woltz (NBW)
NBW may be less well known than the other firms on the list—at least to those who do not follow landscape architecture closely. This will undoubtedly change soon. The firm built its reputation producing gorgeous residential and institutional work, but also has well-known urban projects, such as Citygarden in St. Louis. Following Warren Byrd's retirement several years ago, Thomas Woltz, who is now the sole principal, continues to push the firm in new directions. Current and ongoing work includes important initiatives in conservation agriculture and the uber-urban open space design at Hudson Yards in Manhattan (which is sadly being overshadowed by images of Thomas Heatherwick's perplexing and jarring sculpture/structure). More pertinent to Dix are the large-scale urban park commissions the firm has won in Nashville and Houston, each of which shares with Dix a rich and unique cultural history.
NBW's carefully crafted design process produces both beautiful and ecologically responsible landscapes, something I was able to experience working with them on the design of a recent project at Duke University. In addition to its serious design ability, the firm's dedication to research and commitment to understanding a site's specific cultural and ecological history has contributed to its success. As I am sure the selection committee has experienced, it is impossible to not get caught up in the story of a site when Woltz presents. His passion for landscape is infectious, and Dix's rich history puts it solidly in his firm's wheelhouse. Aside from his talent, the fact that Woltz, like myself, is a born-and-bred North Carolinian should lead to at least a hint of local favoritism for his bid. While proximity shouldn't be part of the criteria on its own, his inherent familiarity with the unique aspects of the NC Piedmont would certainly be a plus.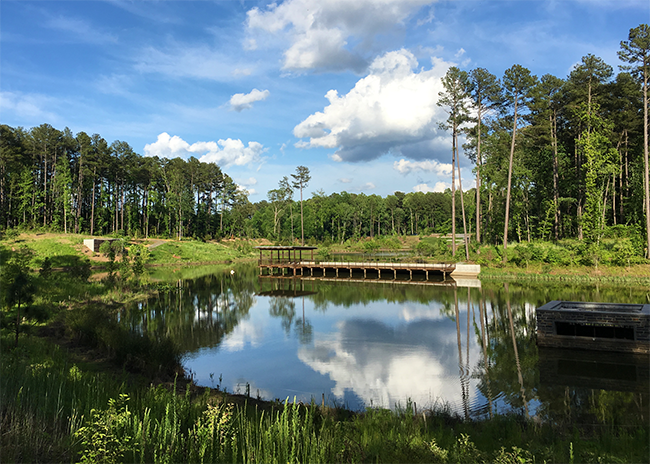 West 8 + Sasaki Associates
This teaming surprised me at first, but it didn't take long to realize just how smart a move it was. While each firm could have been formidable on its own, both are made stronger by presence of the other. Sasaki has a reputation as an elite planning firm, but its ongoing work at the Chicago Riverwalk proves its ability to design beautiful urban places. West 8, on the other hand, has established itself as a high-concept design firm—as exemplified by the fabulous Governor's Island—but is also very adept at context sensitive master planning (such as with an ongoing project at Duke). If both teams—likely to be led by Adriaan Geuze at West 8 and Gina Ford at Sasaki—can effectively establish and maintain their roles in the process, this could be a powerfully effective team.
A successful design for Dix will ultimately come down to balancing the desire to create something new and exciting with the need to not destroy what makes the existing landscape so special. That is something that sounds much easier to achieve than it actually is, and something that could sway the selection committee toward this team. West 8 is unique in its creative vision, and backing that up with Sasaki's established expertise in community engagement and dissecting program needs could prove to be the right answer. The pair's relative lack of relevant built work in this country may be a disadvantage, but the possibility of creating something at Dix as genius as The Hills at Governor's Island may prove too tempting to pass up.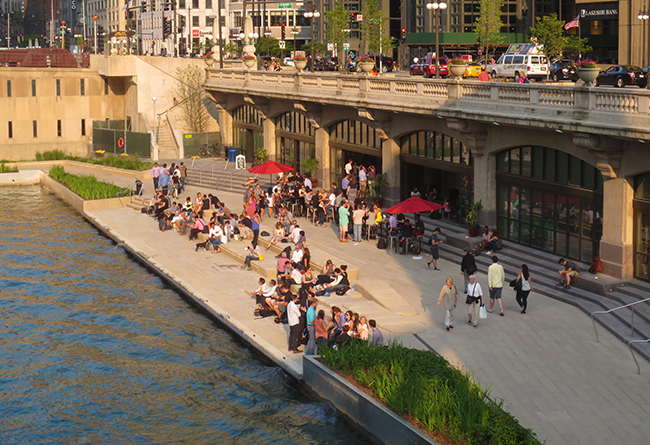 There is no downside to this being such a tough decision. Each team is beyond qualified to make this an exceptional park, but there are differences between them. The challenge for the committee will be to sift through all of the beautiful images and pretty words depicting what the park can be and determine whose vision—or process getting there—will align most closely with that of the community. Above all else, this needs to be about Raleigh and the heritage of the site, and it is critical to choose the team that really understands and can effectively articulate what that means.
Selecting consultants for a project this big is a bit like picking family members: You don't have to always get along or agree with them, but you had better be confident you can come together and make good decisions when it really matters. In the end, the decision may come down less to whose work the committee likes best, and more about who they are most comfortable sharing a table with.
---
The Right to Mobility
As we consider how to decarbonize transportation, preserving mobility, especially for lower- and middle-income people, must be a priority.
Assessing Transit Equity in Boston
The Transit Equity Dashboard highlights stark disparities in access to jobs, healthcare, and other essential services between Boston neighborhoods.
This six-course series explores essential urban design concepts using open source software and equips planners with the tools they need to participate fully in the urban design process.
Learn the tools for implementing Universal Design in planning regulations.
View More