Michigan Tragedy Highlights Dangers of Rural Roads to Cyclists
Five of the nine experienced cyclists who were mowed down by a pickup truck on a rural road in Kalamazoo on June 7 died. While most bike crashes occur on urban roads, there are hidden dangers in biking in uncongested rural areas.
Light traffic and beautiful scenery can hide some of the dangers of riding on rural roads like the rural, two-lane North Westnedge Avenue a few miles north of Kalamazoo in Cooper Township, Michigan, where the horrific crash occurred.
It "shows that many rural roads fail to account for bicycle safety, advocates said," writes Kate Abbey-Lambertz, who covers sustainability cities for The Huffington Post. "The driver struck the cyclists — all experienced riders — from behind."
Rear end crashes accounted for 40 percent of collisions in a May 2014, League of American Bicyclists study [PDF].
Unlike urban cycling, "[c]yclists traveling in rural areas were 3.7 times more likely to be struck and killed at a location that was not an intersection," wrote Angie Schmitt for Streetsblog USA in May 2014 on the LAB study.
The 50-year-old pickup driver, who fled the scene, "was charged with five counts of second-degree murder and four counts of reckless driving causing serious body impairment," adds Abbey-Lambertz. "Authorities haven't disclosed whether he was impaired at the time and haven't speculated on the cause of the crash."
Roads like Westnedge are particularly dangerous for cyclists [Highway Safety Information System study (PDF)], according to Bill Schultheiss, a principal engineer with the Toole Design Group who works on improving street design for cyclists and pedestrians in projects around the country. While motorists in cities are more accustomed to sharing the street with cyclists and pedestrians, drivers on rural roads don't always have the same awareness.

Two-lane rural roads have higher fatality rates for cyclists than even a lot of urban streets, because of the higher speeds," Schultheiss said. "The expectation on those, from most drivers, is that they have the whole road to themselves."
Schultheiss and Jim Ferner, Kalamazoo biking advocate, "said widening the shoulders on Westnedge to give bikers a separate lane should be the first priority to increase safety," writes Abbey-Lambertz. She adds that while there has been progress in improving bike infrastructure on urban roads, it's difficult to make changes on rural roads.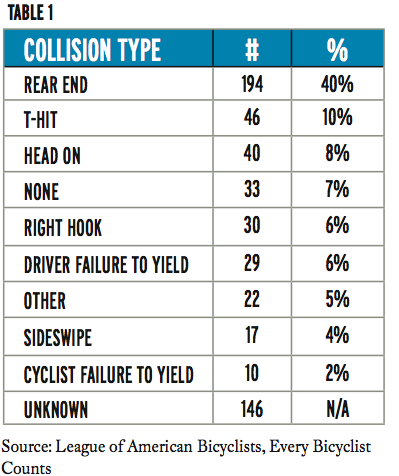 Instead of making redesigning roads to make it safer for all road users, many media outlets are quick to jump to victim-blaming, asking if the cyclists were wearing helmets and bright clothing. 
"Why on earth would any responsible news outlet look at a tragedy involving criminal negligence and use it as an occasion to lecture potential victims?" writes Michael Jackman in a comprehensive piece looking at media coverage of the June 7 tragedy for the Detroit Metro Times.
Hat tip to Barbara Gilbertson.
Published on Thursday, June 16, 2016
in
Topics