Expanding on earlier research about the impacts of one-way streets on outcomes such as public health and property values, a new study examines a citywide case study in Louisville.
---
A year ago, Planetizen published our op-ed on the positive outcomes achieved by converting multi-lane one-way streets to two-way traffic flow. Our work suggested that two-way streets were more livable than multi-lane one-ways and sparked a rethinking of traditional traffic engineering designed to facilitate auto mobility.
The piece went viral and became one of the top pieces on Planetizen by planners, downloaded by elected officials and public administrators. Jeff Speck, the author of the New York Times bestseller Walkable City, gave a great shout out on a tweet, which likely encouraged thousands more to read it. Andres Duany wrote us a personal note with praise, saying that our hard numbers were much needed for new urbanists and neighborhood activists.
We heard from many citizens who were asked how they could "take back their streets" and make them livable—from places as diverse as Baltimore to Nashville to San Francisco to Indianapolis and Minneapolis. On the whole, we saw lively debates emerge over converting one-way streets to two-way as one strategy to help facilitate regeneration.
But we recognized the limitation of our work. Our research was based on a micro analysis of what happened before and after a handful of streets were converted from one-way to two-way in Louisville, KY. We found many pluses and no negatives following conversion: traffic accidents, crime, and abandonments fell, and housing prices spiked on these converted streets more than in any other neighborhood in the county. Qualitative evaluation indicated that local business enterprises had increased business revenue and customer traffic after the conversion as well. This research was peer-reviewed by some of the leading experts on urban transportation and will appear in a forthcoming issue of Journal of Planning, Education and Research.
We had no idea that the short op-ed piece might spark a larger urban planning discourse, but we continued our research. We felt one neighborhood and two streets provide a nice case study, but knew more work was needed to overturn years of U.S. traffic engineering that has shaped the physical design of urban roads and relationship to the street. As a result we decided to expand our micro/case analysis to a macro analysis, and extended our study for the entire city of Louisville.
So we put back on our lab coats and used the latest computer mapping and statistical techniques available. Using reliable, public data we looked at all of the neighborhoods and streets in metro Louisville instead of one a few converted streets. We compared the 22 Louisville neighborhoods with the most dense concentration of two, three, and four lane one-ways compared to the other 168 neighborhoods in the city with only two-ways.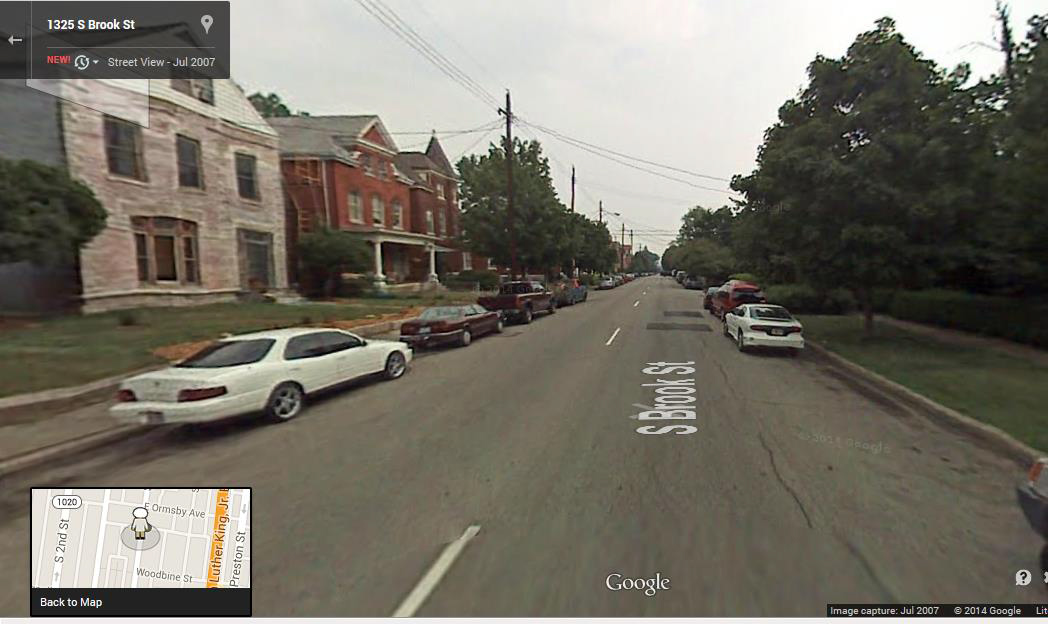 One way Brook Street: July 2007 (Google Street View)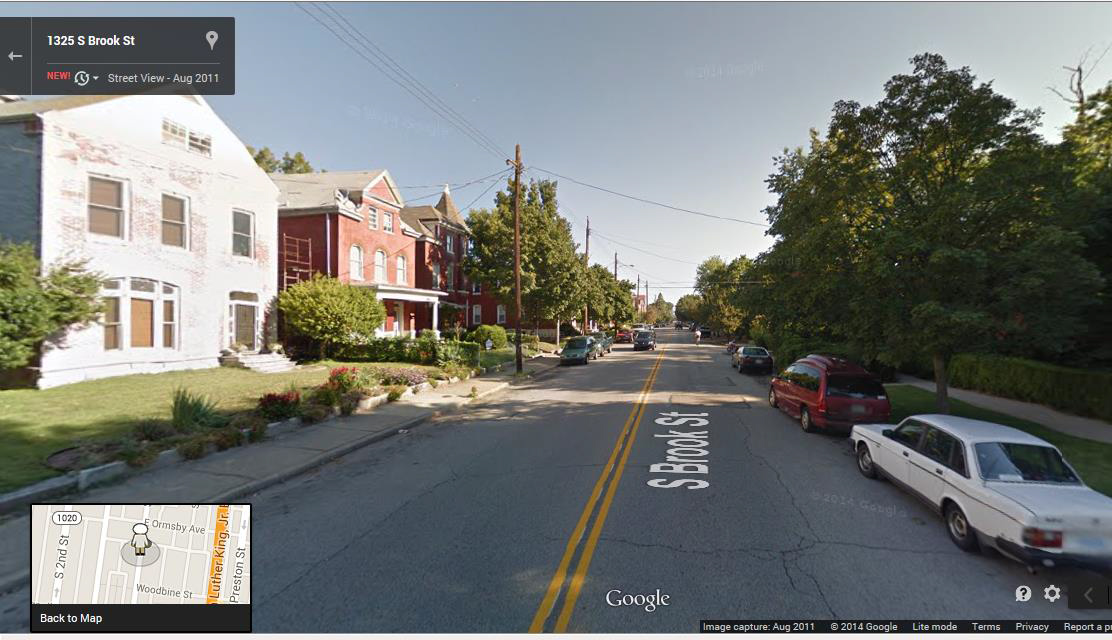 Two-way Brook Street August 2011 (Google Street Maps)
The results of this study [pdf], which we will present at the international Urban Affairs Association conference in Miami on April 9, confirm our earlier analysis of the positive outcomes of two-way conversion. The results also present even more compelling evidence to support our initial claims. We show that the risk of collision or injury doubles when driving through a neighborhood of one-way streets. In total, the 22 Census tracts with a high concentration of one-ways had 2,992 additional collisions and 792 more injuries requiring medical treatment—some causing loss of life. Moreover, if you are riding a bike or walking, you are also more likely to be injured on a one-way street. In terms of property values, we find continued correlation with increased property values on two-way compared to one-way streets. If you own a house in a neighborhood with one-way streets, your home value drops to approximately half that of homes in neighborhoods with two-way streets—an average of $152,629 compared to $64,681.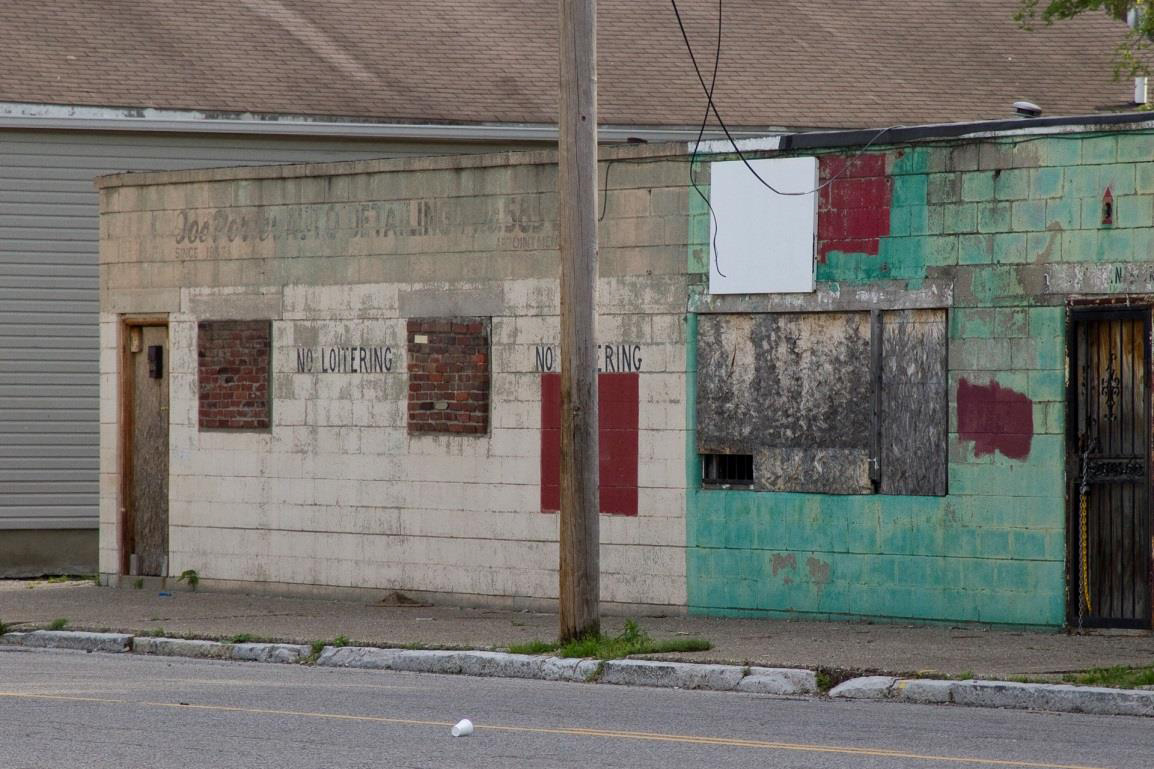 Abandoned businesses and vacant structure on one-way segments. (Credit: John Gilderbloom)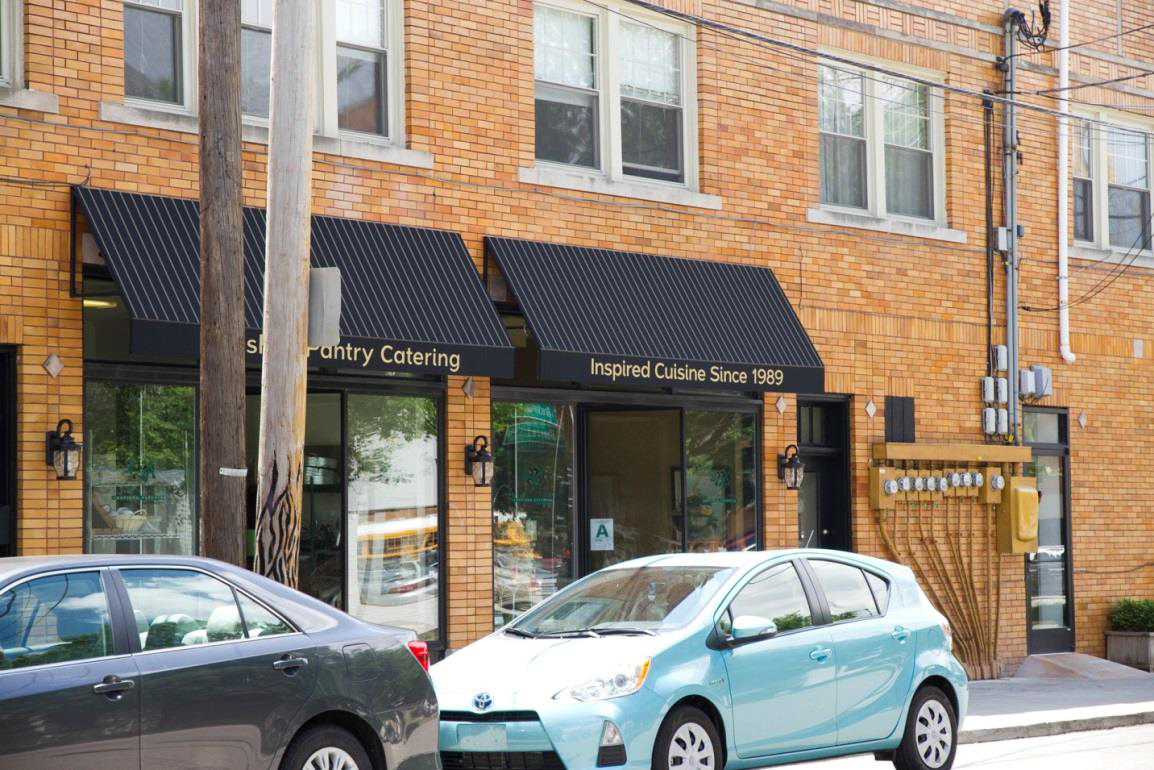 Photos tell the story of thriving business on two-way segments. (Credit: John Gilderbloom)
These results have clear policy implications and make it evident why there has been such public interest in our work. There are health and safety costs at stake that taxpayers should have an interest in—paid for in additional police, fire, and ambulance resources. Our research cites city managers who estimate the taxpayer cost of one-way streets in Louisville is roughly a million dollars each year in additional police, fire, and ambulance costs. That's why cities like Baltimore have declared multi-lane one-way streets a health problem. Furthermore, reduced property values have a substantive impact on the money generated for city coiffures, impacting other critical services like school funding and social services.
These findings are as provocative as our original study, presenting an argument that neighborhoods with one-way streets are not only a safety issue, but that they are also harmful to the community as a whole. The findings also emphasize that, as design features, streets form the primary circuitry for how a city functions. As Jane Jacobs wrote in Fortune magazine three years before her seminal work, The Death and Life of Great American Cities was released:
"The best place to look at first is the street….The street works harder than any other part of downtown. It is the nervous system; it communicates the flavor, the feel, the sights. It is the major point of transaction and communication. Users of downtown know very well that downtown needs not fewer streets, but more, especially for pedestrians."
This concept of the street as the heart, the lifeblood, or the core of urban design provides a visual image for a fact that has never been more important or clear—that streets can shape many aspects of neighborhood life, like housing values, health, safety, foreclosures, and crime.
That said, although many communities across the country are embracing this old-is-new, new-is-old philosophy, there are still obstacles, tradeoffs, and difficult choices to be made. There are still many communities throughout the United States where considering better street design could be one key component of revitalization. We recognize the difficulty of these decisions, but also the mission of our respective planning programs (as well as many other progressive planning programs) to let knowledge serve the city.
Max Weber, the great social science thinker, once said the primary role of a university is the production of "inconvenient facts," something later adopted and paraphrased by Nobel Winner and former Vice President Al Gore as "An Inconvenient Truth." In the same vein we would argue that despite the costs and obstacles, as many of our communities are seeing migration to urban centers in search of walkable, livable, and sustainable neighborhoods, cities must re-evaluate streetscapes currently designed for faster speeds auto mobility.
We argue that changing multi-lane one-way corridors reverses numerous negative impacts of the automobile and sprawl age by creating slower and calmer streets that can better meet the needs of walkers, cyclists, skateboarders, and public transportation services.
Let us focus on egalitarianism and safe streets for everyone. Let us move toward street design that enlivens rather than destroys urban neighborhoods. Let us move to change "one-way" thinking.
John "Hans" Gilderbloom is director of the University of Louisville Center for Sustainable Urban Neighborhoods (http://sun.louisville.eduJ).
William "Billy" Riggs is currently working as an assistant professor of City Planning and Transportation Engineering at California Polytechnic State University.
The Quiet Housing Crisis in Rural America
While housing shortages in major cities are grabbing headlines, rural communities are seeing higher rates of growth in housing prices and a silently spreading homelessness crisis.
This six-course series explores essential urban design concepts using open source software and equips planners with the tools they need to participate fully in the urban design process.
Learn the tools for implementing Universal Design in planning regulations.
View More