Nisha Botchwey and Kirsten Cook detail the articles available on the subject of green health and schools in the Summer 2014 issue of the Journal of Planning Education. (Articles mentioned in this post have Open Access through September.)
---
This month, over 55,000,000 K-12 students across the nation return to school, and less than 16 percent of them will walk or bike to get there each day (National Center for Education Reform Statistics 2013; US EPA 2003). That means a huge majority will be driven to and from their school buildings five days a week. With that many cars on the road, back-to-school travel affects many more households than just those with school-aged children.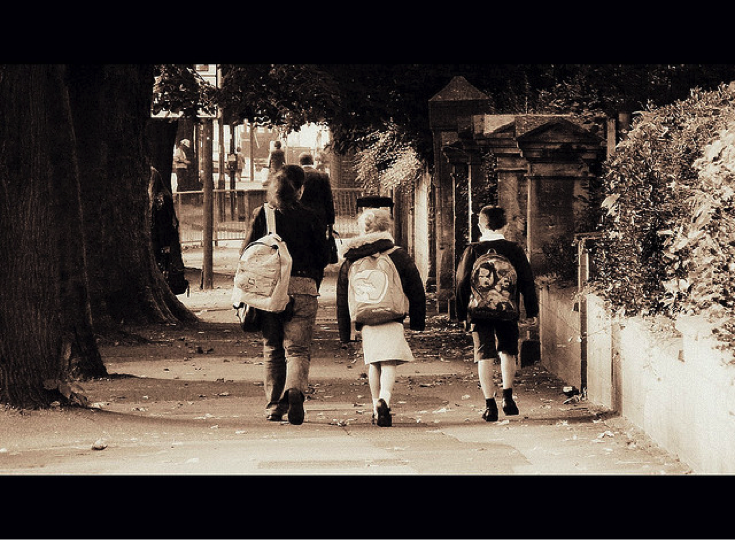 Image by Nicola James
The importance of schools for planning extends beyond their effects on travel patterns. Schools also intersect with a number of other planning-related considerations in cities. Physical activity, community development and engagement, food consumption, land use, and the environment are just a few aspects of the planning arena affected by the ripple effects of schools. These myriad issues means that planners and planning scholars need to think more about how schools impact our ability to create safe and healthy communities.
In particular, we need to start talking about how schools can promote Green Health. Green Health is the practice of place-making at a variety of scales that integrates environmental sustainability with health promotion. The Summer 2014 issue of the Journal of Planning Education and Research is a compilation of conversations and research on this topic. The Green Health Symposium presents a number of policies, strategies, and recommendations to help guide these issues.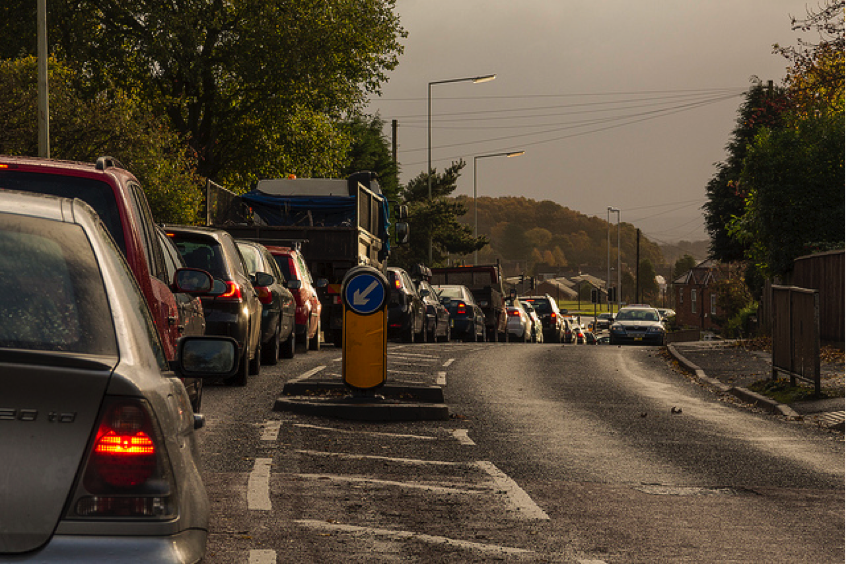 School Crawl (Traffic) by Steve Felton  
Banerjee, Uhm, and Bahl examine student safety and travel as it relates to the built environment and social milieu environmental risks of walking to school. Their piece, Walking to School: The Experience of Children in Inner City Los Angeles and Implications for Policy, provides crucial information about student travel for safe walking trips. Based on their analyses of student and parent perceptions, they present some very useful suggestions for researchers, planners and policymakers to consider in making similar evaluations in other regions. For example, walking to school policies and interventions need to address children's concerns about crime, aesthetics and destinations, in addition to traffic and infrastructure. Also, policies impacting the trips to and from school need to be considered individually as the impetus behind each differs; time demands dominate the morning commute versus parental perception of youth competence, preference and social support in the afternoon.
Wineman et al. further the conversation on walkability and physical activity in general in Designing Healthy Neighborhoods: Contributions of the Built Environment to Physical Activity in Detroit. This piece extends the discussion to the perspective of the low-income resident in studying the interrelationships between the built environment, physical activity, and health outcomes. Their findings demonstrate that in neighborhoods with g well-connected street networks, residents report higher levels of walking than in less well-connected neighborhoods. 
Several pieces in the Green Health Symposium focus on the policy perspective as it pertains to environmental sustainability and health promotion across various community design sectors including transportation. McAndrews and Marcus consider the integration of public health in transportation policy in Community-Based Advocacy at the Intersection of Public Health and Transportation: The Challenges of Addressing Local Health Impacts within a Regional Policy Process. A significant policy implication from their research is that action is required from multiple scales in order to effectively integrate health and transportation issues at the local level. They demonstrate that the issues that pose regional-local conflict require complex solutions, and should include forums, institutions, and advocacy tools for the implementation of health in all policies. 
Veering away from the focus on travel, McDonald et al. examine another significant impact that schools can have on Green Health, which is the issue of physical space and size. The Impact of Changes in State Minimum Acreage Policies on School Siting Practices highlights that that schools are now a driver of sprawl, with parcels occupying an average of 20 to 50 acres of land. Given that there are over 132,000 schools across the nation (National Center for Education Reform Statistics 2013), the sheer size and space of school land suggests the importance of schools in Green Health. They recommend eliminating minimum acreage requirements as a way of ensuring that school districts have the flexibility to meet unique educational and infrastructure needs. They further recommend that states better educate and inform practitioners and decision makers about school siting and successful implementation of policy, noting that there is a gap between emerging research and policy making at the local level The alignment of state guidance and state policy will also lead to successful change in school siting practice. 
Another important policy consideration on this issue relates to the actual use of school grounds, which Vincent explores in Joint Use of Public Schools: A Framework for Promoting Healthy Communities. Schools have enormous potential to provide community infrastructure, but are empty much of the day. The currently available research on this topic is rather limited, and Vincent shows some new and important insights to help guide the successful implementation of joint use in schools to promote a range of physical activity and community programing. He also presents a framework on the varying joint use terminology in order to aid practitioners and policymakers in their collaboration across sectors. 
Finally, the issue discusses the sustainability perspective of schools and Green Health, primarily through Rao and Ross' Health Impact Assessments and Healthy Schools. Students spend an average of 180 days each year in school (Bush, Ryan, and Rose 2011). Therefore, the design and operation of the physical space in which they spend this time likely has a significant impact on their health. This piece makes a connection between the social environment, spatial distribution, and the built environment in its consideration of the influence of factors like school location, exterior landscape, interior environment, and programs. The authors present the current Decision Support Tools that are useful in the creation of healthy schools. They also evaluate existing Health Impact Assessments (HIAs) relating to schools in order to suggest the need for a more comprehensive, multidisciplinary, and participatory approach to HIA for healthier schools. 
As Botchwey et al. state in Green Health: Urban Planning and the Development of Healthy and Sustainable Neighborhoods and Schools, Green Health opens up new ways of strategically assessing the current state of schools and their surrounding communities. Given the significant impact of schools on society, the rich collection of tools, policies, and recommendations embedded in this Green Health Symposium offer the potential for significant positive health and environmental impacts. Applied to the right context in the consideration of factors such as location, timing, resources, and need, this toolkit is a very valuable resource for planners.
References:
Bush, M., M. Ryan, and S. Rose. 2011. "Number of Instructional Days/Hours in the School Year." Education Commission of the States. 
National Center for Education Reform Statistics. 2013. (Accessed November 21, 2013.)
U.S. EPA (Environmental Protection Agency). 2003. Travel and Environmental Implications of School Siting. Washington, DC: U.S. Environmental Protection Agency.
Blog Post by Dr. Nisha Botchwey, PhD, MPH (Georgia Insitute of Technology, School of City and Regional Planning) and Kirsten Cook (Georgia Institute of Technology, School of City and Regional Planning)
---
Freeway Removal Movement Slowly Gains Steam
Although the concept has recently received more national attention thanks in part to the federal Reconnecting Communities Act, cities have shown reluctance to support highway removal projects.
This six-course series explores essential urban design concepts using open source software and equips planners with the tools they need to participate fully in the urban design process.
This course aims to provide an introduction into Urban Design Sketching focused on how to hand draw master plans using a mix of colored markers.
View More