Trends to Watch in Planetizen's Top Posts
We post a lot of articles here at Planetizen, and the traffic created by you, our audience, provides valuable feedback about the ideas and places of interest to the planning and urbanism community.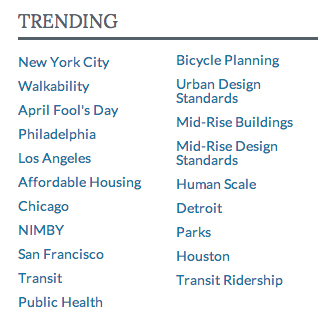 With at least ten posts every day (and ten more every weekend), we at Planetizen do our best to cover a lot of geographic and intellectual territory. Thus, as we monitor which posts attract the most interest and attention, we also collect a lot of data about the ideas and places informing the always-evolving planning and urbanism conversation. Among the many articles, blog posts, and features posted on Planetizen between January 1 and March 31, 2014, here are the five most popular, according to our audience:
1) The Best Planning Apps for 2014 – A blog post by Ohio State Professor of City and Regional Planning (and frequent Planetizen contributor) Jennifer Evans-Cowley shares the results of a survey of professional planners describing the mobile apps they rely on most.
2) Lessons from Don Draper (for Planners) – This post by Georgia Sheridan and Amber Hawkes provides lessons for planners looking to improve their pitch skills from the Mad Men-era business of advertising. As Sheridan and Hawkes put it in the post, "As planners, our ideas are our currency. But to have value, we must learn how to sell our ideas."
3) Mid-Rise: Density at a Human Scale – This post by Robert Freedman, former director of urban design for the city of Toronto, describes the process by which his team created mid-rise design standards to deliver mixed-use, human-scale buildings in more neighborhoods around the city.
4) 10 Lessons in More Engaging Citizen Engagement – Brent Toderian, former director of city planning for Vancouver, and Jillian Glover, communications advisor and former planning commissioner for Vancouver, describe innovative techniques for community engagement, as employed in cities and towns in the western region of Canada.
5) How Useful is Walkability: Are You Oriented to Walk? – Author and regular Planetizen blogger Steven Snell elaborates on one of the most difficult challenges facing planners today: how to measure, and subsequently enable, walkability.
Several themes common among these stories exhibit the changing nature of planning and places. Clearly, Planetizen's readers are interested in deeper (data-enabled?), holistic understandings of their cities and towns. There is also an obvious interest in the design standards that serve as means to planning's ends.
But the most striking trend among these posts is a clear desire for information that can help improve communication in the planning and design process. All of these articles have, at their center, a question of how those invested in the creation of the built environment (and the protection of the natural environment) can better express and share ideas. What are the best tools for gathering and disseminating information? How helpful (or merely trendy) are many of the concepts of contemporary planning and urban design?
Such questions apply to many more people than just competent professionals in the fields of planning and urban design. In fact, these are critical skills for a well-informed and productively engaged citizenry. I'm encouraged that planners and urban designers, as exemplified by our audience's interest in these articles, are continuing to look for new and better ways to communicate. And I'm optimistic that this work ethic, enhanced by new tools like the apps mentioned in Professor Evans-Cowley's post, will yield more and better collaboration with the public.
I believe stories that cross-pollinate the professional-minded and the civic-minded are the gold standard of urbanism content. I hope you'll continue to check in with us as we search for new and even more meaningful connections.
Topics