---
Today, October 3rd, is World Habitat Day. With climate change creating more dangerous living conditions and the world population expected to reach 8.2 billion by 2030, it will become increasingly important to improve the habitat of those living in poverty, says Tatiane de Jesus of ARCHIVE.
In 2007, the world reached the urban tipping-point, when, for the first time in history, the global urban population became larger than the rural one. This trend is to continue. In 2030, the number of people living in urban areas is expected to reach 5 billion, particularly due to its increase in Africa and Asia. If the current situation holds, this growth will most likely happen through the expansion of informal housing, as markets and governments cannot supply enough dwellings or simply are not willing to do so. Living in inadequate houses in which minimum standards are not met imposes additional barriers to people's way out of poverty. Poor health is one of the key aspects that increase the existing burden on those living in poverty. Illnesses often lead to a decrease in income, as household members may miss some working days or have to spend extra resources to get medicine or commute to the medical centre.
In this context, climate change is likely to aggravate already challenging conditions. Greenhouse gases (GHGs) accumulate in the atmosphere, leading to climatic alterations and therefore influencing the environment and making life more difficult for vulnerable groups. Those who face health problems are potentially less able to adapt to new conditions and to more intense health risks.
One of the central effects of climate change is an increase in temperature, which is expected to be between 1.4 and 5.8°C by 2100 in comparison with 1990. It is believed that an increase of 2°C will incur problems in terms of food, water and shelter for millions of people and potential deaths. Vector-borne diseases – such as malaria and dengue – are likely to constitute public health problems affected by variations in temperature.
Malaria is currently a challenge for the health sector in many countries. According to World Health Organisation (WHO), 247 million individuals suffered from malaria in 2008 and approximately one million died. Children living in Africa are the most affected group by the disease. At the same time, climate change is expected to raise malaria incidences. Although there is no absolute proof of this direct effect, higher temperatures are demonstrated to have led to increased incidence of this kind of diseases in some regions, as they facilitates vector reproduction, parasite development cycle and bite frequency.
A report of the Intergovernmental Panel on Climate Change (IPPC) reveals that some national governments have acknowledged the impact of climate change on malaria incidence. In Bolivia, this is especially true for indigenous populations, who are expected to be the most affected by the disease. In India, malaria is believed to spread to higher latitudes and altitudes as the environmental conditions change. In addition, the IPPC acknowledges that malaria-free areas in Ethiopia, Kenya, Rwanda and Burundi are prone to experience the overspread of malaria in the next four decades. Reiter points out that in places where malaria is endemic, a warmer climate may not lead to a greater number of cases; however, areas where are not currently affected by malaria may face spread of the disease in the near future. This, nevertheless, also depends on the dynamics of the disease in the different context and other factors, such as socio-economic development, immunity and drug resistance.
Greater frequency and intensity of natural phenomena, for example rain and wind, also result from climate change. They can be especially devastating in areas where low-income residents of urban centres are frequently constrained to live, as these plots are of low market value but present significant risks. Examples are floodplains, unstable hillsides and contaminated land.
Heavier storms and rainfalls have intensified the occurrence of floods, which impact directly on people's lives. One of the diseases particularly exacerbated by them is diarrhoea, which already causes the death of 1.5 million children every year . Its rise is attributed to floods in India, Brazil, Bangladesh and Mozambique. In the latter country, 8,000 cases of diarrhoea and 447 deaths are believed to have been caused by the 2001 floods.
The impact of climate change is closely linked to socio-economic, health conditions. Consequently, combating its effects requires more than addressing emerging problems, considering the necessity to deal with existing challenges. For this, more attention needs to be drawn to housing and neighbourhood environment. There is a need for improving infrastructure, water access and sanitation in many urban settlements. Support for building better quality houses is also essential, independently from whether dwellings or the plot of land are completely legalised.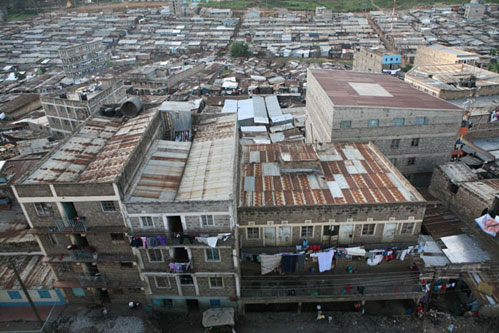 In terms of the diseases mentioned in this article, they are also perceived as resulting from these conditions. According to activists and researchers working on this issue, housing design facilitates the spread of malaria vectors. ARCHIVE, an international non-governmental organisation, is developing a project in West Africa, to make houses mosquito-proof, in order to fight malaria. The governmental program Piso Firme, which replaced dirt floors with concrete cement flooring in Mexican houses, found that the improvement had a significant impact on the reduction in cases of diarrhoea, as well as parasitic diseases and anemia.
In order to promote a more inclusive urban development and tackle the problems caused by climate change, different stakeholders can and should assume their role within it. Governments can improve the provision of infrastructure and services, establish more effective regulation of building construction and work more closely with informal settlements rather than ignoring them, as often happens. International organisations should draw more attention to the promotion of better urban development, providing greater amount of funds for this cause, which has not received enough attention . The private sector should also be more involved in providing housing at the low-end of the market.
As proposed by UN-Habitat, reflecting on the link between climate change and urbanization can be an opportunity to think about the impact of these issues on cities. This may also represent a chance to put more emphasis on the development of healthier cities, which, despite its importance and need, is often neglected in the formulation and implementation of policies. Therefore, it is essential that climate change is also understood at the local level, taking action for the development of better spaces and potentially helping urban residents comprehend more clearly its impact on their daily lives.
---
Tatiane de Jesus works with ARCHIVE, an international non-profit organisation using housing design to improve health globally. For more visit us on Facebook or archiveinstitute.org
The Hyperloop's Prospects Dim
The media is coming around to the idea that the hyperloop is not a near-term solution for the country's transportation woes. It's too little, too obvious, too late.
The Great American Exodus: A Conservative's Perspective
During his keynote speech on September 11 at the National Conservatism Conference in Miami, Florida Governor Ron DeSantis describes the demographic shifts in America since he became governor in 2019 in what he calls the 'Great American Exodus.'
The Resilience of Bikeshare
The inherent simplicity of bikes makes shared mobility systems a crucial transportation option during natural disasters.
This six-course series explores essential urban design concepts using open source software and equips planners with the tools they need to participate fully in the urban design process.
This course aims to provide an introduction into Urban Design Sketching focused on how to hand draw master plans using a mix of colored markers.
View More