The Role of Background Buildings
San Francisco architecture critic John King talks about his new book <a>Cityscapes</a> and the role that so-called "background buildings" play in creating the city's mosaic.
Martin C. Pedersen at Metropolis Magazine talks with King about how people will use his book (which is somewhere between a commentary and a guide) and King's focus on buildings that aren't the obvious choices:
"I wanted to look at the good buildings we tend to ignore, and explore what they add to our subliminal sense of our surroundings. Take a building like 77 New Montgomery St. It's your basic early 20th Century brick commercial structure, nothing unusual at all, until you look closely in a certain light and realize that it seems to shimmer, because the line of white bricks around the windows are arranged in a zipper pattern called dentilation. The city is a mosaic with infinite variations on a theme, and the inevitable differences from one building to the next are what bring the composition alive."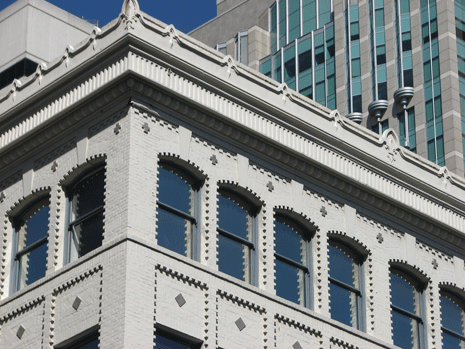 77 New Montgomery St., photo courtesy of John King