<p> <span style="font-family: Tahoma"><span style="font-size: small">Back when Vancouver was first discussing the concept of laneway housing as part of the EcoDensity Initiative in 2006-2008, we nick-named it &quot;hidden density&quot; because it didn&#39;t significantly change the way single-detached housing blocks looked from the street. We did so, recognizing that the word hidden is a relative term.</span></span><span style="font-family: Tahoma"><span style="font-size: small"> </span></span> </p>
---
Back when Vancouver was first discussing the concept of laneway housing as part of the EcoDensity Initiative in 2006-2008, we nick-named it "hidden density" because it didn't significantly change the way single-detached housing blocks looked from the street. We did so, recognizing that the word hidden is a relative term. 
Along with lower-scaled, ground-oriented density forms like row-houses (which we called "gentle density") and expanded options for secondary suites (which we called "invisible density"), laneway housing helped make the point that strategic densification didn't have to mean towers, or even mid-rise, everywhere. It showed that densification that could double or triple the population density of single-detached lots over time (assuming both a secondary suite in the primary home, and a laneway house on a lot), or at least stabilize population decline (given the people-per-home has declined over time), could be accomplished with a similar scale and character to single-detached housing. It was a housing opportunity that appealed to homeowners, not traditional developers. We heard from people interested in it as a rental mortgage helper; as a unit for their care-giver; as a home for ageing teens or young-adult children of the parents in the primary house; as a home for the aging parents, freeing up the primary home for the adult kids and their grandchildren; and so on. In short, a very versatile and strategic housing option. We also heard that it was a great opportunity for the economy of the times, as larger projects were affected by the downturn, and builders were looking for work.  
For more background on laneway housing as its been evolving, take a look at these past posts:  
Here:
Laneway Housing moves forward in Vancouver 
And here:
Laneway Housing Getting Lots of Attention 
Vancouver approves Laneway Housing and "Suites within Suites"  
As well, on the broader issue of secondary suites, laneway housing and similar options across Canada, this article might interest. 
Secondary suites sweeping the nation – Calgary Herald  
So now, fast forward to 2010. "Hidden density" is already making a noticeable mark on the city. In the last few weeks we presented our laneway housing monitoring report, outlining what we've learned from the first 100 units. In fact, we've now approved just under 200 units in the first year or so, distributed across the city - a stable rate over the months, that we're very pleased with.  The next monitoring report will come 6 months after the first 150 units are occupied. Here's a sample of what some of the homes look like: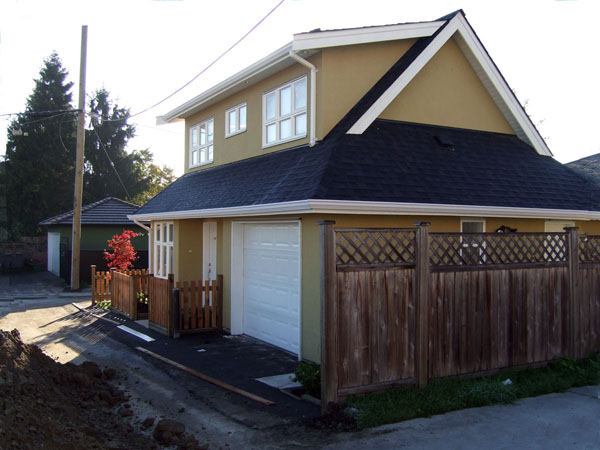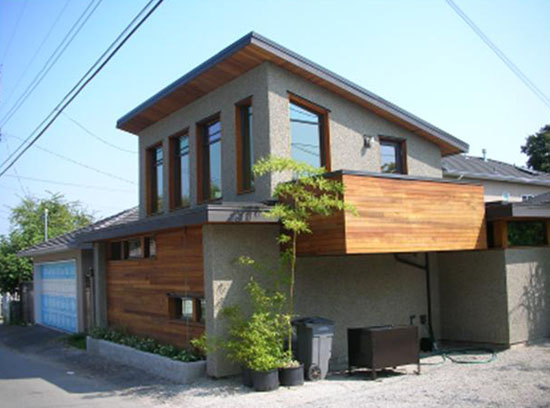 As the report outlines, we've already identified ways we'd like the designs to improve to make gains on their "neighbourliness", and so we've adjusted the design guidelines in the report. We plan to keep monitoring and making adjustments over time - an approach that recognizes the value of learning and adapting nimbly. We'll be further testing options that may reduce the maximum unit size on large lots, and make for a more attractive 1-storey option on 33 ft lots. Council has also asked us to look closer at neighbour notification approaches and the design review process, and other issues relating to how units might be developed over time. All this, to improve upon the success of the program. Its true that we continue to hear various complaints about the program or resulting unit designs, all of which we consider carefully, and there are still voices calling for the program's end (many of whom were against it initially). From my perspective, the complaints provide valuable insight on how to improve the program, but we're also ensuring any adjustments we make don't represent "over-steering" given that the housing type remains generally popular and publicly supported, and generally a success in our eyes. 
For a taste of some of the debate, here's some more media  
Vancouver's laneway housing experiment off to quick start (Vancouver Sun) 
Laneway housing takes off in Vancouver, but is a tougher sell in other Metro cities (Vancouver Sun) 
B.C.'s big boom in little houses (Globe and Mail)  
Not every city is as blessed as Vancouver with our wonderful lane system. Whether you have lanes or not though, cities can do much more to allow secondary suites and other nimble and adaptable housing options in your single-detached neighbourhoods. With what we know about the need for more resilient, sustainable, diverse, healthy and affordable cities and suburbs, this should be business-as-usual. If you are lucky enough to have great lane infrastructure like we have though, you should be taking full strategic advantage of it. Our form of "hidden density" shows one way to do that, and we hope our experience and observations help other cities make such options much less hidden over time.
---
The Hyperloop's Prospects Dim
The media is coming around to the idea that the hyperloop is not a near-term solution for the country's transportation woes. It's too little, too obvious, too late.
The Great American Exodus: A Conservative's Perspective
During his keynote speech on September 11 at the National Conservatism Conference in Miami, Florida Governor Ron DeSantis describes the demographic shifts in America since he became governor in 2019 in what he calls the 'Great American Exodus.'
The Resilience of Bikeshare
The inherent simplicity of bikes makes shared mobility systems a crucial transportation option during natural disasters.
This six-course series explores essential urban design concepts using open source software and equips planners with the tools they need to participate fully in the urban design process.
This course aims to provide an introduction into Urban Design Sketching focused on how to hand draw master plans using a mix of colored markers.
View More