The Busiest Street In Town
Few children's books skillfully cover the subject of urban planning. Chicago's Wacker Manual for the Plan of Chicago (1911), David Macaulay's lavishly illustrated City:A Story of Roman Planning and Construction (1974), and most recently, Planetizen's Where Things Are, From Near to Far (2008) are standouts.
However, as the majority of the world's population shifts to urban areas the basics of sustainable city building must be taught more effectively to children of all ages. With this in mind, I was delighted to receive Mara Rockliff's The Busiest Street In Town from Kim Wiley-Schwartz, Director of New YorkCity-based Streets Education.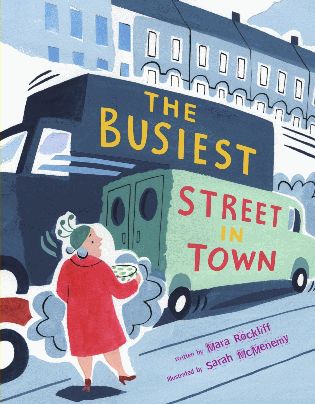 Charmingly illustrated by Sarah McMenemy, the story picks up along Rushmore Boulevard, a major thoroughfare bisecting the homes of lifelong friends, and neighbors, Agatha May Walker and Eulalie Scruggs. Like many formerly pleasant urban streets, Rushmore Boulevard is dominated by motor vehicles to the point where Agatha May and Eulalie can no longer cross the street safely.
The tale follows Agatha May, who is armed with an unflappable DIY spirit, as she attempts to reclaim the street from the hegemony of the automobile. What emerges is the complete transformation of Rushmore Boulevard. 
Drawing most obviously from the techniques employed by Aussie urbanist Dave Engwicht, as well as numerous other livable street champions (Hans Monderman, Jan Gehl, Janette Sadik-Khan, etc.), this whimsical tale will not only delight a five-year old child, it will also inspire the 55-year old traffic engineer, and remind us all to work towards leaving a better world behind. 
Pick up your copy today!  
Topics