<p> Hey, Las Vegas. Good to see you! Tough break about all those foreclosures... But, hey, I hear you&#39;ve got a new mega project opening up. That&#39;s cool! I bet those other broke cities are super jealous. Yeah, this new project&#39;s gonna bring you back to glory, eh? Oh, what&#39;s that? What did you just call it? CityCenter? The Capital of the New World? An urban community? <br /> <br /> Let me stop you right there.<br />
---
Hey, Las Vegas. Good to see you! Tough break about all those foreclosures... But, hey, I hear you've got a new mega project opening up. That's cool! I bet those other broke cities are super jealous. Yeah, this new project's gonna bring you back to glory, eh? Oh, what's that? What did you just call it? CityCenter? The Capital of the New World? An urban community?
Let me stop you right there.
I'm not sure if you've been to a real city before, Las Vegas, or if you know the definitions of the words "urban" and "community", but what you've got on your hands with the recent opening of MGM Mirage's CityCenter is neither a city, urban, nor a community.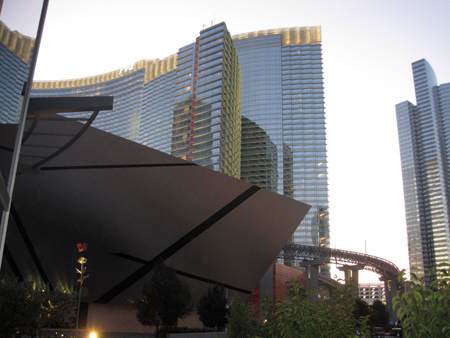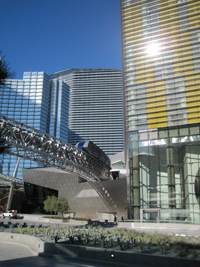 The 19 million-square-foot mega project you've plopped onto your famous Strip -- though flashy and starchitected and likely to gain some green building accolades -- is little more than a sterile attempt at mimicking density and latching on to the yuppie-fueled downtown condo wave that's been washing through America's cities.
I took a walk through it last week, and though I wasn't with the behind-the-scenes media junket that's traipsing around the grounds today, I did get a look at the project from the perspective of the typical Vegas visitor. I rode the three-stop tram that cuts through the property. I took a view from the upper floor of the new Mandarin Oriental hotel and residential tower. I walked through the cavernous Crystals shopping mall. Some of those buildings are pretty nice, but most could as easily be a bank's regional headquarters as an "urban community".
Most of the people wandering your streets could end up within the realm of CityCenter, though the transition from without to within is hardly noticeable. The prescribed pedestrianism of the Las Vegas Strip effectively kills what could be a varied, vibrant walk of discovery. But that's what people want from you, Las Vegas. You're good at what you do, so you might as well keep doing it.
The majority of people have no misconceptions about what you are, Las Vegas. You were hatched like a lab specimen, improbably, in the middle of the Mojave Desert -- as unnatural in your surroundings as the high fructose corn syrup facades and product-placed manufactractions that have stormed and sieged your streets. The definition of your urban experience is a sham, and everybody knows it. That's what they expect, and they are rewarded in plenty when they stumble down your Strip in the gentle daze of a prolonged LED-seizure and the buzz of a discount novelty cocktail.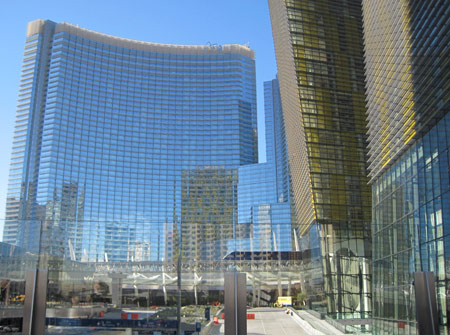 Jim Murren, CEO of MGM Mirage recently told NPR that he wanted to put a "chunk of mid-town Manhattan" in the middle of the Strip. Now, Las Vegas, I know you don't need to be told that you're not New York City. In fact you're nothing close. The idea of splicing the genes of midtown into your streets is as offensive to you as it should be to New York. But knowing and appreciating the fact that you are not a dense urban community, you should have told your friends at CityCenter that the farce of an urban development they attempted to concoct wasn't really your style.
But then again, in a city with a fake Eiffel Tower, a fake Venice Canal, and a fake Statue of Liberty, maybe a project playing itself off as an urban community fits right in.
---
How Sharrows Became Cycling's Most Hated Symbol
Originally designed as a low-cost way to encourage safer road sharing between bikes and cars, the sharrow has become a symbol of the lack of commitment to protected bike infrastructure in many cities.
This six-course series explores essential urban design concepts using open source software and equips planners with the tools they need to participate fully in the urban design process.
This course aims to provide an introduction into Urban Design Sketching focused on how to hand draw master plans using a mix of colored markers.
View More