Visualizing and Analyzing Plans with CityCAD
Planning technology expert Charles A. Donley reviews a new piece of software that combines the worlds of Computer-Aided Design and Geographic Information Systems to help site planners visualize and analyze their plans.

CityCAD is a conceptualization tool for urban design. The standalone software integrates simple drawing tools with impact analysis. CityCAD combines elements of Geographic Information Systems and Computer-Aided Design, targeting the interests of site planners without a lot of extraneous features and functions.
CityCAD offers a tool for exploring urban design concepts and evaluating the impact of a plan. You can design streets, massing, and density while concurrently calculating floor areas, costs, emissions and other factors.
The CAD acronym in the product name acknowledges the software developer's orientation: they wanted a simple design tool. But they also wanted a smart tool to measure the impacts of a project: this is GIS. The software is a hybrid of GIS and CAD, wisely adapted to urban design, yet there is little acknowledgement of the GIS relationship.
But the software approaches the CAD-GIS hybrid in a user-friendly way. Users sketch in streets to define blocks, assign land uses and densities, and then identify potential impacts in real time. CityCAD automatically generates a plan based on user defined design standards. A simple street centerline generates pavement, sidewalks, setbacks and trees from a selected cross section. Relocating the centerline recalculates the block area, dwelling units, non-residential space, and the associated impacts. Resetting density, unit dimensions or total units recalculates the other parameters.
Project drawing is done in a simple 3D perspective view, an important feature for those unskilled in translating a flat map into the real world. The resulting image is cartoonish, not photo real. Creating more complex geometry requires imports from other software such as AutoCAD or SketchUp.
CityCAD can import AutoCAD files, but the typical complexity of CAD drawings limits their usefulness in this decidedly less sophisticated software. If you have a CAD drawing that you'd like to use, it may make more sense to import only a few basic elements. For example, maybe you just import the street centerlines, eliminating most of the lines, points and labels. Alternatively, you could import a site plan as an image and digitize in the streets. The drawing process in CityCAD is quick and intuitive.
Better yet, use CityCAD's tools for conceptualizing the plan from scratch. A range of standard graphic elements can identify edges, landmarks, nodes, and linkages. You can then draw the streets by type, thereby defining the blocks and review the resulting impacts. CityCAD also allows you to refine the design standards and layout to achieve the desired results. Ideally the design process could begin with a georeferenced aerial photo to illustrate existing conditions.
The software has a British orientation as evidenced by the urban design features, default unit of measures and the accents in the tutorial (not that that is bad). You can adapt the software to many US standards -- and most urban design principles are universal. But my initial results still have a UK feel to them.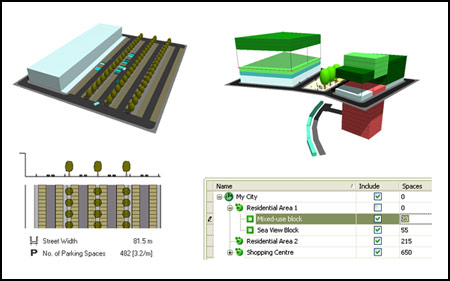 For example, I would like to see an automated method for depicting detached buildings with sloped roofs, such as single family units or townhomes. Breaking up a building around the entire perimeter of a block involves importing CAD drawings or manually editing individual structures. Adding inputs to the detached block category could include building separation, number of units per building and maybe roof slope. This will greatly expand the software's usefulness in the U.S.
Below are some of the analysis tools that would be of most use to planners:
Impact analysis topics include energy consumption, water demand, trash generation, parking spaces, and CO2 emissions. The quality of life topics expand with a couple clicks.
Appraisal tools identify project costs and revenues. Adding the phasing function can produce a great, draft project pro forma. Developers can quickly explore the cost and revenue of multiple scenarios. The Triggers highlight infrastructure concurrency issues.
Livability measures residential proximity to community facilities (e.g. bus stops or schools). The analysis uses straight-line distance, which can be misleading in areas with poor pedestrian circulation. Future versions should consider measuring the routed distance (e,g, following sidewalks). I understand this is a very complex feature, but straight line just does not represent reality.
Activity is a cool analysis tool that depicts daily patterns of land use activity. The problem with Activity tool is you must assign the hours of operation for each activity, a time consuming effort, but perhaps there is a work around. The Holistic City website includes 10 project downloads including Central Park in New York. Marketing to the US market could benefit from another US project with the multipliers and factors adjusted to US standards. This includes land uses completed with activity settings; dollars, acres, and gallons as units of measure; and typical appraisal values. New users could explore the software results and start editing the values. Then they could delete the layout and start their own design with the US standards already in place.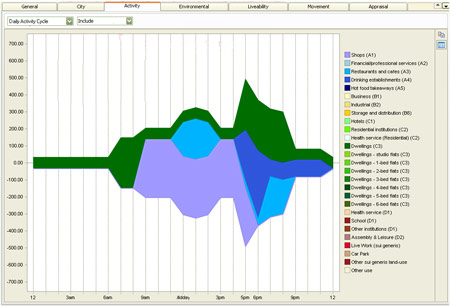 The new version also adds a route and tree manager. Creating a customized street cross section from a simple centerline is powerful. But I wonder how you deal with turn lanes.
Rather than list all the functions and techniques, I encourage you to watch the video tutorials at http://www.holisticcity.co.uk/citycad/onlinehelp/. In an hour you will gain a good feel for the components and basic operation. An 8 hour trial version is also available. Then release your creative energies to decide how CityCAD can benefit your professional practice.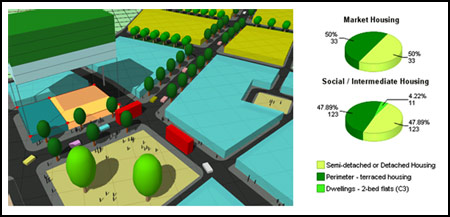 CityCAD targets neighborhood-level design. Current computer processors would struggle with an entire city. The drawing tools lack the complexity to explore architectural details. You can try to do more, but the sweet spot is probably 4 to 40 blocks.
The usability is good. It took me a couple hours to make sense of the software, but I may be more modeling- and technology-oriented than most planners. The button count at start-up is on the high side and some buttons are unnecessary for first time users. There is no Apple version.
The Help suggests the user can customize the model with AutoCAD imports and XML code, but I refuse to accept the challenge. As a planner, I want technology to work right out the box.
Relatively young software (first release, June 2008) typically contains many bugs. I found only one bug (start errors with Vista operating system are addressed in Help). The software is not built as an extension of other software (AutoCAD or ArcGIS), so it is not subject to changes in the parent software. My experimentation with CityCAD was limited and simplistic, but Holistic City seems to have stable product. Regardless, be forewarned that your creative application of CityCAD may find new issues.
For planners looking to integrate GIS-based analysis into their existing CAD drawings, CityCAD offers a fairly straightforward option. It allows users to easily explore urban design concepts and understand how plans will play out once in place – two critical activities that have been compartmentalized too long.
---
Charles A. Donley, AICP is an urban planner who specializes in applying technology to planning issues. Chuck is president of Donley & Associates, where he has worked on projects nationally and internationally. Chuck brings 25 years of experience in public and private sector planning, working on current and long range processes. As Technical Director for CommunityViz, he guided training, professional services, technical support, and software development.
Chuck is also the instructor of a variety of instructional Planetizen webinars, teaching planners such technologies as Google Earth, SketchUp, CommunityViz, and GIS concepts. Learn more at http://www.planetizen.com/courses.