Opinions are flying in the debate over whether or not ailing cities like Detroit should bulldoze their empty neighborhoods. John Kromer of the Fels Institute of Government adds a rational note with this op-ed, explaining what The Flint Model for shrinking cities actually entails.
---

The new policy sounds like urban renewal all over again: save older cities by bulldozing their worst-off neighborhoods. "Razing entire districts and returning the land to nature" is how a June 12 report in the London Telegraph characterizes a "shrink to survive" policy said to be under consideration by the Obama Administration.
Genesee County (MI) Treasurer Daniel Kildee, who supervises land-management activities in the distressed city of Flint, was named as a central figure in shaping this redevelopment-redux policy. "Mr. Kildee, you have been hired or asked by the Obama administration to bulldoze 50 cities," Rush Limbaugh stated in a June 17 web-site posting on "the Democrat Bulldoze Plan."
Urban-issues commentators weighed in with their concerns. "America is in peril of a Demolition Derby, financed by public dollars, striking many of our grand old cities," Roberta Brandes Gratz wrote in a June 18 Citiwire column, assailing the practice of "vast clearance" of neighborhoods to support the construction of "huge projects" such as convention centers and stadiums. In the June 22 Los Angeles Times, Gregory Rodriguez expressed fear that a "back-to-nature" federal policy of "de-urbanization" will undermine future opportunities to revitalize neighborhoods.
As a person who is well acquainted with Mr. Kildee's work, I can assure Mr. Limbaugh, Ms. Gratz, and others that they need not fear either reforestation or large-scale convention center development on viable urban tracts. Before I explain why, some perspective is needed.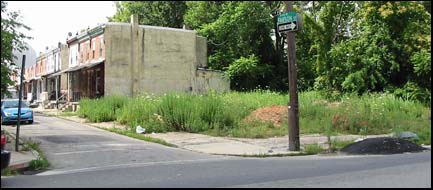 Emptying Cities
Population loss has been a chronic condition in postindustrial cities for well over half a century. As national economies became globalized and the sun set on America's industrial age, businesses moved out of urban manufacturing centers, and millions of former city-dwellers followed the jobs. During the past decade, the rate of population loss has slowed in some cities, aided by the revitalization of downtowns and the resurgence of interest in traditionally designed, pedestrian-friendly neighborhoods. But no one expects postindustrial cities to return to the population levels that existed at mid-twentieth century, when Cleveland had 915,000 residents and Baltimore had 950,000 (the most recent census estimates for these two cities are 434,000 and 637,000). Older cities have already been shrinking for decades, without the help of a federal "shrink to survive" policy.
One consequence of persistent business loss and depopulation is the emergence of a growing number of unoccupied vacant residential and commercial buildings, many of which will remain vacant indefinitely. Some of the houses can be rehabilitated, and some of the former office and factory buildings can be redesigned as lofts, condominiums, art galleries, and restaurants. But many of these vacant buildings will have to be demolished. Last year, an administrator in Philadelphia's Department of Licenses and Inspections told me that city housing inspectors were identifying an average of thirty "imminently dangerous" buildings each month, an average of one a day. These structures are not fixer-uppers-they're about to collapse. Although a wholesale razing of neighborhoods would be foolhardy, some demolition activity will need to be ongoing in older cities in order to remove the most dangerous or most blighted buildings.
An even more serious consequence of business loss and depopulation is the erosion of the municipal tax base. As city leaders struggle to balance their budgets, many of them resort to auctioning off tax-delinquent properties, transferring title to the highest bidders, often without scrutinizing their background and experience as real estate investors or developers. As a result, some of the winning bidders at these auctions turn out to be speculators who convert single-family houses into overcrowded apartment buildings or allow their properties to remain vacant indefinitely.
Tax sale may be a relatively quick way for a city to raise revenues, but conveying properties to unknown bidders does not necessarily solve longer-term problems. According to a 2007 study completed by the Fels Institute of Government, some of the 782 properties that had been conveyed through Philadelphia tax sales during 2005 and 2006 were vacant or in violation of housing codes within less than two years after they had been sold.
The smartest investor-owners regard many properties in older cities as "undervalued assets" that, over time, are likely to increase in value and produce an economic success. Government officials in older cities aren't used to thinking this way. In their zeal to raise cash as quickly as possible, they squander the opportunity to manage their real estate assets strategically and maximize the prospects for both economic success and public benefit.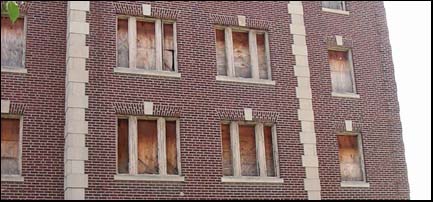 The Flint Model
As head of the Genesee County Land Bank Authority, Daniel Kildee has found a way to generate revenue for the City of Flint while increasing the value of Flint's real estate assets. At the start of each fiscal year, the Authority takes control of all tax-delinquent properties that would otherwise be sold at auction. The Land Bank Authority does not have to compete in bidding wars against speculators, and the City is paid all the taxes due on the properties taken by the Authority.
Then, in coordination with local government agencies and civic groups, the Land Bank Authority makes sensible, systematic decisions about the future of the properties it now controls. An empty house in move-in condition is assigned to a real estate broker, with net sales proceeds paid to the Land Bank Authority. A small vacant lot is sold to a neighboring homeowner for use as a side yard. In a typical year, 25 to 50 houses are rehabilitated for sale or rent. And some fire-damaged, structurally unsound, and severely dilapidated buildings are demolished in order to remove hazardous conditions and create cleared sites for new investment.
A growing number of local and regional leaders are exploring opportunities to replicate this model of successful reinvestment, and the Obama Administration is offering funding to governments that want to organize land banks of their own. The goal is neither reforestation nor wholesale razing of communities. Community preservation and the creation of new value are paramount. Wouldn't this rational approach to neglected-property disposition make sense in lots of disinvested communities?

---
John Kromer is Senior Consultant at the Fels Institute of Government, and is the author of Fixing Broken Cities: The Implementation of Urban Development Strategies.
How Sharrows Became Cycling's Most Hated Symbol
Originally designed as a low-cost way to encourage safer road sharing between bikes and cars, the sharrow has become a symbol of the lack of commitment to protected bike infrastructure in many cities.
Sports Stadiums Bring Few Economic Benefits
While their developers often tout jobs and local economic development as benefits of major stadium projects, research shows these venues often make little impact on local economies.
This six-course series explores essential urban design concepts using open source software and equips planners with the tools they need to participate fully in the urban design process.
This course aims to provide an introduction into Urban Design Sketching focused on how to hand draw master plans using a mix of colored markers.
View More