<p> I live in Hoboken, New Jersey.  It is a small (~50k residents), very densely populated city (fourth in the country), with high pedestrian volumes and some hairy traffic issues in certain areas.  With heavy rail, light rail, subway, bus, ferry, taxi, bicycle, pedestrian, and para-transit all converging at Hoboken Terminal, it is also home to perhaps the richest intermodal transportation facility in the world (in terms of modes).  It is often characterized as  feeling European, or like Brooklyn, take your pick.  Recently, we have been successful in implementing a nascent bicycle plan that includes bike lanes striped along the length of two north/south avenues in the heart of the city.  Cross streets are next with "sharrows&quot; since these streets are too narrow for exclusive
---
I live in Hoboken, New Jersey.  It is a small (~50k residents), very densely populated city (fourth in the country), with high pedestrian volumes and some hairy traffic issues in certain areas.  With heavy rail, light rail, subway, bus, ferry, taxi, bicycle, pedestrian, and para-transit all converging at Hoboken Terminal, it is also home to perhaps the richest intermodal transportation facility in the world (in terms of modes).  It is often characterized as  feeling European, or like Brooklyn, take your pick.  Recently, we have been successful in implementing a nascent bicycle plan that includes bike lanes striped along the length of two north/south avenues in the heart of the city.  Cross streets are next with "sharrows" since these streets are too narrow for exclusive lanes.  The response has been overwhelmingly positive; however, there are very legitimate critical comments from the community about the new bike lanes as well.  Below are the top five of these that I have gathered via local blog posts, with responses that should be appropriate for many other cities undergoing similar discussions with doubtful members of their communities.
 
Comment #1: Bike lanes are a stupid idea and will be a failure.
 
Response: Encouraging bicycling is based on a simple fact: When more people choose to bike in Hoboken, fewer cars are on the street, and parking becomes more readily available.  The goal of bike lanes is to send the message that bicycles belong, and are welcome, on the city's public streets as a viable form of daily transportation.  They also have the side benefit of reducing speeding by giving drivers a narrower lane in which to navigate. Introducing bike lanes is a major shift from the auto-dominated streets of yesterday; however, many cities in America and around the world have had similar initial concerns with very positive results.  The opinions of doubtful and skeptical residents are important; however, we also ask that the bike lanes are given a chance to demonstrate whether or not they are adopted by the general public.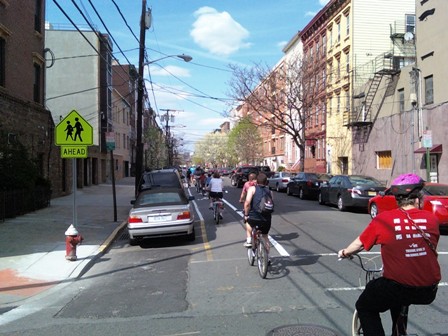 Hoboken bikers take to the new lanes for an inaugural ride.
Comment #2: I can see cars double-parked in the bike lane from my window...they will never work.
 
Response: As bike lanes become more actively used by bikers, some drivers will learn to respect these lanes and keep them clear.  Nonetheless, others may choose to deliberately use these lanes for double parking or other purposes.  This can be addressed in different ways.  Enforcement of double parking laws is certainly one way to discourage this, but does not get to the heart of the problem.  The root cause of double parking is, of course, not having enough curbside parking spaces available.  It is clear that this issue will be looked at by the city more seriously in coming months, hopefully to the relief of both drivers and bicyclists.  That being said, our streets are used by many, many people each day and it should be expected that different uses (i.e. parking and biking) will occasionally overlap.  The best course of action as a community is to share the streetspace when possible using respect, caution, and deliberate care.  In that vein, drivers who choose to illegally double park would best demonstrate their respect for bikers and bike lanes by doing so on the side of the street opposite the bike lane, so that passing motor vehicles are forced to slow down and carefully enter the bike lane to negotiate around a double-parked car, rather than vice-versa.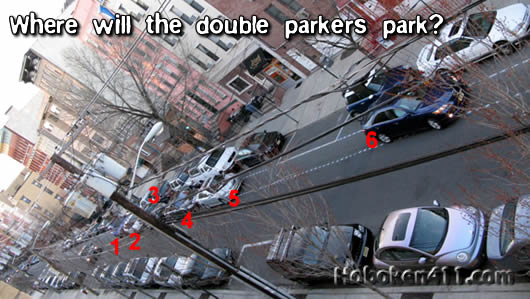 Local blog Hoboken411.com posted this photo earlier in the year to make a point
Comment #3: Bike lanes are dangerous because bikers may swerve out into traffic to avoid potholes, debris, or double parked cars, or dart out in front of traffic at cross streets.
 
Response: Bikers are expected to ride with due care, caution, and concern for themselves and others around them.  They are also expected to follow the same laws and rules as motor vehicles, including staying alert, driving defensively, changing lanes with caution, and stopping at signs and signals.  If a biker needs to change lanes (from the bike lane into the vehicular lane), she should do so as if she were driving a car (except for the turn signal, use your hands/arms instead!) by checking first that she will not be pulling in front of faster moving traffic coming up from behind, carefully and deliberately changing lanes (from the bike lane into the vehicular lane), passing the object that forced the switch, and then similarly changing back into the bike lane as soon as is practicable.  Swerving and careless riding is punishable by law just as it is in a motor vehicle.  At intersections, riders are similarly expected to obey all traffic signs and signals.
 
 
Comment #4: Bike lanes are more dangerous than simply sharing the street.
 
Response: Bike lanes should never be touted as offering safety or protection from drivers; rather, the goal of bike lanes is to send the message that bicycles belong, and are welcome, on the city's public streets.  There is truth to the idea that a bike lane can provide a false sense of security, but it is up to the biker to behave with due care and caution so that they protect themselves and people around them.  On the other hand, bike lanes also send a clear message to drivers that they are not supposed to be in (or near) the bike lane.  You can already see this message being followed along Madison and Grand Streets, where most cars position themselves in the center of the new lane created between the cars parked on the right side of the road and the newly marked bike lane.  Just as Hobokenites are much more aware of pedestrians than drivers in other New Jersey cities, increased safety for bicyclists will come with greater numbers of bikes on the street and, hence, a greater awareness of bikes by drivers.  Examples from cities all around America and internationally have shown that as drivers become more familiar with greater numbers of bikers on the street, the risk of accidents between the two decreases. 
 
 
Comment #5: The bike lanes are on the wrong (left) side of the street, isn't that illegal?
 
Response: Precedents in other American cities (New York City, Minneapolis) have shown that on one-way streets with parallel parking on both sides, bikers benefit from a much lower risk of being "doored" (unexpectedly hit by a car door opening) when the bike lane is on the left side of the street adjacent to the passenger-side door (instead of the driver-side door).  This is particularly true during peak traffic periods when many vehicles have no passenger (solo commuters).  Also, since drivers sit on the left side of cars, they have better visibility of bicyclists of all sizes.  On streets with bus stops, left-side bike lanes prevent bicyclists from jockeying with buses (currently not the case in Hoboken, but also a design factor).  Nonetheless, bikers should watch out for passenger doors opening, keep a reasonable distance from doors by staying in the far right portion of the bike lane, and remember to slow down or stop to avoid swerving into the vehicular lane if a door appears to be opening.  New Jersey Statute 39:4-14.2 requires bicyclists to "ride as near to the right side of the roadway as practicable"; however, there is no specific regulation pertaining to the placement of exclusive bike lane markings.  Therefore, bicyclists have a choice of riding either in the designated bike lane or to the far right.  It is reasonable to assume that such nuances in the state law are absent due to the relative absence of bike lanes throughout New Jersey until very recently, and that these regulations will likely need to be updated for clarity to reflect the changing character of urban streets throughout the state.  Until that time, bicyclists may choose to ride in Hoboken bike lanes placed on the left side of one-way streets for the reasons described above.
---
Freeway Removal Movement Slowly Gains Steam
Although the concept has recently received more national attention thanks in part to the federal Reconnecting Communities Act, cities have shown reluctance to support highway removal projects.
This six-course series explores essential urban design concepts using open source software and equips planners with the tools they need to participate fully in the urban design process.
This course aims to provide an introduction into Urban Design Sketching focused on how to hand draw master plans using a mix of colored markers.
View More