Stimulus money is available for a variety of energy efficiency projects, but many understaffed cities are having trouble meeting the impending deadlines. Jessica Millman, Joe Schilling, and Kathryn McCarty have found a loophole that can help.
---
Many local government officials and staff are working late nights and weekends filling out Stimulus paperwork, as application deadlines flow one right after another. Whether these dollars flow directly to local governments from federal agencies or though the states, the Stimulus legislation has created a myriad of separate processes and deadlines. In everyone's haste to get the dollars on the street, many communities are overlooking this rare opportunity to leverage these federal funds and build self sustaining initiatives. "But that requires time to plan," our local colleagues tell us - a luxury most federal and state Stimulus processes do not encourage.
Last week's New York Times article documents the frenzy surrounding Department of Energy's (DOE) Energy Efficiency Community Block Grant (EECBG) program. Communities across the country are struggling to devise plans that create green jobs, promote energy efficiency and reduce carbon emissions. Few cities are thinking big or long term. Plus, within 18 months the communities must show reductions in overall energy outputs. Yikes!
Hidden with the EECBG regulations is a potential safety valve. Communities receiving direct formula funds can file an extension (Form424) on or before the June 25th deadline, which gives these local government 120 days to develop a more robust community energy plan. Think of it like filing for an income tax extension. As part of the deal DOE will even advance up to a maximum of $250,000 to support energy plan development.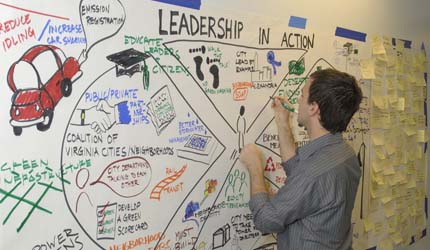 Filing Form 424 gives some breathing room for local governments to carefully consider the short and long term implications of community energy conservation and generation and more importantly to actively engage citizens and businesses. Remember creation of green jobs is a core criteria under the EECBG program. Only a handful of cities have any experience when it comes to community energy planning, so it would be prudent to take a few weeks, scour the web for model plans, and chat with colleagues in the US and abroad.
A few leading communities (e.g., Seattle, Boulder, Chicago, San Francisco, Portland, etc.) have sophisticated sustainability plans and initiatives already under way that establish policies and programs for reducing carbon emissions, increasing energy conservation, and exploring avenues for community energy generation. They could easily plug in these existing actions into their EECBG application and be done with it. Even for these pioneering cities, however, filing Form 424 would also give them time to create a plan that takes their existing programs to the next level by benchmarking against other cities and exploring the application of new technologies.
Another layer of cities and counties now have climate action plans formulated through the US Conference of Mayors and/or ICLEI's Climate Change initiatives. These plans provide some interesting ideas and ambitious targets. Implementation of these plans is the real challenge that lies ahead. Filing Form 424 would allow these more than 1000 local governments to develop more feasible implementation plans with concrete performance measures.
Thinking Long-Term
We know it's hard to think long term when state and local governments in the short term are struggling to balance budgets. Why not simply identify a few local government buildings as energy conservation demonstration pilots and move on? Remember the real goal behind EECBG is to reduce carbon emissions through energy conservation and generation-the meaningful change contemplated here does not happen with one-time demonstration projects. Communities should think in terms of leveraging these funds to build a sustained energy program.
For those readers who have pulled-up Form 424 on their computer screens, the following five point strategy might help with the launch of your community energy planning effort:
1. Inventory existing plans, projects, and programs. EECBG dollars can be used for a wide variety of projects and programs. Eligible activities do not have to be capital projects. DOE is saying that anything that reduces energy consumption will be eligible. Determine what your existing plans recommend for energy efficiency, conservation and the generation of renewable energy.
2. Benchmark model programs. Whether from your region or across the globe, what have other cities and counties done in the emerging field of community energy planning. We don't have a great track record here in the US, but with the recent explosion of climate action plans, more local governments have begun to think seriously about the links between carbon emissions reduction, energy efficient buildings, and climate change.
3. Get your green team together. What other department and agencies within the confines of local government should be involved in this planning effort-planning, housing, building, public works, general services, etc.?
4. Engage local residents and businesses. Developing a community energy plan is not an exclusive local government activity. When it comes to community energy programs and projects, what ideas and issues do homeowners, tenants, manager and employees have? How will these longer term energy and climate change challenges affect them? Public workshops and town hall meetings are excellent ways to share information and generate buy-in.
5. Launch a collaborative planning process. Now the tricky part is facilitating a planning process that brings together these internal and external elements within that 120 day period.
Strategic planning is hard work. Building consensus among diverse constituencies with different interests and agendas can often be more art than science. However, any meaningful movement towards energy independence and a new carbon economy will require thoughtful community energy plans. For our local government colleagues out there, take a deep breath. Push forward with the rest of your stimulus applications. Fill out DOE's 424 Short Form and take at least one weekend off this summer.
---
Kathryn S. McCarty is Executive Director and founder of the Eco City Network, a new enterprise for helping local governments do strategic sustainability planning. In her current position with Arlington County's Department of Environmental Services, Kathryn identifies government efficiencies and initiatives to manage with fewer resources and helps local officials achieve their vision of smart growth and civic-oriented community planning.
Jessica Cogan Millman is a national expert and leader in urban planning, environmentally sustainable development, and the principles of smart growth. She served as Deputy Chief of Staff for Maryland's Office of Smart Growth and then joined former Governor Parris Glendening at the Smart Growth Leadership Institute.
Professor Joseph Schilling is associate director of the Green Regions Initiative at the Metropolitan Institute-Virginia Tech, investigating innovative ways of creating eco-sustainable communities through better design, planning, and collaboration. Schilling is currently completing a multi-year planning studio for the Institute's home city of Alexandria, Virginia that developed the Mid-Atlantic's first Eco-City Charter.
---
FOOTNOTES:
1 The Energy Efficiency and Conservation Block Grants (EECBG) Program offers states and local governments about $2.8 million in direct formula grants. EECBG grants can be used to reduce energy use and fossil fuel emissions and for improvements in energy efficiency.
2 For those smaller cities with modest formula grants (say less than $250,000) the DOE regulations seem to permit a proportionally smaller advance of their grant funds for developing the plan.
The Right to Mobility
As we consider how to decarbonize transportation, preserving mobility, especially for lower- and middle-income people, must be a priority.
The Once-in-a-Generation Opportunity to Remake Downtown
Urban cores around the country were transforming into live, work, and play destinations before the pandemic. The pandemic was a setback for this transformation, but it could also be a rare opportunity. It's up to city leadership to seize it.
This six-course series explores essential urban design concepts using open source software and equips planners with the tools they need to participate fully in the urban design process.
Learn the tools for implementing Universal Design in planning regulations.
View More