The results are in! We asked for you ideas for reusing the empty car dealerships cropping up around the country. Urban gardens? Flying car launch pads? These ideas may seem far out, but the number one answer may surprise you.
---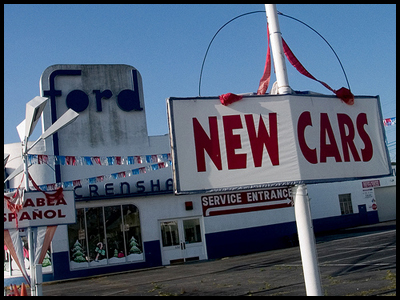 Five-acre plots of emptiness are popping up across the country. From Fort Wayne, Indiana to San Antonio, Texas, from Millerstown, Pennsylvania to Pittsburgh, California, car dealerships are closing down, leaving empty scars of land behind. The closures are a result of the continuing struggles of American automakers, which recently announced the closure of nearly 2,000 auto dealerships nationwide. Chrysler is closing 789, and General Motors is shutting down 1,100 more. That means almost 2,000 big plots of land in high-visibility parts of American communities will be empty and available for reuse. So what should cities do with these soon-to-be-empty spaces? We asked the Planetizen community of planners, developers and designers to decide.
Over the course of five days, almost 100 ideas were submitted. The ideas ranged from the practical to the extreme, utopian to unreal. Planetizen readers were invited to vote on the best ones. Almost 1,500 votes came in.
As of May 21, 2009, these were the top five ideas:
Ask the local residents about what the community needs (228 votes)
Urban gardens (213 votes)
Create walkable, vibrant places and improve current communities (141 votes)
Farmers' markets and local events (124 votes)
Solar and wind energy park/vehicle charging stations (109 votes)
It's probably not too surprising to see which idea came out on top, as it speaks to the essence of planning. Most voters chose the idea of asking the locals what their community needs. One of the basic tenets of planning is to work with community stakeholders to build consensus about what a place needs, not to come in with a prescribed solution (which many of the other ideas are).
While the winning "idea" is really more of a decision to not choose an idea, it is consistent with the ethos of the field today to create consensus over any new development. In a way, the selection of "Ask the local residents what the community needs" as the winning idea speaks volumes about the care and consideration going into planning processes around the country.
The idea to create urban gardens came in a close second, and was actually the front-runner for the first few days of voting. With increasing media coverage of environmental implications of industrialized farming, converting large asphalt-covered car dealerships into community gardening areas to increase local food production gathered a lot of support. But as one voter pointed out, gardens might not blend well with the urban form. "Car lots are usually on prime land fronting arterials, which should be used for a higher value use."
While some ideas did call for "higher value uses" such as vertical housing towers with flying car access, many of the ideas submitted tended towards environmentally-friendly, community-centric adaptations. The third place idea focused on creating walkable developments. The fourth most popular idea suggested using the spaces for farmers' markets and other local community events. The fifth place idea sees empty dealerships reborn as renewable energy stations.
Parks, schools and affordable housing also ranked moderately well in the voting. Job centers and training facilities were mentioned in a number of the suggestions. Overall, the majority of ideas were straightforward and fairly reasonable. There were some, however, that couldn't quite slip into the mainstream.
Ten people voted to convert empty car dealerships into tent suburbs. Five voters supported turning them into "places for granola heads to park their Subarus and chant." Another suggested doing "nothing". This suggestion received no votes.
Planning by Polling?
As a number of voters pointed out, the question of what to do with these spaces was a little bit disingenuous. Planning, at its core, is place-specific, and many voters made the point that drawing an overarching blanket solution for all the nation's emptying car lots wouldn't adequately serve the communities affected by the dealership closures. Building a mixed-use transit oriented development might fit into the fabric of Chicago, where at least one GM dealership is closing, but probably wouldn't work too well in rural Huron, South Dakota, population 12,000, where another GM lot is closing down.
Another of the most common reactions to the question was that, by and large, these car dealerships are private property. A number of readers suggested that the market would determine how these spaces would be reused, and that suggestions by planners, community members or practically anybody else shouldn't carry any weight at all.
The variety of responses and ideas submitted in response to this basic question was an experiment in crowdsourcing – tapping into the collective knowledge of a group, and using the group's opinions to identify the most appropriate solution. As the digital divide closes, this sort of online participation may one day help decide the direction of land use in communities everywhere.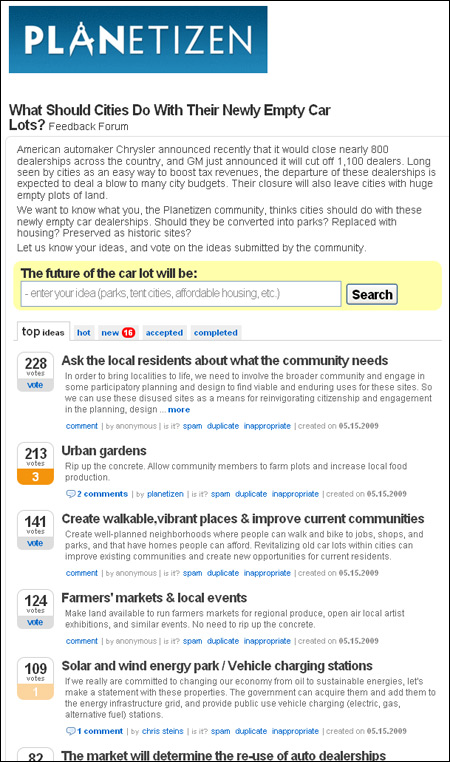 Thanks to everyone who participated in our first Planetizen Brainstorm!
Freeway Removal Movement Slowly Gains Steam
Although the concept has recently received more national attention thanks in part to the federal Reconnecting Communities Act, cities have shown reluctance to support highway removal projects.
This six-course series explores essential urban design concepts using open source software and equips planners with the tools they need to participate fully in the urban design process.
This course aims to provide an introduction into Urban Design Sketching focused on how to hand draw master plans using a mix of colored markers.
View More