John Norquist, President and CEO of the Congress for the New Urbanism, believes that President Obama should reconsider committing stimulus funds to decades-old freeway expansion projects and take transportation policy in a new direction.
---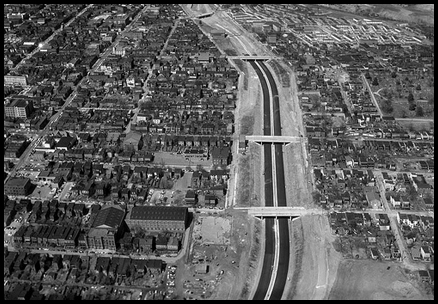 Facing the nation's deepest economic crisis since the Great Depression and hearing from every quarter that the only thing worse than delay is timidity, President-elect Obama called on Congress weeks before his inauguration to draft stimulus package legislation that would kick start the economy and launch the new administration's domestic agenda. Meeting the timeline, but hardly the spirit of boldness hard times require, the Obama administration and House Appropriations Committee produced a package that looks like it was designed by the outgoing Bush administration. It offers a few hopeful green gestures with tax credits for energy efficiency, but on transportation the Appropriations Committee package commits taxpayer billions to a status quo of lots of big highways and only modest amounts for trains, transit or local street networks that serve as high value settings for development and job creation.
Heralded as a way to put the construction sector back on its feet, the transportation component of the bill offers a hidebound formula for spending money on the nation's transportation system. The bill makes a relatively small investment in transit ($8 billion) and trains ($1 billion), while mostly passing the buck – or 30 billion bucks, to be precise – to state DoTs and their long lists of backordered highway projects.
Obama gave highway officials much to hope for when he called his plan "the largest new investment in our national infrastructure since the creation of the federal highway system in the 1950s," but the incoming President and his congressional allies need to seriously consider whether putting most of their dollars in the superhighway basket really promotes the innovation, and more crucially the immediate economic activity, this country badly needs.
Is "Shovel-Ready" Enough?
State bureaucracies claim to have thousands of "shovel-ready" projects. But examining the list of "shovel ready" state projects at aashto.org you find a list of decades-old freeway expansion proposals, large-scale projects that according to FHWA estimates, only 27% will be under construction within a year . Intimately familiar with the realities of transportation funding deployment, the nonpartisan Congressional Budget Office offered cautionary advice to the Appropriations Committee on just this point.
Even where construction can begin quickly, highway investments offer dubious long-term benefits. Among the projects likely to be submitted for stimulus funding are a multi-billion dollar widening of Louisville's riverfront freeway, adding 75 feet to the route's girth, and further separating downtown from the valuable Ohio River banks. Another $2 billion will be requested to widen and "modernize" Interstate 94 from Milwaukee all the way to the Illinois border. Though it won't achieve any significant reductions in drive times, this investment is projected to add more than 200,000 new vehicle miles (and 80 tons of carbon emissions) per day. On down the roster, the "shovel ready" lists promote high-cost roads that add little or no value.
Contrast that to the infrastructure of America's towns and cities, the setting for most of America's wealth and jobs. Their streets are even more badly in need of investment than highways – every winter storm opens new potholes (and new stimulus opportunities) – but they are nowhere to be seen in the stimulus package. Congress's lack of commitment to streets could deny the nation a genuine "shovel ready" opportunity to put dollars in circulation almost immediately. What's more, the right investments in streets, local transit and high-speed rail will address long-term constraints that are holding America back.
A New Direction
President Obama should insist that Congress move federal transportation policy in a new direction. He need only look to the Internet, employed to such definitive effect by his election campaign, for a telling example of how 21st century transportation systems should work. Internet traffic makes use of a network of linkages, breaking up large volumes of data into small packets and distributing them through a web of available nodes. It's fast, and it's reliable. The same model applied to transportation networks will allow all modes of traffic to flow over multiple redundant routes, making travel times quicker, driving, walking and bicycling easier, and transit service more viable. At the same time investment in streets will remove barriers to urban real estate development, promoting the proliferation of neighborhood amenities and leading, ultimately, to shorter commutes and fewer car trips.
Barack Obama and Joe Biden recalled the whistlestop campaign of Harry Truman with their Ride to the Inauguration. Meanwhile the stimulus package working its way through Congress is sidetracked into a cul de sac of depressing holdover ideas about transportation in America.

---
John Norquist is president and CEO of the Congress for the New Urbanism (www.cnu.org), a leading national organization supporting walkable, mixed-used neighborhood-based development. You can find more information on CNU's proposal to improve networks of walkable streets using stimulus funds at http://cnu.org/sustainablestimulus.
San Francisco Just Ended Single-Family Zoning
The San Francisco Board of Supervisors voted to Tuesday to eliminate single-family zoning, but pro-development advocates say additional changes are needed to unleash a wave of construction.
This six-course series explores essential urban design concepts using open source software and equips planners with the tools they need to participate fully in the urban design process.
This course aims to provide an introduction into Urban Design Sketching focused on how to hand draw master plans using a mix of colored markers.
View More