Mike Lydon of Duany Plater-Zyberk & Company reports on the recent Transport Summit in Charlotte, NC, where presentations ranged from discussions of 'context-sensitive' road design to crafting the 2009 federal transportation bill.
---
A great strength of the Congress for the New Urbanism (CNU) is its dedicated and diverse membership. Comprised of architects, urban planners, urban designers, real estate developers, landscape architects, public health experts, politicians, civil and traffic engineers, educators, and transportation planners (to name but a few) -these creators and stewards of the built environment routinely work together to not only deconstruct asinine post-World War II planning policy, but to offer pragmatic solutions for creating a livable, more sustainable human habitat through better urbanism. Indeed, the organization's new pitch is "the convenient remedy for an inconvenient truth."
Clever, right? I think so, especially as Mr. Gore continues to espouse a brand of sustainability that focuses largely on electrifying a single mode of transportation- cars. But, I digress.
To take urbanism to the top of the sustainability discussion, one of the CNU's focus is reforming the technocratic post-World War II planning disciplines that remain, intentionally or not, locked into the habit of moving cars as fast as possible and sprinkling land uses lightly across the land-McHouses here, office parks over there, an 8-lane arterial to connect them down the middle you get the idea.
This past week in Charlotte, North Carolina, the CNU hosted 150 members interested in helping write a new chapter in American history, one where those building America finally work outside their own discipline to construct a competitive 21st century sustainable transportation planning paradigm-a crucial endeavor if we are to battle global warming, gigantism and what Jim Kunstler calls "the largest misallocation of resources in world history."
Led by an impressive list of planning professionals, politicians and advocates, the Summit's attendees shared research and began to develop draft standards, policies and models for a transportation infrastructure that prioritizes access to place and not just automotive movement through space. This philosophy, access over mobility, is the new mantra for America's most enlightened transportation planners and traffic engineers.
Thursday
Opening the Summit on Thursday morning Andres Duany set the tone with an impassioned speech imploring attendees to remain as generalists capable of appreciating the full complexity and requirements of compact and connected urbanism. Duany emphasized the unintended consequences professional specialization wrought in the latter half of the 20th century by pointing to pre-War architects and planners who not only knew each other's trade inside and out, but also landscape architecture, biology, construction, finance and transportation. The quote of the day may have come when Duany forcefully quipped "urbanism hates specialization."
Jackie Grimshaw (Center for Neighborhood Technology) Geoff Anderson (Smart Growth America) John Norquist (CNU) and Mike Krusee (Texas House Representative) followed with a lively debate over how to best fund and implement a new federal transportation agenda, namely the 2009 re-writing of the federal transportation bill, which promises to be the most ambitious yet. As expected, there was no clear answer for fully funding the nation's transportation infrastructure needs, especially given the fiscal constraints burdening the United States. However, all panel participants did agree federal transportation dollars must be allocated more equitably to all available modes. To that end, most Summit attendees have high hopes for President-elect Barack Obama and his ability to understand such issues better than his predecessor. His intention to create an Office of Urban Policy and a general commitment to lessening our dependence on oil bode well.
The day's introductory sessions closed with an overview of how new sustainable networks are being built in Charleston, Texas and in the Summit's host city, Charlotte. In regard to the latter, I would be remiss if I didn't mention the new streetcar tracks being laid on Elizabeth Street. Believe it or not, Charlotte doesn't have a streetcar yet, nor has it funded one. Nonetheless, it is planning for one, and soon enough part of the infrastructure will already be paid for and in place-a wise move considering cost estimates only rise as projects move further into the future. Now that's smart growth.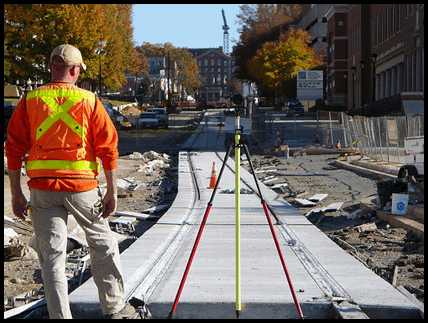 The rest of the afternoon was spent visiting Charlotte's charming street car suburbs of the early 1900s, the new LYNX light rail line, and Charlotte's fast developing downtown, er, uptown district-the city's best examples of compact, connected and complete urbanism.
I was particularly impressed by how transformational the LYNX line has been. With the help of a transit-oriented development zoning overlay, stations all along the formerly derelict south corridor are becoming development magnets. The TOD housing already in place has helped LYNX exceed all ridership projections while refocusing development to provide a new sustainable pattern for a city largely comprised of suburban sprawl. Go Charlotte.
Friday
Brian Bochner, a former president of the Institute of Transportation Engineers (ITE) started the festivities by sharing the progress made on the CNU/ITE initiative to reform the Recommended Practice for the Planning of Urban Roadway Systems manual - known to many in planning circles simply as the 'Green Book.' The goal of this joint effort is to institutionalize context sensitive design solutions as the modus operandi for all future traffic engineering practice. To include context sensitive solutions - meaning that a thoroughfare's composition would change with the character of the urban environment through which it passes, or be designed simultaneously with the urban environment to be created-would help restore more sensible roadway engineering practices, which today measure roadway performance largely by its level of service (read capacity), not its character.
Such a system, as maintained by the Green Book for decades, proliferates the conventional hierarchy of highway, arterial, collector, and cul-de-sac street types - a pattern that Norm Garrick, a professor of civil engineering at the University of Connecticut, has found induces an auto-dependent pattern of land use. His research demonstrates that well-connected street networks, small blocks and a mixture of land uses actually correlates to less auto use, and a more bicycle-friendly/walkable environment.
Although this is obvious to most urbanists, the statistical evidence professor Garrick was able to uncover through his research is extremely useful, and when complete will help urbanists fight for better street networks. For any Californians reading this, his research was conducted in 24 small California cities and is worth checking out (I am told the CNU website wills soon have all conference powerpoints available online).
An incredibly insightful presentation from Danny Pleasant, interim director of Charlotte's Department of Transportation followed. Danny illuminated how the degree of connectivity within a given roadway network is instrumental to emergency response time, as well as municipal spending. While the new urbanists have long battled fire departments over wide streets (several firemen attended the Summit), both camps certainly agree that a dendritic pattern of streets increases response time and is more costly for the tax payer because more fire and first responder stations must be built to maintain sufficient response times. Danny's research from the City of Charlotte corroborated this point as he diagrammed where a single fire station's coverage would nearly double, and require less municipal spending, if only a few streets were allowed to connect. Particularly sobering was the statistic a firefighter recited, which was that house fire basically doubles in size with each passing minute.
By the afternoon attendees were ready to roll up their sleeves and begin crafting policy language. To facilitate pointed group discussion, the larger group was broken out into smaller groups tasked with tackling the following four focus areas:
1) Network-Defining, Measuring, and Sustaining
2) Network and place; Network and Modes
3) Network – Implementation Policies and Barriers
4) Emergency Responders and the Network.
Each group met for three hours before reporting back to the larger group at the end of the day. In just three hours most groups did not arrive at any substantial conclusions, but nonetheless were able to effectively bandy over all their topics and all of the related issues. One of the largest challenges my particular group faced-Network and Modes-was staying on topic. That is, we discovered how hard it is to discuss expanding mode use without discussing implementation policies and barriers. Regardless, the discussion was full of passion and focused mostly on bicycles, pedestrians, trains of all types, bus transit and yes, cars.
Saturday
Having discussed our topics in great detail the day before, work resumed Saturday morning with the specific goal of producing draft platform statements that CNU could then use as the basis for its own continued transportation networks campaign, and perhaps the creation of a parallel Sustainable Networks Manual.
The challenge here was boiling down pages and pages of discussion notes to direct action statements that were not so specific they would lose the reader, nor too vague to be nothing but 'good mother' verbage.
After reconvening later in the morning, each group had to present their statements to the larger group for review-a veritable intellectual gauntlet if I have ever seen one.
If you were not in attendance, but are interested in learning more, or participating in this important initiative, there is still time to get involved. I would start first by contacting the CNU for the results of the Summit. The more participation, revision and oversight the better, as it will only strengthen this relatively small, but politically adept organization's ability to implement a transportation network policy capable of meeting the challenges of the 21st century.
The Right to Mobility
As we consider how to decarbonize transportation, preserving mobility, especially for lower- and middle-income people, must be a priority.
This six-course series explores essential urban design concepts using open source software and equips planners with the tools they need to participate fully in the urban design process.
Learn the tools for implementing Universal Design in planning regulations.
View More