<p> That&#39;s what some guy said to me late last night as I waited for my tacos at a typically busy taco truck. He was talking about our Los Angeles neighborhood, Echo Park, which was recently named by the American Planning Association as one of the &quot;<a href="http://www.planning.org/greatplaces/index.htm" target="_blank" title="APA's Great Neighborhoods List">10 Great Neighborhoods of 2008</a>&quot;. It&#39;s a nice honor for the &#39;hood -- and I think they&#39;re right -- but I&#39;m with that random taco dude: don&#39;t tell my landlord.<br />
---
That's what some guy said to me late last night as I waited for my tacos at a typically busy taco truck. He was talking about our Los Angeles neighborhood, Echo Park, which was recently named by the American Planning Association as one of the "10 Great Neighborhoods of 2008". It's a nice honor for the 'hood -- and I think they're right -- but I'm with that random taco dude: don't tell my landlord.
I've lived in Echo Park for just over a year, and while I'm relatively new there, I've gotten pretty familiar with its pros and cons. Walkability, access to good and services, proximity to open spaces, access to transit, and a diverse population are some of the best aspects of this neighborhood, and many of these are cited in APA's commendation. One of the bad parts is rent.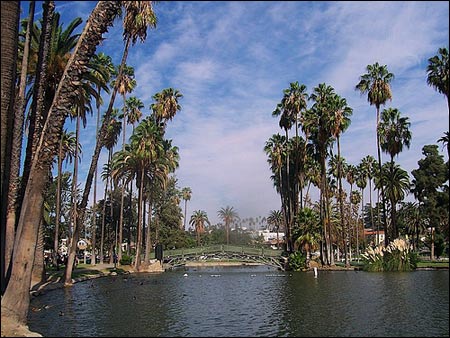 A cursory search on Craigslist reveals two-bedroom apartments easily renting for $2,200 or more, and one-bedrooms going for more than $1,300 a pop. Finding a room for less than $700 is a real challenge. Some say that's the cost of living in a big city. Now it's the cost of living in a "Great Neighborhood".
As much as I'd like to keep this a secret, the word's gonna get around. I hope my landlord doesn't find out, but he probably will.
Rising rents seem to be inevitable in this city, and nearly any other. But now this nice bit of PR is likely to push Echo Park's rents even higher. What's likely to result is increased gentrification of the neighborhood, which is a threat to the area's incredible diversity. Of course, every neighborhood evolves, but these types of top lists tend to speed up the process. Just ask a Portlander.
Those of use who already knew Echo Park was a great neighborhood should take some pride in having vibrant and enjoyable surroundings. Anyone who needed the APA to tell them it's a great neighborhood should move out. And anyone looking to move in to those abandoned apartments better get ready for a rent hike.
---
How Sharrows Became Cycling's Most Hated Symbol
Originally designed as a low-cost way to encourage safer road sharing between bikes and cars, the sharrow has become a symbol of the lack of commitment to protected bike infrastructure in many cities.
Sports Stadiums Bring Few Economic Benefits
While their developers often tout jobs and local economic development as benefits of major stadium projects, research shows these venues often make little impact on local economies.
This six-course series explores essential urban design concepts using open source software and equips planners with the tools they need to participate fully in the urban design process.
This course aims to provide an introduction into Urban Design Sketching focused on how to hand draw master plans using a mix of colored markers.
View More