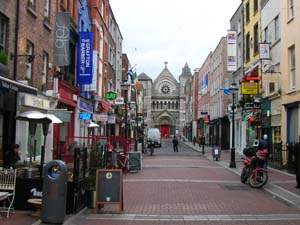 Anne Street, Dublin City Center: A mixture of uses prevail
in this pedestrian friendly, human-scaled street.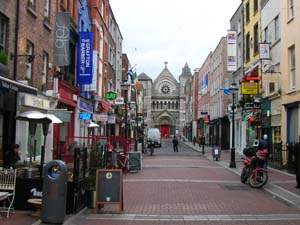 Anne Street, Dublin City Center: A mixture of uses prevail
in this pedestrian friendly, human-scaled street.

Dublin's city center provides an affable and increasingly active street-oriented urbanism. Its medieval, organic roots underlie a more formal 18th century Georgian aesthetic, which gives the city an elegant and coherent irregularity. The city's streets and passages are lined with a steady cadence of shopfronts, a messy mixture of uses integrated vertically and horizontally, and enough street activity to inspire a revised version of Jane Jacobs' Hudson Street ballet. Indeed, Dublin's famous doors open to the street with a wonderful rhythm. People in, people out. It's a beautiful thing to observe and an even better thing in which to to participate. That is exactly what my girlfriend and I did on a recent vacation.
A walk across Dublin's historic center is a walk through a series of interconnected rooms. The city has a sense of controlled breadth and a larger sense of volume through linear quays, symmetrical squares and even a few "geometrically aware" streets. Its cranky streets, tight lanes, and sweeping curves provide character and a warm feeling of enclosure. The collision of the two, where one grand room meets a small enclosed room, creates a punctuated sense of arrival into each. The urban energy hums in harmony with a constant ebb and flow between the two. This draws the urbanist from one place to the next, always in pursuit of the city's next move. The rhythm is intoxicating.

The City's emerging Docklands district sings a more sobering song.
Ireland's meteoric economic rise in the past decade is perhaps most tangible in a 1300 acre redevelopment district straddling the River Liffey, just to the east of the city center. Aptly named, it was once home to a large collection of derelict and undervalued maritime buildings. The same might be said for the area's residents, who until recently experienced a disproportionate amount of poverty and crime. Today the Docklands district represents the new face of Dublin; a truly international, cosmopolitan city attracting everyone from eastern European immigrants to world renowned starchitects.
However, after visiting the city twice in the past two years and paying close attention to the progression of the Docklands, I have noticed that most of the development simply ignores the lessons of Dublin's wonderfully urbane and diverse city center. Upon entering the district, one feels uttlery removed from Dublin's central vitality. Dead spaces and blank facades create a monotonously sterile streetscape. Windswept plazas create an empty and impersonal urbanism. Such a stark departure from Dublin's vibrant core makes for a wholly disappointing urban experience. To be clear, it is both a problem of architecture and urbanism -- not of style, but of substance. It's as if the new international style, seen on the edges of an increasing number of European cities, simply refuses to integrate the empirical evidence of successful urbanism.
Here are just a few key statistics as outlined by the Docklands Development Authority, launched in 1997:
Development Area - 520 ha (1300 acres)
92.9 acres (37.2 ha) under S25 Planning Schemes
15 year development period (1997-2012)
Total public and private investment estimated at €7 bn
Creation of 30,000-40,000 new jobs
11,000 new homes of which 2,200 (20%) are social and affordable
Population growth from 17,500 (1997) to 42,500 (2012)
Total development commenced in 1st 5 years 380,000 m2
For more information, I invite you to study the 2003 Master Plan, which is available from the Docklands Authority website. It details the motives for redevelopment and the rules of the game. Note in the urban design guidelines that any attempt to replicate Dublin's historic fabric is strongly discouraged. No wonder the place feels so cold.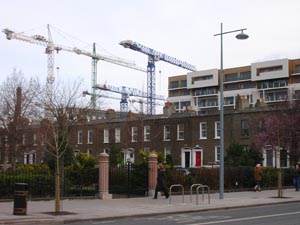 Pearse Square: New residential development creates a

healthy contrast to Dublin's ubiquitous Georgian Townhouse.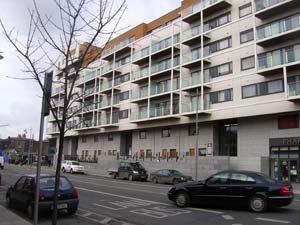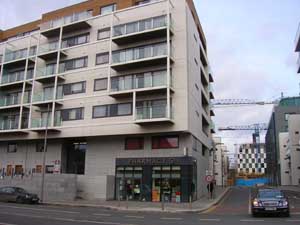 Pearse Street, Docklands: For a primary street, the ground plane is poorly designed. Blank concrete walls give little to
the pedestrian experience and trump the convenience of the corner pharmacy (see right) and the potential for a walkable,
active block.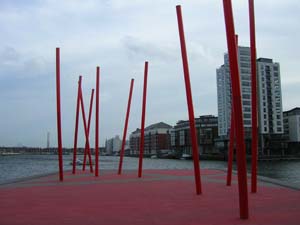 Grand Canal Square: The last hairs on a head gone bald or
a lifeless, overly designed public space? Maybe both?
Though a great prospect, this portion provides no refuge.
One cannot linger without a place to sit or an activity in which
to engage, or people to watch. As a result, people do not congregrate.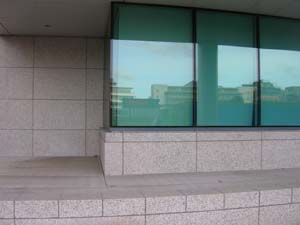 Sir Jon Rogerson's Quay: Greeting the street with office
space rarely works. From Miami to Dublin, I often see
ground-level office space covered in shades. How Boring!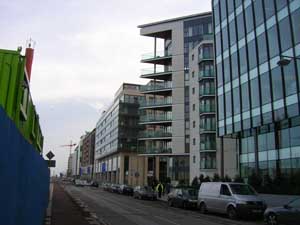 Sir Jon Rogerson's Quay: Concrete berms, plantings and
shades do little to activate this potentially wonderful waterfront
thoroughfare. The march of banality continues. However,
note the physically-seperated bike lane striped in red.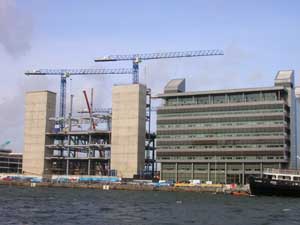 North Wall Quay: Looking north across the Liffey, stiff
concrete and glass boxes arise from the industrial Dublin
Docklands. Heralded as a sustainable approach to urban
regeneration, can 'green' not also be humane?

Looking northeast, across the River Liffey, more development
to come.
All is not bad in the Docklands, and I do not want to be overly critical before the development has a chance to settle and grow into itself. Urbanism takes time. Nonetheless, I fear the leaders of this massive undertaking have, like so many before them, come down with a case of urban amnesia. Only time will tell.
Topics