<p><img src="/files/u4/lvmonorail2.jpg" border="0" alt="Los Vegas Monorail" title="Los Vegas Monorail" hspace="5" vspace="5" width="362" height="362" align="right" />I was visiting Las Vegas for a wedding and, rather than blow my salary on the blackjack table, I was eager to try the new <a href="http://www.lvmonorail.com/">Las Vegas Monorail</a>. As the world&#39;s only city-scale example of a technology that was once envisioned as the future of mass transit, the Las Vegas Monorail has seven stops along a route that roughly parallels Las Vegas Strip, with stations connected to major hotels. <br />
---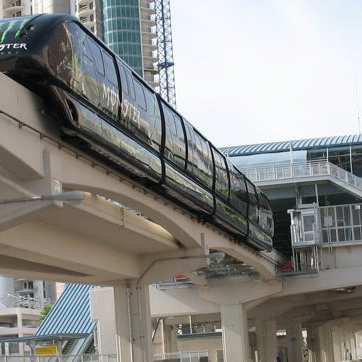 I was visiting Las Vegas for a wedding and, rather than blow my salary on the blackjack table, I was eager to try the new Las Vegas Monorail. As the world's only city-scale example of a technology that was once envisioned as the future of mass transit, the Las Vegas Monorail has seven stops along a route that roughly parallels Las Vegas Strip, with stations connected to major hotels.
It's no Escalade, and it doesn't come with champagne buckets or Elvis impersonators (yet), but the driverless monorail was safe, fast, air-conditioned and generally comfortable. It's a real, honest piece of infrastructure amid the fantasy buildings of the Strip. However, it has a significant drawback:
You can't find it.
Vegas casinos are notorious for designing frenetic atmospheres and Byzantine floorplans that compel patrons to submit to their carnal pleasures. But after they and other investors sunk over a half-billion dollars into developing the privately funded and operated monorail (governed in paradoxical fashion by a publicly appointed board), you'd think that the hotels wouldn't mind if, once in a while, their patrons traded the tables for the tube. You'd be wrong.
Though the MGM Grand provides an attractive pathway between its monorail station and the main hotel/casino, several of the other hotels along the route are not quite so eager to unleash their guests on the city at large. In one hotel near the middle of the route, we had to ask two employees where to find the monorail, and when we finally found the elevator leading to the platform, it offered no indication of which floor to get off on. We shared the elevator with two other groups equally sober and equally eager to ride the monorail, and all of us were baffled.
Assuming that you're already on the monorail and want to get off, the signs imply that you can reach several hotels adjacent to your primary stop. But that usually means walking hundreds of yards in the Las Vegas heat -- which defeats one of the main purposes of the whole enterprise. Going the other way -- approaching the monorail from one of the adjacent hotels without its own platform -- is even worse. In most cases you're relegated to leaving the hotel and wandering the Strip, skirting construction sites, and asking directions of tourists who are just as clueless as you are (and who probably think that you made a wrong turn at Frontierland).
Not surprisingly, in a city known for blackjack, craps, and roulette, playing hide-and-seek with fixed-guideway infrastructure isn't much of a draw.
In the four times we rode the monorail, the half-dozen cars on each train were usually filled to only about half of their capacity. That's less than half the original projections -- and the main reason why the system is teetering on bankruptcy. Then again, it's an extraordinary volume for a business that does nearly everything it can to turn customers away. We never had to wait more than five minutes for a train, and the open-air platforms were clean and pleasant and adorned with family-friendly features like a projected pool with fish swimming about the concrete. When you walked onto the projected pool, the water rippled, much to the delight of our kids.
But Las Vegas is, at heart, a city for adults, and their paychecks.
At $9 for one round-trip and $35 for ten boardings, the monorail travels through an economic conundrum on every trip: it is expensive for public transportation but not nearly lucrative enough to meet the its revenue goals. If you're traveling between the hotel/casinos along the monorail route, the monorail is a reasonable deal, but only if you're paying close enough attention to your wallet to do a cost-benefit analysis against a taxi. And the farther your destination from a platform, the more sense a taxi makes, especially when it's 110 degrees outside and a walk from the platform to Olympic Gardens would leave you in a premature sweat.
Monorails aren't as exciting as the latest Cirque du Soleil engineering feat, and a canceled ticket won't impress the bouncers at PURE, but the Vegas monorail operates just as it should. In fact, it's perhaps an ideal technology for its environment. Vegas has never shied away from visual blight, and the vast spaces between casinos ensure that monorail riders aren't peeking into anyone's backyards. The problem, then, lies not in technology but rather in planning.
The monorail suggests that, whatever its faults, a well intentioned public sector can do some things better than the private sector, and transportation planning is one of those things. Though infrastructure surely can turn a profit for private investors, just as the J. Crew website would never carry a link to Banana Republic, perhaps it's absurd to expect Harrah's to gleefully send guests off to the Flamingo. It's all well and good for Bally's, MGM, and Salomon Smith Barney to loose their shirts (or at least a few threads) on such an adventure, but it's unfortunate that their failure has both sullied a promising technology and done nothing to encourage the use of mass transit (public or otherwise).
The Las Vegas Monorail could have benefited from judicious, objective transportation planners who could have cut through the casinos' pettiness and insisted on more rational station locations. They could have mediated between the casinos' parochial needs and the good of the entire community; in this case, that would have meant doing due diligence to choose optimal, convenient station locations and employ the sort of uniform signage and graphics that many transit agencies are now deploying with considerable flair.
If the cars are half-full now, imagine their load factor if passengers could actually find them. Instead, the monorail is a half-hearted attempt by private entities that you would think -- given the engineering marvels they're building in the middle of the desert -- would understand shared infrastructure better.
A far more populist extension to McCarren Airport is on the drawing board, but given the current financial condition, that development is a long way off. In the meantime, those of us willing to make the effort can enjoy low-altitude thrills while, back on the casino floors, the wheels keep spinning.
---
Why Tech-Utopian City Plans Fail
Like others before him, e-commerce billionaire Marc Lore wants to build the ideal city from scratch. Urban experts don't have much faith in his chances.
This six-course series explores essential urban design concepts using open source software and equips planners with the tools they need to participate fully in the urban design process.
This course aims to provide an introduction into Urban Design Sketching focused on how to hand draw master plans using a mix of colored markers.
View More