Most cities and planners seem unprepared to deal with the land use issues surrounding the nation's burgeoning cemeteries.
---

The nervous silence following my question -- Where do we go when we die? -- was, dare I say, deathly.
Then, someone in this roomful of New Urbanists said -- jokingly, I assume -- that we get shot into space.
Then, of course, I let them in on the punch line.
Cemeteries are at least 6 feet under the radar when it comes to urban planning. New Urbanists or old urbanists, anti-sprawl or pro-sprawl, city folks or country folks; they all know much more about mixed use, housing, business, open space, TOD and TND than about where to put us when we die.
The above incident occurred during the most recent gathering of the Congress for the New Urbanism in Philadelphia this May, where I work as a sports copy editor for the Philadelphia Daily News.
Admittedly, sports journalism and cemeteries don't seem to go hand in hand, but I'm also a part-time GIS student, because I want to diversify my skills, in case my chosen profession suffers a death of a thousand cuts before I retire. I chose cemeteries for my class research project after hearing an interview with author Mark Harris about the growing natural burial movement, and because I figured most of my 20-something classmates wouldn't think of doing such a thing.
I'm only in the beginning of my research and here is some surprising information:
New Jersey seems to have almost as many zoning categorizations as municipalities (566), anywhere from church/religious to institutional. My personal favorite was "non-conforming use"; it "non-conforms" to what, exactly -- activities for the living? Other states are similarly diverse.
Some places make no mention at all of cemeteries, including three supposedly model plans at www.formbasedcodes.com.
Wise communities know how to tap their citizenry to restore and maintain their local cemeteries as institutions of civic pride. Memorial Day usually brings out a lot of that civic pride. Other communities know how to draw tourists and history buffs to their cemeteries to make some money. Edgar Allan Poe's grave in Baltimore draws dozens of ghoulish souls a year; Ben Franklin's grave in Philadelphia -- in the heart of Center City, but, interestingly, once located on the edge of town -- draws a few thousand visitors a year, and generates several thousand pennies a year to maintain that old cemetery. Arlington National Cemetery in Northern Virginia draws millions of visitors.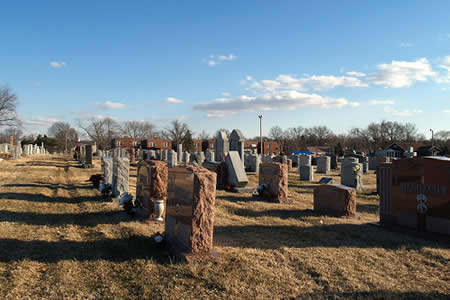 Some cemeteries barely make ends meet and have to rely on unconventional ways to pay the bills (200-year-old Congressional Cemetery, in the shadows of Capitol Hill in Washington, rents itself out as a dog park). Others long ago fell into serious disrepair, and many of these turn into havens for vandalism and other crimes.
And many cemeteries are running out of room. The June issue of National Geographic reports on the squeeze at Arlington. The rural, or garden, cemeteries that were once in the middle of nowhere are now in the middle of suburbia. In New Jersey, cemeteries pay no property taxes, so where is the government incentive to expand existing ones or attract new ones? Not all open space can be easily converted to cemetery space, because some is wetlands, or flood-prone, or woodlands, or agricultural, or recreational.
Even natural burial takes up space -- though it preserves and restores open space in the process, without the thousands of gallons of embalming formaldehyde, millions of feet of hardwood for coffins, and tons of steel and concrete for vaults. Arsenic, by the way, was used for embalming from the Civil War until its ban in 1910, and old cemeteries can be viewed as potential sources of ground and groundwater contamination.
Cremation is a somewhat viable alternative, but is not without its own environmental consequences (large-scale energy use and potential mercury emissions from incinerating silver dental fillings). Shooting us into space probably uses a lot of energy, too, but I'm no rocket scientist.
It doesn't take a rocket scientist to see that we're nearing a crisis in cemetery use in the United States . There is a finite amount of land, and cemeteries are only one of the types of use that will be vying for what's available.
Despite the nervousness in that roomful of New Urbanists, I sensed a lot of brilliance. They just need a little wake-up call. The state of cemeteries in this country ought to be enough to waken the dead.
Deb Woodell is a sports copy editor at the Philadelphia Daily News and a GIS student at Rowan University in Glassboro, N.J.
The Right to Mobility
As we consider how to decarbonize transportation, preserving mobility, especially for lower- and middle-income people, must be a priority.
Early Sharrow Booster: 'I Was Wrong'
The lane marking was meant to raise awareness and instill shared respect among drivers and cyclists. But their inefficiency has led supporters to denounce sharrows, pushing instead for more robust bike infrastructure that truly protects riders.
Tacoma Developing New Housing Policy
The city's Home in Tacoma plan is designed to address the region's growth and rising housing prices, but faces local backlash over density and affordability concerns.
A New Paradigm for Stormwater Management
Rather than shuttling stormwater away from the city and into the ocean as quickly as possible, Los Angeles is now—slowly—moving toward a 'city-as-sponge' approach that would capture and reclaim more water to recharge crucial reservoirs.
This six-course series explores essential urban design concepts using open source software and equips planners with the tools they need to participate fully in the urban design process.
Learn the tools for implementing Universal Design in planning regulations.
View More