---
An American transportation planner reports from the 17th annual Polis Conference -- where European city leaders recently gathered to exchange advice on innovative local transportation strategies -- and wonders what lessons U.S. cities can learn from its counterparts in the E.U.

Toulouse Mayor Jean-Luc Moudenc, President of the Polis Network of European cities, challenged local officials in his opening remarks as host of its 17th annual conference to imagine together the transport of tomorrow. "Our principal challenge," he said, "is to rectify the impact of vehicles on the environment, maintain beauty and quiet in our cities, and preserve economic development and access to industry."
Over 300 politicians and planners from dozens of cities across Europe gathered in Toulouse from March 15-17 to exchange lessons learned from their experiments with local transport solutions. Most projects had been sponsored by the European Parliament, and involved private partners. (In fact, this conference represents just a portion of the learning that is happening through the EU's major CIVITASinitiative, which has dedicated over €300 million to sustainable urban transport projects in 36 European cities).
Also present were many companies exhibiting 'mobility management' services to cities, such as ticket and toll payment by cell phone, clean vehicle procurement, and dynamic traffic and parking monitoring.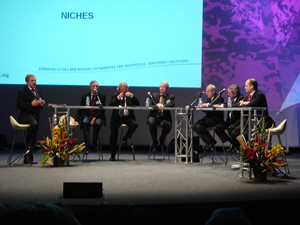 Expert panel at 17th annual Polis conference
My first European conference, I attended hoping to gain new ideas and promote cross-Atlantic exchange, and found myself welcomed and encouraged as the lone American participant. While not every idea was new, the scale of implementation was new to me, and it was useful to reflect on how the general European transport planning paradigm differed from my U.S. experiences. It might be summarized in one word: sustainability. What is sustainable transport? Put simply, it is taking the environmental, social and economic impacts of a transportation investment into account when making decisions. This idea has been driving practice in Europe for many years, leading to some different approaches.
For instance, rather than modal planning, I observed an 'integrated mobility' approach, with solutions focused on improving connections between modes, for a seamless user experience. Where in the U.S., Intelligent Transportation System (ITS) solutions are largely focused on efficient road capacity for cars, I noted how a 'network management' approach in Europe has spurred public-private partnerships to develop applications utilizing technologies such as GPS and cell phones for transit users, pedestrians, and cyclists. And while transportation demand management in the U.S. is often limited to promotion of alternate modes in high-demand corridors, I was impressed with detailed market studies undertaken by European planners attempting to understand not only what people are doing for mobility in a region, but what they'd like to do.
One thing I concluded is that although European cities have similar congestion, air quality, and livability challenges as American ones, the strong commitments of many participating cities to sustainable transport -- financial and political will -- have resulted in measurable improvements.
Road pricing was a hot topic. Cities as large as London and Rome have instituted charges for cars to access high-demand central areas. In a session moderated by Steve Kearns of Transport for London, presenters made the case that policymakers need to use pricing as a stick to accompany the carrot of transit improvements. "There are various motivations to implement more efficient pricing, such as reducing congestion, generating revenues for transit, and improving air quality," said Jo Baker of Mott McDonald, "But it can also be more equitable. In cities, users don't pay as much as they cost society. In rural areas, users pay more than the benefit they get."
Yet even if the theory of road pricing makes sense, some presenters were grappling with the fact that new tolls are not a popular idea. Planner Michael Ahern, who is working on a road pricing scheme for Dublin, commented that opposition is part of the democratic process, "we are continually reassigning road space to more sustainable modes, which has been reasonably successful on existing congestion corridors, but faces lots of opposition in new ones." He advised, "Planners shouldn't ask the public, 'when will you accept road pricing?', but rather, 'what sort of city do you want?'"
Gunnar Söderholm, Director of Stockholm's Environmental Ministry, reported that a strong political champion was key to the public acceptance of road pricing in his city. The Mayor supported implementation of a toll scheme on a six month trial basis, despite polls showing 55% of people opposed just two months before its introduction. Within three months, public opinion had completely reversed, to 51% in favor. The toll of $3 per entry to the city center resulted in a 30-50% reduction in congestion time for traffic entering and exiting the center city at peak times. Söderholm attributed the gain of public support to the fact that the Mayor's promises were kept, and people saw immediate results. "People thought it was a fair tax. They were prepared to pay to have a better environment."
Another hot topic was clean vehicles, with cities reporting a wide variety of approaches. High energy prices, air quality, and new EU noise regulations were cited as motivations by cities embracing clean vehicles, but also a desire to encourage development of new technologies. Stockholm led with a procurement strategy requiring that vehicles purchased by the city be clean, as well as those of the private operators of its transit and trash services. This helped lower prices, which together with tax incentives has transformed private vehicle sales; in 2006, one-fifth of all cars sold in the city were low emission vehicles. Both are mainly electric, biogas or bio-ethanol vehicles.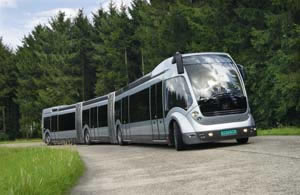 Some cities are experimenting with developing local energy sources. A program in Graz, Austria won an award as a solution that both reduces vehicle emissions and cuts city costs for waste treatment and gasoline. Cooking oil recycled from local restaurants is being used to run the city's entire fleet of 130 buses, resulting in 600,000 fewer liters of fuel purchased, a fuel bill savings of 10-20%. Similarly, a plant converting organic waste from households, restaurants, and parks into biogas will open this year in Lille, France, with production sufficient to fuel 100 of the city's buses.
The industrial region led by the city of Eindhoven in the Netherlands saw clean vehicles as an opportunity to build upon their regional strengths -- technological research and development -- and preserve jobs by developing a locally produced low-emission vehicle for export. "We saw a lot of growth potential in the transit market. There's a lot of profit potential when you are not focused on the supply side, but on boosting demand," said Mayoral advisor Erik von Merrienboer. He said the new vehicle helped unite the region on air quality policy as well, "We'd all thought of low emission zones, but since we are a lot of small independent cities with our own measures, we had to figure out how to work together." After ten years of development, the resulting Philias transit vehicle is now in production.
Finally, there were some interesting demand management approaches that enabled cities to improve services and maximize transit investments. In Britain, for example, planners are required to develop Accessibility Maps "to combat social exclusion," showing travel time to schools, job centers, and other destinations by mode, with time isochromes. These may be used to improve transit links between areas of high unemployment and job training centers, or to compare potential development sites for a business.
Services like car-sharing and bike rentals, coupled with multi-use bus-bike lanes and pedestrian zones, are being offered in an effort to grow market share for these modes. Barcelona, Spain won an award for its efforts, including use of plate recognition cameras to keep La Ramblas promenade free of vehicles. Bremen, Germany, was recognized for its car-sharing service, which is integrated with transit.
Some cities are using innovative marketing campaigns. Patrick Allcorn of Transport for London explained how the city did market segmentation research to develop campaigns branded for specific markets. For instance, the Walk on Wednesday (WOW) campaign, which targeted children, had 250,000 participants and reduced car use by 5% at 300 schools. He also developed a bold ad campaign to counter negative public perceptions of transit, "We looked at car use like an addiction, so we talked to experts in tobacco and alcohol abuse." The ads show people in would-be relaxing situations, clutching steering wheels, with the slogan, "Learn to Let Go."
The combination of new vehicles and a better understanding of customer needs combined for a general theme of providing more value to the transit user. "We want our residents to take transit because you can check email rather than the cars in front of you," said Paul Astier from Lille. He reported that in the city's 2006 survey of attitudes toward transport, they saw a 7% drop in car use, the first in 40 years, attributing the behavior change as a response to better services.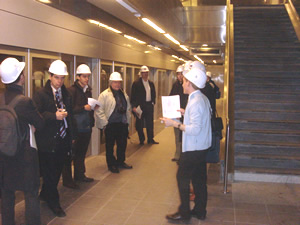 During the conference, I went on a tour of the new Line B subway under construction in Toulouse. This project was championed by Mayor Moudenc, who also serves as the president of the public transport authority. It features driverless rubber-tired vehicles that are automated on a headway of 90 seconds. The station platforms have glass doors preventing passengers from falling into the tunnel, which open with the vehicle doors. The trains pulsed in and out of the station on a test run while we were there, whooshing quietly behind the glass. Designed to serve 70,000 passengers per day, I could imagine a continuous flow of people.
The conference closed with a plenary featuring Vice President of the European Commission Jaques Barrot, who is in charge of transport. Moudenc presented him with the Polis network's contribution to a Green Paper on Sustainable Urban Transport being developed by the EC.
"Eighty percent of Europeans live in urban areas," he said, "and one third of transport system deaths occur in city centers. Cities are the labs for experiments, and the EU needs to provide a financial and legal framework making it easier to exchange best practices." Barrot agreed, "Innovation is very closely linked to the life of cities." He commented that housing and mobility planning need to be better integrated, "We want to have restful and peaceful cities to visit for the weekend, not to get stuck in traffic."
I concluded that European problems aren't so very different than the U.S. –- sprawl development and VMT are on the rise while road capacity grows scarcer. There is no silver bullet. Yet I left this conference feeling inspired. The European 'transport of tomorrow' isn't a quantum leap from the transport of today. It uses the same modes, only split differently. And the same vehicles, but with different fuels. The main areas of innovation are 1) improving efficiency through fairer pricing and better information systems for all users, 2) increasing capacity for alternate modes, and 3) management of future demand, through integrated planning, and network management practice. If U.S. cities are as willing to 'rectify the environmental impacts of cars,' and change the culture of mobility as these European cities, it could be attainable.
 Andrea Broaddus is an American studying transportation and land use planning and policy in Germany for a year as a German Chancellor Scholar. She graduated in 2006 with a Master of Public Policy/Urban Planning from Harvard University, and is currently based at the European Centre for Transport and Logistics at the Hamburg University of Technology. Over a seven-year career as a policy advocate for alternate modes, she worked as grassroots organizer for the Surface Transportation Policy Project, and for several environmental groups in Wisconsin and Illinois. She blogs at www.urbanwunder.blogspot.com. 
Polis is a network of European cities and regions from across Europe, which promotes, supports and advocates innovation in local transport. For more information, see www.polis-online.org.
The Right to Mobility
As we consider how to decarbonize transportation, preserving mobility, especially for lower- and middle-income people, must be a priority.
The Once-in-a-Generation Opportunity to Remake Downtown
Urban cores around the country were transforming into live, work, and play destinations before the pandemic. The pandemic was a setback for this transformation, but it could also be a rare opportunity. It's up to city leadership to seize it.
This six-course series explores essential urban design concepts using open source software and equips planners with the tools they need to participate fully in the urban design process.
Learn the tools for implementing Universal Design in planning regulations.
View More