By hosting public outreach sessions and design clinics with registered landscape architects, Atlanta-area non-profit Park Pride is giving communities an active role in creating a new vision for their neighborhood greenspaces.
---
We've all talked about how successful public green spaces can become, citing quotes from our most current reads and old classics, always carefully punctuating our conversations with at least one 'if only' phrase: 'if only it was the right design', 'if only people showed interest', and the blame-it-all: 'if only there was enough money'. The truth is that, though elusive, these are factual, real variables. Every urban, suburban and rural community faces the same variables, as does Atlanta.
However, in Atlanta, Park Pride, a non-profit working to improve Atlanta's greenspace, is changing one variable at a time. Park Pride hosts public outreach sessions and design clinics to get local communities involved in improving their parks and greenspaces. These methods help to get people to take interest in their local parks. By helping them visualize what they want, their visions can be molded into a cohesive community plan. Park Pride guides these communities towards funding sources to help make their visions happen. Starting with little or no dedicated funding for specific parks, communities throughout Metro Atlanta are teaming with Park Pride to take charge of their neighborhood green spaces.
Visualize a scenario where 18 people from ten different motivated communities team up with two registered landscape architects to take a quasi Urban Design 101 course to evaluate and prepare a vision for their own community park. This was the scene at Park Pride's Second Annual Park Design Clinic.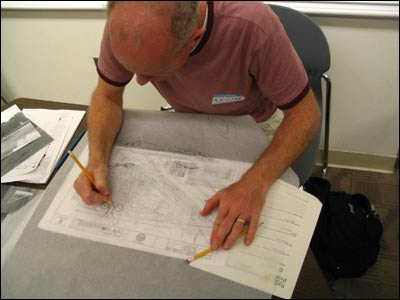 Park Pride's Design Clinic is just one of the tools it provides, free of charge, to the Metro Atlanta community. The exercise was oriented towards people who cared about their neighborhood parks and needed design assistance for their public space. This year's Design Clinic was a gathering of residents from socially and racially divergent Atlanta communities who were taking the initiative to reclaim and redesign their neighborhood parks.
Participating communities were required to register for the clinic at least a week in advance, and to fill out an application, and provide photos. Communities were also asked to submit a simplistic, self-directed site analysis, noting a park's positive and negative attributes such as 'wet-spot', 'poor drainage', 'dead trees', 'nice view' etc. Depending on how early communities registered, Park Pride's Landscape Architect was able to visit the sites prior to the Clinic. Park sizes varied from a 'Trolley-line' median, to a large, 56 acre park.
The format for the clinic was simple. Show them good examples, guide them through what works and what doesn't, and then let creativity and practical sense combine to prepare a working solution. Park Pride's Director of Park Visioning, and Landscape Architect, Walt Ray, lead this exercise, balanced alongside input from Patricia Katz, a Landscape Architect with the City of Atlanta. To kick off the gathering, Mr. Ray provided a short presentation of the principles of good design. Later, Mr. Ray and Ms. Katz each lead a group of participants on a walk through the Atlanta Botanical Gardens. This 30-minute walk allowed participants to ask questions about practical design elements, native plants, and to get useful information about their specific project.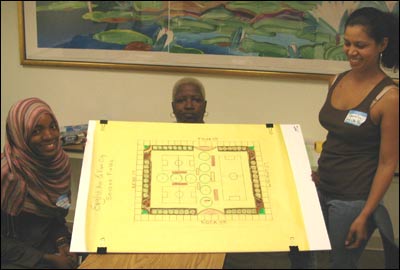 Participants returned to their drawing boards more aware and knowledgeable and were quickly handed markers, rolls of trace, plant ID books and a bag of chocolate cookies. Two University of Georgia, Atlanta students and Park Pride's Program Assistant provided an additional sounding board and helped participants envision and develop workable alternatives.
One of the primary challenges was to steer participants towards visualizing practical improvements and keep them away from changing their parks' larger programmatic design. Sometimes, it was difficult for participants to understand why certain parks in adjoining neighborhoods were getting new Master Plans while others were not. At other times, participants had an 'A-ha!' moment, like when they realized why it is not feasible to put a gazebo in the woods where there are no existing light posts, no call boxes and no 'good eyes' looking into the park. Some participants developed a better understanding about the importance of sight-lines and appropriate landscape materials along medians. Another community was even interested in pursuing a more detailed Park Visioning exercise in 2007 to develop a Conceptual Master Plan for their park.
In all, the Clinic was a success. It ended on a positive and encouraging note -- with plans for the communities' neighborhood parks and with happy participants eager to come again next year.. The participants preferred the one-on-one dialogue that was facilitated through this Clinic, knowing that problem-solving is most effective if there remains a give-and-take between all participating entities. Such attempts at developing concrete solutions -- with community support and several helping hands -- represent a significant step towards making Atlanta's parks integral to its quality of life.
Park Pride is a non-profit park advocacy group based in Atlanta, Georgia. Park Pride's mission: "Leading and Inspiring Action for Parks and Greenspace"; their vision: "To Provide World-Class Parks in Atlanta". Park Pride reaches out to the community in modest but significant ways: Adopt-A-Park, Park Visioning, Community Micro-Grants, Fiscal Partners and Volunteer Programs. Nandita Godbole is Park Pride's Program Assistant (Park Visioning).
The Right to Mobility
As we consider how to decarbonize transportation, preserving mobility, especially for lower- and middle-income people, must be a priority.
This six-course series explores essential urban design concepts using open source software and equips planners with the tools they need to participate fully in the urban design process.
Learn the tools for implementing Universal Design in planning regulations.
View More