Members of the The New Urbanism movement have compiled a list of the most sprawling and pedestrian unfriendly strips of asphalt and concrete in the nation.
---

The New Urbanism is a movement that seeks to overcome the ugly sprawl that has overtaken our urban environment. Many of the people who are a part of this movement engage in a cyberspace discussion group using email. The members of this email group include architects, town planners, developers, members of the academic community and common citizens. As part of this discussion, we had a contest to find the Worst Streets in North America. Here are the basic criteria for inclusion in the list of Worst Streets:
The right of way has to be extremely wide. The minimum is 4 lanes with a center turn lane, but wider is better (or actually worse).
There must be signs everywhere of different types and sizes, tall ones, short ones, flashing ones, etc.
There must be huge parking lots in front of the stores. It helps to have weeds, chain-link fences and dumpsters prominently featured.
The stores themselves must be cheaply built single-story buildings resembling shoeboxes or refrigerator boxes. An occasional two or three story building is allowed.
No greenery, other than weeds and retention ponds, is allowed unless it is poorly kept up.
No sidewalks are allowed unless they are right next to the road where cars are going at least 45 miles per hour.
Special bonus for huge intersections with double turn lanes and traffic lights with two minute waits on red.
With this as the basic criteria, here are our nominations. Each nomination includes a short commentary describing why the street belongs on our list. Note that they must all meet the above minimum criteria to be considered.
Top Ten Worst Streets in North America (in no particular order).
Pulaski Highway (US 40) in Northeast Baltimore County (Maryland)
"All the usual sprawl problems, plus it's economically decayed like the worst of an inner city. Lots of dead strip malls and dead superstores. My former place of employment was a converted warehouse in an industrial "park" in the midst of this. I've felt just as threatened at times going for lunch at the nearby strip mall as I've felt in any gritty urban neighborhood. I think this is the future, and it doesn't look good."
US 192 South of Walt Disney World (Florida)
"It is the most "self-aware" ugly street in the country. As the sprawl grew east for 10 miles, somebody noticed there was no sense of place. Of course. But the lack of place was so severe that nobody could figure out where they were, and business suffered. So they erected these giant, cartoonish mile markers. Now people know the difference between Days Inn at mile 6 and Days Inn at mile 8."
North Breazeale Avenue in Mount Olive (North Carolina)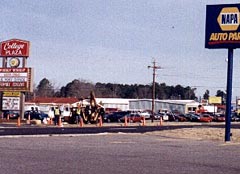 "This is the miserable instance of "mixed use"... Derelict feed mills next to used car lots, next to homes, next to pawn shops, next to laundromats... all scattered to-and-fro, close and far from the curb and surrounded by treeless squalor. No sidewalks, few destinations. Land use is so poor there is a drive up ATM taking up nearly 3/4's of an acre. No inspections when most of it was "developed": many buildings were built by Spanky & Alfalfa, LLP."
Calgary Trail in Edmonton, Alberta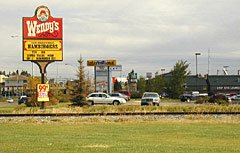 "A single-minded testament to unbridled sprawl that has transformed the southern entrance of Edmonton, Alberta into three miles of newly constructed, auto-oriented hell. The Calgary Trail is in fact two six-lane roads, one going north, the other south. In between is seemingly every big-box franchise you've ever heard of and every highway-oriented use that needs lots of parking, because that's all there is. Despite the sidewalks, you are not really meant to walk here, not even to the business next door. The effect is numbing, and entirely hostile to anyone who isn't on wheels."
Red Deer, between Calgary and Edmonton, Alberta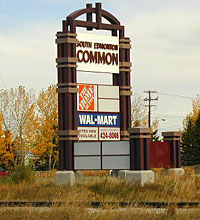 "It is like a miniature replica of Atlanta's suburbs. The local pride in West Edmonton Mall is mind boggling to someone from Atlanta (the huge mall capital of the universe) Calgary has strip-mallish development every bit as dispiriting as every Sun Belt city. And Alberta is one of the few places in Canada where I've had cars repeatedly refuse to yield the right of way to me as a pedestrian."
Buford Highway in Chamblee, Atlanta (Georgia)
"Buford Hwy. (an arterial rather than a true highway, despite its name) has all the signs of ugly suburbia that you ask for, but is special in two respects. First, it has no sidewalks EVEN THOUGH (unlike in most suburbs) there are lots of people who don't drive. Because Chamblee is dominated by low-income recent immigrants, 16.7% of Chamblee households don't have cars -- and many of them have worn a dirt path through the grass flanking Buford Hwy. Second, not only are there no sidewalks, there is sometimes not even the grass/dirt path; parts of Buford Highway have shrubbery blocking pedestrians' path instead of a grass/dirt path."
Jimmy Carter Blvd. in Atlanta (Georgia)
"... is Buford Highway, only with lousy restaurants. It approaches the physical limits of unsightliness... Not even the Republicans around here contend that Carter deserved this!"
Telegraph Road in Detroit (Michigan)
"This scar-upon-the-earth runs through the suburbs of Taylor and Dearborn Heights. There are other "worsts" in America that are wider, and still more that are longer, but when it comes to overall execution (pun intended), Telegraph Road ranks right down there with the rest."
"[It is] an other-worldly horrible place, like something out of Terminator. A cavernous, roaring trench, ringed in chain link fencing, straddled by squalid suburban decay."
PA Route 611 in SE Pennsylvania(southern Bucks to Montgomery County)
"A glorious tribute to crass commercialism, complete with setbacks large enough to land a Cessna. I had the pleasure of commuting along this nightmare for two years and nothing about this road was redeeming. Sidewalks are non-existent along this stretch of state roads according to Penn DOT standards."
Mingo Ave in Tulsa (Oklahoma)
"Actually, most of the major arterials in Tulsa are absolutely horrific and would be excellent contenders."
Other Nominations include:
International Drive in Orlando
Pines Boulevard in Broward County, Florida
Dale Mabry Highway in Tampa
Route 1 outside of Princeton, NJ
US 101 in California
Route 1, the "Boston Post Road" east of NYC through Bridgeport and New Haven
The Special City Award - Atlanta
The Atlanta metro area gets a special award by having the most streets nominated. In addition to Buford Highway and Jimmy Carter Blvd. The Atlanta area is home to Peachtree Road, Roswell Road, Barrett Parkway, Cobb Parkway, Memorial Drive, Alpharetta Highway and all of the roads around Perimeter Mall. These are all excellent examples of ugly, car-choked suburban streets. Because of the many nominations, we have designated Atlanta as the Worst Streets Capital of North America.
How About Your City?
Does your city have one or more streets that belong on the Worst Streets list, or do you have a photograph of one of the streets named above? Please send us your nominations for the next version of Worst Streets by submitting your nomination using the "Write A Comment" form at the bottom of this article (photos can be emailed to [email protected]). Remember that your nomination must meet the basic criteria and have something extra to make it one of the very worst. Include the name of the street, the city or area where it is rotting away, and a description of why it should be included as one of the Worst Streets.
---
Jim Colleran is a retired computer programmer with a great interest in New Urbanism. He lives in the Town of Tioga (www.townoftioga.com), a New Urbanist community near Gainesville, Florida. The CNU email list is not directly associated with the Congress for the New Urbanism (www.cnu.org), but has many members of this organization as participants. It is a discussion group that deals with issues related to New Urbanism.
San Francisco Just Ended Single-Family Zoning
The San Francisco Board of Supervisors voted to Tuesday to eliminate single-family zoning, but pro-development advocates say additional changes are needed to unleash a wave of construction.
This six-course series explores essential urban design concepts using open source software and equips planners with the tools they need to participate fully in the urban design process.
This course aims to provide an introduction into Urban Design Sketching focused on how to hand draw master plans using a mix of colored markers.
View More