Mobile applications (apps) are gaining in popularity as tools for increasing participation in local governance and planning, and are opening up new possibilities for planners to tap into the wisdom of the crowd.
---
Brittany Kubinski and Jennifer Evans-Cowley have surveyed a cross-section of planners to understand their app use habits, and have developed an extensive list of the most effective mobile apps for planners.  
Mobile apps are paving the way for planners to interact in real time with the public and receive more feedback than had previously been imagined. They can be used to collect and share data with the public, and make information readily available for eager developers to enhance and build on. This era of open data and crowdsourcing is an exciting time for planners who are beginning to take advantage of the power of mobile apps to improve planning projects and help make communities more sustainable and efficient.
From July 11 to July 26, 2012 we set out to survey planners on their use of mobile apps in the planning profession to better understand how such tools are being adopted. We also asked planners what types of mobile apps they would like to see developed in the future, and what mobile apps they are currently working on developing.
We heard from a total of 108 planners from across the United States. The majority of respondents (55%) are located in the Midwest, and about 20% and 14% in the Northeast/Atlantic and Pacific regions, respectively. Most respondents work in the public sector and 42% have been working in the planning profession for 10-20 years. Of the planners surveyed, 96% either own a smartphone or plan to purchase one in the future. Planners who responded that they own a smartphone were asked about various types of apps that they might use and the frequency of their use. Results are shown in the matrix below.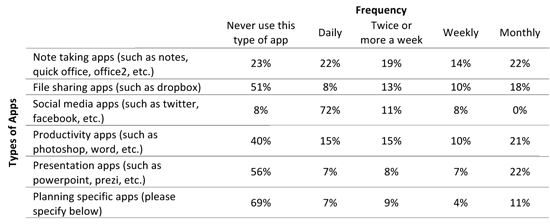 From the survey we found the most commonly used apps by planners in their daily lives are social media apps, like Twitter and Facebook. Note-taking apps are also popular for daily use; and apps like Photoshop, PowerPoint and Prezi, that are used for productivity and for giving presentations, are typically used on a monthly basis.
In the survey we also sought to understand how planners are using smartphones and mobile apps at work. Seventy eight percent of those surveyed use their smartphone for work purposes, while 40 percent are using tablets at work.
One of the primary goals of our survey was to identify apps that planners are currently using to support their work. We asked planners whether or not their organization has created an app or discussed creating an app. 15 percent responded that their organization has or is creating an app, and 37 percent responded that their organization is discussing creating an app in the future. We asked planners to give specifics on the apps they are using for planning. The table below lists the apps planners reported using, along with a description of the app's purpose.
| | |
| --- | --- |
| Apps Named | Description |
| | Accela Mobile 311 is a native iPhone app that enables residents, visitors and other members of the public to take an active role in their community by requesting services from or reporting incidents to their local agency. The app ties directly into an agency's Accela Automation system to ensure that incoming information will be tracked and assigned to the appropriate departments, so that the item will be addressed in the most efficient and effective manner. Accela Mobile 311 is available directly from Accela, and is designed to enhance the public's interaction with their local agency for a range of issues including: service requests, requests for information, reporting on the condition of public works assets, code enforcement cases, and more. |
| | Accela Analytics is an app that lets government professionals easily access and analyze the Accela automation enterprise data behind their operations. The app's dashboard highlights trends and activity, such as permits, licenses, code enforcement cases and more. Preparing for a big meeting? Graphs display activity over various time periods. Planning future resources? Use charts and maps to understand workloads, permit volumes and staff deployments. You can even create watch lists to track specific records. Accela Analytics is the right tool for today's smart government executive. |
| | American City & County analyzes and concisely explains important issues facing cities, counties and states. Get the latest information on government trends, policy alternatives, best practices, case studies and a broad scope of local and state government news. In this app, users can access up-to-the-minute news on everything from streamlining government operations with the latest technology to repairing crumbling infrastructure. Topics include state and local government policy, politics, management, finance, environment, economic development and technology – all the vital information government officials need to deliver public services in the most cost-efficient and effective manner. |
| | The American Planning Association app allows users to keep up with the world of planning through daily planning news. Users can view their customized schedules for the National Planning Conference and check open positions for jobs listed online. Users can search the APA member directory for friends and colleagues and track and record AICP CM eligible educational events in a personal log of earned CM credits. |
| | With ArcGIS you can tap on the map or use your current location to discover information about what you see. You can query the map, search and find interesting information, measure distances and areas of interest and share maps with others. |
| | Dropbox is a free service that lets you bring all your photos, docs, and videos anywhere. Any file you save to your Dropbox is accessible from all your computers, iPhone, iPad and even the Dropbox website. |
| | ES File Explorer is an app for Android that allows users to manage their files and apps, compress and decompress ZIP files, view different file formats and access their home PC via WIFI. |
| | ESRI Business Analyst provides key demographic and market facts about any location in the U.S. ESRI BAO provides information about what types of people live in an area, how an area compares to another area and if it is a good fit for business professionals looking to evaluate a site. |
| | Evernote is an easy-to-use, free app that helps you remember everything across all of the devices you use. Stay organized, save your ideas and improve productivity. Evernote lets you take notes, capture photos, create to-do lists, record voice reminders--and makes these notes completely searchable, whether you are at home, at work, or on the go. |
| | The FEMA app contains preparedness information for different types of disasters and an interactive checklist for emergency kits, a section to plan emergency meeting locations, information on how to stay safe and recover after a disaster and a map with FEMA disaster recovery center locations. |
| | GoodReader is a PDF reader with advanced reading and annotating capabilities. |
| | With GoogleEarth you can view all of the same 3D imagery, terrain and buildings available in the desktop version, you can search for cities, places and businesses around the world with Google local search, view layers of geographic information including roads, borders, Panoramio photos and more. |
| | Google maps allows you to search for local businesses and get driving, transit or walking directions. |
| | The LinkedIn app gives users on-the-go access to their professional network. Users can find and connect to other professionals, get the latest updates and share their status directly from their mobile device. |
| | Loopnet is a collection of apps that provide real estate information for commercial and residential properties. With Loopnet users can search real estate listings, explore availabilities in the immediate area, filter results and use maps to plot properties. |
| | Note Everything is an app where users can create text, voice and paint notes. The notes can be organized into folders and Android users can create shortcuts to notes on a home page, send notes and more. |
| | Noteshelf allows users to jot down notes directly on their iPad with effortlessly flowing handwriting and different books to organize notes. |
| | Adobe Photoshop Express allows users to edit photos on the go with a variety of one-touch effects and artistic filters. |
| | Readers can take Planetizen's daily news summaries, job listings, and feature stories wherever they are. Interchange, Planetizen's blog featuring an exchange of ideas from prominent thinkers and practitioners in the field, can also be read from the App. |
| | The Prezi viewer allows users the view and present their Prezis anywhere. Users can revise and adjust presentations on the go. |
| | There are currently over 1,300 markers located across the state that recognize Ohio's cultural history. The Ohio Historical Markers identify, commemorate and honor the important people, places and events that have contributed to the state's rich history. The Ohio Historical Markers Program, administered by the Ohio Historical Society, is a vital educational tool, informing residents and visitors about significant aspects of Ohio's past. |
| | Sitewise provides you with your location's demographics, giving you the information you need to site a use and understand the neighborhood. Sitewise creates a demographic report that describes the people around your current location, for a circular drive-time or neighborhood area with population by age, educational attainment, households, children, transportation to work, employment household income and housing owned versus rented. |
| | Tasks apps allow users to be productive, remember their tasks and accomplish their goals from their mobile device. |
| | The Twitter app provides instant updates from friends, industry experts, celebrities and more. Users can search for breaking news, trending topics and browse interests and suggested users. |
| | Walkscore calculates the walkability of any location and shows you a map of nearby restaurants, coffee shops, grocery stores, etc. Walkscore also helps users find apartments and rentals and lets users search by commute time or whether a location is near public transit. |
| | With Zoner users can calculate the maximum buildable floor area for their property in seconds. Users just enter the zoning values and Zoner calculates the maximum buildable floor area based on the New York City zoning code. |
We also asked organizations if they are currently developing apps. One respondent mentioned that they are working on app for mapping broadly, while another is working on developing an app that will allow for the use of GIS mapping to support economic development.
Mobile apps have the potential to enhance planning efforts and make it easier for planners to communicate with the public, share ideas, and engage. Not only is it necessary for planners to be knowledgeable of what apps are currently available and how they can be used, but it is also advantageous for developers to know what planners need and what they would like to see in the future. Planners know best what they need in a mobile app, and developers can take a cue from this.
We heard responses from planners in the survey that they would like mobile apps to provide census data, locations of healthy food stores, real time traffic monitoring, and APA awarded site locations. They also want to use apps to collect field data, engage with the public, and disseminate information.
The future of mobile apps is bright. Perhaps soon we will see some of these ideas become a reality, but for now planners can take advantage of a number of interesting mobile apps that can support their planning work.
---
Brittany Kubinski is a senior studying City and Regional Planning at The Ohio State University. Jennifer Evans-Cowley is Associate Dean for Academic Affairs and Administration in the College of Engineering and a Professor of City and Regional Planning at The Ohio State University.
The Quiet Housing Crisis in Rural America
While housing shortages in major cities are grabbing headlines, rural communities are seeing higher rates of growth in housing prices and a silently spreading homelessness crisis.
This six-course series explores essential urban design concepts using open source software and equips planners with the tools they need to participate fully in the urban design process.
Learn the tools for implementing Universal Design in planning regulations.
View More