Simon Winchester's new book, Land, brings global scope to the concepts of land use.
---
Every American urban planner knows that nothing is more local than land use. The ability to develop any given parcel depends on local zoning laws, local political convictions (or whims), local general plans, and, very often, the passions of local stakeholders. In some cases, state regulations intervene with and influence local decisions, but only in very abstract terms. The federal government intervenes only on rare occasions and, then, usually to mess things up royally (e.g., Urban Renewal). 
It is strange, then, to consider a book subtitled, "How the Hunger for Ownership Shaped the Modern World." Ownership of land, that is. Land being the brief, ambitious title of the book.
To conceive of land ownership as a global affair is nothing if not ambitious. But, ambition is what Simon Winchester, a prolific author with a longstanding geographic bent, is known for. In his most famous book, Krakatoa, he explains how a discrete, localized event—as opposed to a vague and varied legal fiction—was "the day the world exploded." There's that word again: world.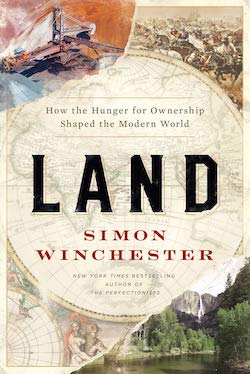 In cataloging land use regimes and curious anecdotes—many of them harrowing—Winchester does not so much present a unified thesis of global land ownership so much as he proves that land is, well,interesting. His premise, which is nothing if not axiomatic, is that land ownership entails the awkward grafting of money and paperwork to something tangible, unique, and, mostly, immutable. The result is an infinite array of interpretations, permutations, and conflicts over who owns, governs, and uses the world's 52 billion acres. The sum total of all of this, from ancient Britain, where two farmers hashed out a boundary line millennia ago, to the modern American West, where a discomfiting class of American oligarchs measure their holdings by the millions of acres, is that, for the most part, land ownership is a scheme that helps the rich and powerful become ever more rich and powerful. 
Land investigates an array of places and time periods in which notions of land ownership were redefined and/or led to particularly interesting conflicts. Winchester explores the Domesday Book in the 1080s, the origin of surveying in the 1810s, the disastrous drawing of the India-Pakistan border in 1947, and the oddity of Minnesota's Northwest Angle. In his longest chapter, Winchester recounts the frenzy of the Oklahoma Land Rush and the legal machinations that equated a stake in the ground with actual ownership. He seethes over the Scottish land barons who expelled crofters from their villages and replaced them with sheep to supply Britain's textile industry in the early 1800s. He mourns the Soviet theft of Ukrainian peasant farmers' grain, leading to the starvation of millions in the 1930s.
He marvels at the 1.9 million acres owned by famous libertarian (and self-styled environmentalist) Ted Turner, 2.2 million owned by conservative media magnate John Malone, and the 750,000 by the low-profile Wilks family (who happen to be staunch Evangelicals and fracking enthusiasts)—not to mention the 29 million acres owned by Australian mining magnate Gina Rinehart's companies—all of whom he derisively calls "accumulators of space." Meanwhile, seemingly every square inch of land in what is today Israel and the Palestinian territories is contested. 
Winchester's travels are almost always interesting but they do not always make sense. An early chapter focuses largely on the reclamation of 240,000 acres of the North Sea for the creation of Flevoland in the Netherlands, a feat completed in the 1986. That chapter is followed by the one on Oklahoma. Why? Unclear. There are brief anecdotes about plutonium enrichment in Denver, land trusts in Massachusetts, the provenance of his own property in the Hudson Valley, and a mere ten pages on the whole continent of Africa. 
Winchester's strength is his erudition. He has a nearly superhuman grasp for historical details and he treats his facts with reverence and importance. Land necessarily has its legalistic moments, and Winchester generally handles them well. His writing is dense, but not too dense, and occasionally terrific. On Scottish land clearance, he writes, "so much of Sutherland is a place of ruins today, broken old houses that litter the moors as mute testimony — abandoned villages, forgotten churches, cottages without roofs, tumbled piles of black stone, mossy graveyards seldom visited." 
For a book about "the modern world," Land is disappointingly anglo-centric. Winchester is a Briton who lives in New York, so Land naturally is overweighted towards the United States, the United Kingdom, and the Commonwealth. Land is fascinating for the variety of its vignettes, but some feel a bit arbitrary. If there is a through-line in Land, it is Winchester's careful attention to and outrage over the displacement and genocide of Native Americans and indigenous peoples in Australia and New Zealand. His sympathy extends to the crofters in Scotland who, indeed, are indigenous in their own right. 
On cities per se, Winchester writes little. That's OK. He consciously separates land ownership from land development. He does not either say much about the ongoing relationship between government and land once deeds are signed. Real estate taxes and provision of utilities and other public goods are beyond his scope.
What he does say about cities, though, is not flattering: "For every properly planned…city…there are a score of ugly, overcrowded, and ill-conceived aggregations of humanity, with few redeeming features and all too few reminders of the natural landscape they replaced." Winchester's pastoral sympathies are on display in his appraisal of the suburbs, where "degradation of the land has been more insidious, it's demoted status often cunningly disguised. Such land...  is mostly artifice, is simulacrum of countryside." 
Winchester's observations and revelations probably don't bear on the daily practice of urban planning. The concept of land ownership writ large is, of course, crucial to planning. It is the software to planning's hardware. But the concept and varieties of ownership should still give planners pause. 
Winchester has few kind words for the oligarch class that controls real estate for everything from personal enjoyment, extractive plunder, despoiling by livestock, to, seemingly, the aggregation of pure power. He is skeptical that anyone should be allowed to control that much of what is, in some places, considered a public resource. He cites the Scandinavian principle of "everyman's rights," recently adopted by Scotland, in which there is, essentially, no such thing as trespassing. Any hiker or camper may pass through private property so long as they do not disrupt it. Bavaria has the irresistibly named law of Schwammerlparagraph, allowing universal rights of foraging. Consider what a far cry that is from the American property-rights tradition epitomized by fences and barbed wire.  
For urban planners working on local issues, with local people, Winchester implicitly begs for a reconsideration of the relationship between land and influence. Even if we agree that a homeowner's property is his castle, is the homeowner necessarily entitled to weigh in on, much less decide on, what happens on adjacent properties? And, of course, Winchester reminds us that even a home that is deeded and duly paid for was, initially, stolen from people who had essentially no concept of land ownership (and not enough firepower to defend their land). 
That is, I suppose, what Winchester means when he says land ownership has shaped the modern world. The ancient sensibilities no longer hold sway. Today, far too often, you either own or you are owned. Planners may not be able to un-build land that has been plundered, nor can they nullify deeds. But, if anything, they do bear the responsibility of seeking justice whenever, and wherever, possible.  
Land: How the Hunger for Ownership Shaped the Modern World
Simon Winchester 
HarperCollins 
19 January 2021
416 Pages 
$29.99
The Quiet Housing Crisis in Rural America
While housing shortages in major cities are grabbing headlines, rural communities are seeing higher rates of growth in housing prices and a silently spreading homelessness crisis.
This six-course series explores essential urban design concepts using open source software and equips planners with the tools they need to participate fully in the urban design process.
Learn the tools for implementing Universal Design in planning regulations.
View More