Professor David Godschalk of the University of North Carolina was honored recently on the Chapel Hill campus. In the months since his passing last winter, many memories have come back to mind. I'd like to share a few of them.
---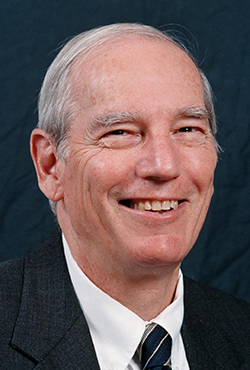 Many teachers helped me prepare for life and career, but none more than Professor David Godschalk of the University of North Carolina. Dave was honored in a celebration of his work on the Chapel Hill campus. In the months since his passing last winter many memories have come back to mind. I'd like to share a few of them.
I first got to know Dave Godschalk when I enrolled in his regional planning course. Back then, Dave kept a post card on his office door with a picture of a sculpture: a man's figure caught in what appeared to be a door or gate, one leg and arm pushing forward of the door; the other foot trailing behind. For a long time I wondered why that was the lone decoration on Dave's office door and one day I asked him about it. He said he always felt as if he was in more than one place at a time and that that stature frozen on two sides of the same door evoked the feeling.
Two of the places Dave Godschalk straddled were academy and practice. Some academics see connections with practice as an obligation; for Godschalk it was a vital juice that kept him relevant. I have a memory of an evening reception at a regional APA conference in Atlanta where someone had asked Dave to hold their drink. When I walked up to him, he had a drink in each hand and a broad smile on his face as he made easy conversation with a small group of planners. He genuinely enjoyed the people in the worlds of both practice and scholarship. He engaged both without pretense and respected those with commitment who gave hard work to each.
In the late '70s, the city and regional planning doctoral students at UNC wanted a place to discuss career issues and planning research and we started a Ph.D. seminar. Over a few years, we asked many faculty from the Department and elsewhere to meet with us. All came prepared for the topic we requested, but often with a few thoughts in mind or a few notes on a scrap of paper. Dave was asked to one of those early seminars—he came with four legal pad pages filled with his notes. I remember commenting to him about that and he said that students respected when you did your homework. That comment has stayed with me throughout my teaching career as a standard to live up to.
In the first report Dave and I wrote together, I was tasked with the statistical analysis, and it was long and tiresome. I was almost done and discussing results with someone who knew statistics much better that I, and learned I'd interpreted a coefficient in each of a hundred tests incorrectly. I sheepishly admitted this to Dave in a hastily arranged meeting just before our deadline. I remember hoping some miracle would emerge and the outcome would be something other than my working late nights for a week to correct the resulting text. The outcome wasn't surprising—I had to rework the text and meet the deadline. What took me by surprise was Dave's certainty: there was nothing else to be done. Truthful reporting demanded reworking everything and doing it without delay, no matter how distasteful. The certainty spoke louder than any lecture about scientific accuracy.
In the '80s I'd see Dave maybe twice a year at conferences. Then something called email started and we became steady, if occasional, correspondents. His interest in my life and work was always so genuine and vital—many a time the best feedback I got on ideas was from the advisor whose classroom I last attended decades earlier. And with moist eyes I will say that Dave's last words to me were in an email transmitting his 2017 Christmas letter: along with the news of Dave's illness, he took the care to pay a compliment on a work product for APA that I had participated in. Dave Godschalk the teacher knew that his old student would still be buoyed by a pat on the back from his mentor, and he made the effort to say something during a time of such personal uncertainty.
A moment I'll never forget was at the ACSP conference in Baltimore in 2002 when Dave received the Distinguished Planning Educator award. His wife Lallie, son David, and daughter-in-law Catherine, were there with him. In my student days, I knew that Lallie and David, as well as a sailboat, and a favorite vacation spot on Figure 8 Island, brought smiles and shining eyes when they were mentioned. We didn't use the phrase "work-life balance" then, but it was clear to me that no matter how incredibly hard Dave worked, his family was the source of his energy and the center of his world. I know these recent months will have been difficult for them. I hope tomorrow's celebration helps.
There are teachers who stay in your head forever. You think of them as you ask yourself questions like, "Can I do this?" or "Can I do this better?" Dave Godschalk was such a teacher for me.
---
San Francisco Just Ended Single-Family Zoning
The San Francisco Board of Supervisors voted to Tuesday to eliminate single-family zoning, but pro-development advocates say additional changes are needed to unleash a wave of construction.
Something Old, Something New: Biden's Housing Plan
President Biden's Housing Supply Action Plan is a catchall of existing proposals, tiny tweaks, and things Congress would have to fund—plus a few genuinely interesting administrative moves. Here's the rundown.
This six-course series explores essential urban design concepts using open source software and equips planners with the tools they need to participate fully in the urban design process.
This course aims to provide an introduction into Urban Design Sketching focused on how to hand draw master plans using a mix of colored markers.
View More