University of Washington
Master of Urban Planning
---
---
For over 50 years, the University of Washington Department of Urban Design and Planning has been the leading planning school of the Pacific Northwest. Through innovative research and nationally ranked training, our graduates and faculty provide the knowledge cities need to solve their most pressing urban challenges. Our Master of Urban Planning (MUP) program prepares students to step confidentially into professional practice, empowering graduates to shape the great communities in which we all work, live, and thrive.
Building strong professional connections     
Our program provides a unique opportunity for students to directly engage with leaders in the planning field and build a robust professional network. The Professionals Council, a group of dedicated local planners and designers, works one-on-one with students to actively bridge the academic experience to professional practice through resume and skill-building workshops, networking resources, and opportunities for engagement with real-world topics. Students gain the tools needed to lay a strong foundation for professional excellence.
A wealth of interdisciplinary opportunities
Our students draw on the unprecedented resources and interdisciplinary learning opportunities available across the University of Washington. They can craft their own academic experience, earning certificates in Urban Design, Historic Preservation, or Real Estate, or a concurrent degree with Public Policy, Landscape Architecture, or Public Health. We also offer multidisciplinary studios and opportunities to work with students from Architecture, Landscape Architecture, and Real Estate, providing you with a learning environment modeled on the complexity of the modern planning office.
A community of impact
Our fully-accredited program cultivates the skills needed to become a successful practitioner. An average of 92% of our MUP alumni find planning-related jobs within one year of graduation. But our program offers more than that. As a nationally ranked planning school, we draw students from all over the U.S. and the world, bringing diverse perspectives and experiences that enrich our classroom discussions and collaborative work. We believe that creating a more inclusive learning environment is essential to training planners and designers who can appropriately address the needs of our cities.
The city laboratory
The University of Washington campus is situated in the heart of Seattle, one of the fastest-growing urban hubs in the nation. Seattle is known for its innovative culture, amazing natural beauty, and leading-edge urban design. Indeed, it's hard to imagine a better environment than Seattle for studying planning – or a more promising one for your future career. Our faculty and students actively partner with local communities to solve real challenges, move vital research forward, and share knowledge that can have actual impact.
A World-Class Educational Institution
The University of Washington is consistently rated among the top institutions of higher learning. The UW is 10th in the U.S. News & World Report ranking of best global universities, and it's been recognized by Reuters as the most innovative public university in the world. A major research center, the University attracts more money in federal research grants than any other public school in the United States. Within our department, research is supported by five interdisciplinary institutes and labs that focus on topics including hazard mitigation, urban infrastructure planning, sustainable communities, and urban ecology.
Learn More
To learn more about the Master of Urban Planning degree, visit our website or contact us at [email protected].
---
Find More Programs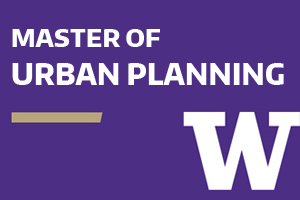 Christopher Campbell,
Chair
Diana Siembor,
Graduate Academic Advisor
University of Washington
College of Built Environments
Department of Urban Design and Planning
410 Gould Hall, Box 355740
3950 University Way NE
Seattle, WA 98195-5740
US
Planning Accreditation Board
Find More Programs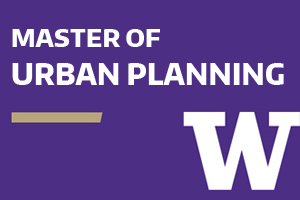 Christopher Campbell,
Chair
Diana Siembor,
Graduate Academic Advisor
University of Washington
College of Built Environments
Department of Urban Design and Planning
410 Gould Hall, Box 355740
3950 University Way NE
Seattle, WA 98195-5740
US
Planning Accreditation Board