University of Washington
Master of Infrastructure Planning and Management (Online)
---
---
For over 50 years, the University of Washington Department of Urban Design and Planning has been the leading planning school of the Pacific Northwest. Through innovative research and nationally ranked training, our graduates and faculty provide the knowledge cities need to solve their most pressing urban challenges.
Our Master of Infrastructure Planning & Management prepares you to lead the development of the next generation of critical infrastructure systems ­­— resilient, secure and accessible. Earn your degree completely online in two years of part-time study in this innovative program designed for early and mid-career professionals.
Plan the Next Generation of Infrastructure Systems
Well-planned infrastructure strengthens the sustainability and livability of our cities and communities. In the Master of Infrastructure Planning & Management program, you'll use a visionary planning approach and learn to plan for infrastructure systems that improve quality of life and provide resilience against natural and man-made hazards.
Gain Hands-On Experience
The capstone is the culmination of your graduate degree, allowing you to synthesize what you've learned in the program, conduct research and apply it to a real-world problem. At the same time, you'll build a network in a particular area of the infrastructure field. 
Earn Your Master's Online
With our convenient online format, you can earn a prestigious UW degree from anywhere in the world. Whether you're a working professional or in the military, our program fits into your schedule.
Learn From the Experts
Study with UW faculty and industry practitioners who offer deep expertise in areas such as urban planning, finance, cybersecurity, GIS, emergency management and green infrastructure.
A World-Class Educational Institution
The University of Washington is consistently rated among the top institutions of higher learning. The UW is 10th in the U.S. News & World Report ranking of best global universities, and it's been recognized by Reuters as the most innovative public university in the world.
The UW offers many areas of study, including more than 300 separate programs and more than 600 degree options. A major research center, the University attracts more money in federal research grants than any other public school in the United States. It has been home to seven Nobel Prize winners and 16 MacArthur Fellows, also known as "genius grant" recipients.
The Master of Infrastructure Planning & Management is administered in partnership with UW Continuum College, which extends the reach of the UW with a range of online and on-campus programs for working professionals and other learners of all ages. 
Learn More
To learn more about the online Master of Infrastructure planning & Management, visit our website or contact us at [email protected].
---
Find More Programs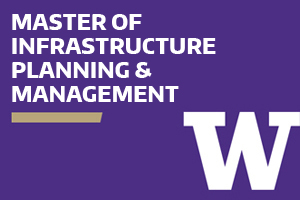 University of Washington
Box 355740
Seattle, WA 98195-9485
US
Find More Programs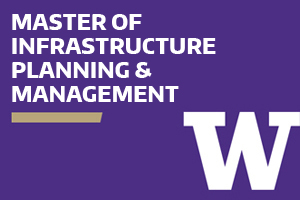 University of Washington
Box 355740
Seattle, WA 98195-9485
US