More trouble in River City, as Portland and Oregon struggle with rising housing costs and come up with a puzzling solution.
---
Oregon Representative Tina Kotek (D-North Portland) is fighting a righteous cause. Her House Bill 2007 is aimed to champion minority populations and the poor, against neighborhoods full of rich white NIMBYs who, in her words, want to "self-segregate." Kotek's bill aims to force more affordable housing into existing neighborhoods by weakening design review and historic preservation measures—in a state that is already notorious for its weak protections of historic structures. Perhaps that's the price to be paid to solve the housing crisis and promote more equitable, diverse, and sustainable cities. Right?
Unfortunately for Kotek and her co-sponsors, there is no available evidence that the bill would have the intended effect. It would instead offer an apparent windfall to builders of expensive infill housing—which seems to explain why the Homebuilders Association of Metropolitan Portland was an early backer of the bill.
More puzzling is the support of 1000 Friends of Oregon, a land use watchdog group that is hardly a natural political bedfellow with the homebuilders. More often, 1000 Friends finds itself opposing plans by homebuilders to expand the city's Urban Growth Boundary, arguing that sprawling across the countryside is no solution for the region's affordability crisis.
Just so, destroying the heritage and livability of Oregon cities is no solution for the affordability crisis either—but that appears to be precisely the false choice proposed by HB 2007. Styled as "anti-NIMBY" legislation, it would strip local governments of most powers to regulate the design of new residential construction, with a few complicated exceptions. It would also greatly weaken the ability to provide historic district designations, which can offer crucial protection against demolitions that significantly degrade a city's heritage assets (and sometimes its economic attractiveness too). Not surprisingly, Restore Oregon, the Architectural Heritage Center, Portland neighborhood associations, the National Trust for Historic Preservation, and many other groups, are beginning to mount fierce opposition to the ill-conceived bill.
But there is a more basic question. Does the evidence show that "NIMBYism" in wealthy neighborhoods is actually a significant barrier to affordable housing? How much of the problem up to now has been, to be blunt, a heavy-handed failure to work with residents to find win-win solutions? (I say this as one who has put his own money where his mouth is on this issue, winning entitlements for affordable housing projects as well as much higher density infill developments.)
Furthermore, when new housing is created over neighborhood objections, how often is it actually more affordable? What is the percentage of new units occupied by people of color for the first time? More pointedly, what is the evidence that those who oppose HB 2007 (like the National Trust for Historic Preservation or Restore Oregon, to name two) do so out of a desire to "self-segregate"?
And to be blunt, how much of the proposed "solution" is a fantasy, inspired by ideologically charged identity politics and ill-conceived "command and control" thinking and egged on by self-interested lobbies? And how much of the proposed solution is grounded in real evidence of what works, including cautionary evidence from other cities and countries?
In one of the few citations of actual evidence, Restore Oregon president Peggy Moretti testified to legislators with statistics of how many homes were demolished in Portland in 2016 (376, or a pace of almost 4,000 per decade), showing a series of examples of single family units in the $300,000 to $500,000 range being replaced by other single-family homes or duplexes of up to a million dollars each.
Moretti concluded, "As it currently stands, this bill is a case study in overreach, unnecessary complexity, and bad unintended consequences."
Let's be clear about the problem. Oregon is growing—by 69,000 new residents in 2016—and Portland is driving much of the growth (it's in the top ten fastest growing metro areas in the nation, according to Forbes). Clearly those folks need housing, and without new supply, competition for existing supply will grow, along with demand—and prices.
But price growth does not occur in a vacuum. Part of the reason for Oregon's population growth in the first place is its relative affordability in relation to California, Washington, and other states. To some extent, those prices will tend to equalize over time, regardless of local policy. For example, a building boom might just attract even more migrants, who soak up the new supply and return us to the same position. (This phenomenon is called "induced demand," and it's the reason that the facile if profitable approach that might be called "build baby build"—houses, freeways, whatever—ultimately doesn't work.)
Nor are many of the new projects going to do much about affordable housing anyway. (Like the expensive new high rises with Mt. Hood views allowed under Portland's new Central City 2035 plan, and other inherently costly housing that will tend to draw even more high-income residents to the city.) To paraphrase Jane Jacobs, Portland and Oregon seem at times neurotic in their determination to address quantity without quality. To protect existing residents, the region would be better off enacting targeted policies to help owners and renters, like tax abatements for owners and incentive tools to help existing renters.
That still leaves the immediate and real problem of accommodating the growth that will occur in any case. The answer is not to blame the victims.
Existing residents are victims when they see attractive and affordable buildings demolished on their streets, when they see disruptive, ugly new developments, and when they see the livable quality of their neighborhoods deteriorate. The fact is, we in the planning and development industry (and I speak as a long-standing representative) are the ones who create NIMBYs, when we trade a meadow for a strip mall, a bungalow for a McMansion—or a human-scaled avenue for a street full of boxy, trendy-today, ugly-tomorrow "space invaders." Residents fear that new development will degrade their quality of life—based on the evidence of history, sadly, they are too often correct.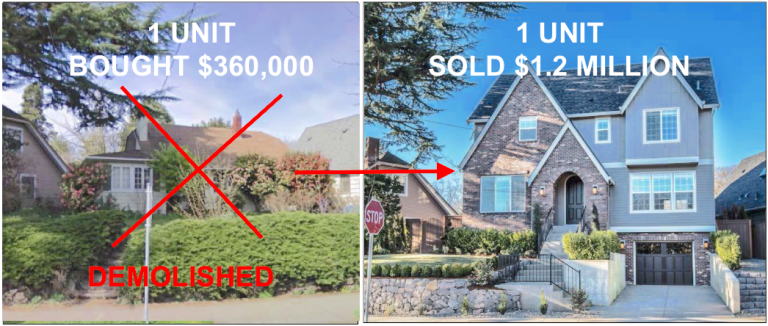 The McMansion Relief Act of 2017? One of the 376 residential demolitions in Portland last year. (Source: Restore Oregon)
New developments don't have to be ugly, disruptive, or destructive of our livable heritage. Neighbors don't have to be stiff-armed by governments, invited into tokenistic "involvement" that treats them disrespectfully at best. (I am often on the development side of that table, and I know how the game is played, although I hope I do not ever give in to that profitable temptation.)
Instead, I think we in the planning and development field need to work harder and more sincerely to find win-win approaches. At the same time, the neighborhood residents need to work harder to find the basis on which that win-win approach might operate. Right now the process is unnecessarily adversarial, and the winner too often is just plain bad development.
Equally important, we don't need a cumbersome and capricious review and permitting process that seems to reliably get us the worst of both worlds—a slow and uncertain entitlement that adds unnecessary cost and a result that is increasingly bizarre, formulaic, and disruptive of livable character. Too often the only winners in this system are those that can game it for all it's worth. Too often the system produces jammed-in buildings, reaching absolute maximum floor area ratio and other "design by numbers."
Architects get to sprinkle on the latest fashionable novelty eye candy (theme-packagers for toxic industrial products?), and everyone can then pretend that some great artistic addition has been made to the city. In a few decades, when it's far too late, we realize again that we've been had—we're stuck with yet another generation of failed, ugly buildings.
There is evidence of a better way. There are many good opportunities for compatible infill developments in parking lots, wasted spaces, and other "grey field" sites, as I saw when I was part of the Metro (Portland) "Sustainable Centers and Corridors" advisory team. These sites hold the opportunity to add desirable amenities to existing neighborhoods (like attractive new shops and restaurants) as well as more affordable housing units. I have seen this win-win approach gain broad support from surrounding neighborhoods in my own projects. What we need is better tools—and better imagination—to unlock the potential of these more suitable sites. We do not need to use divisive, polarizing politics to make enemies of existing residents.
The Prince's Foundation for Building Community in London, where I used to work, has identified a win-win approach to development that it calls "Beauty in My Back Yard"—development that adds to, and doesn't destroy, neighborhood quality and character. Portland and many other cities are full of precedents for good compatible infill that complements existing neighborhood fabric. If we accept the premise that heritage and livability are important, but growth is natural, just as it was in the past, we can map out a win-win future that grows with our heritage and our livability, instead of against it.
Portland and Oregon desperately need more thinking like this, surely.
Michael Mehaffy is Senior Researcher in urban sustainability at KTH University in Stockholm, Executive Director of Sustasis Foundation, an urban sustainability non-profit in Portland, and president of Portland's Goose Hollow neighborhood association. 
This six-course series explores essential urban design concepts using open source software and equips planners with the tools they need to participate fully in the urban design process.
Learn the tools for implementing Universal Design in planning regulations.
View More