Making TODs Work: Lessons from Portland's Orenco Station
A project manager gives a real-world account of the successes and failures of one of the nation's most closely watched new transit-oriented communities, and its role in the regional growth management strategy.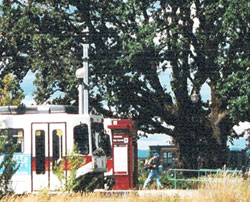 The planning practices of few jurisdictions are as closely studied – or as hotly debated – as those of Portland, Oregon. The region's innovative growth management system and transit-oriented development efforts are hailed by some as near-perfect national models for livable growth, and bashed by others as clumsy infringements of property rights and free enterprise, reflecting only the unworkable utopian dreams of planners.
A growing body of evidence suggests the truth may lie somewhere between these extremes. Some things are indeed working in Portland, and ought to be studied as models – or at any rate clues for how to make things work better elsewhere. Other things are not working, and ought to serve as cautionary tales.
A key strategy of the Portland regional approach has been to rezone land adjacent to light rail stations to create new mixed-use, transit-oriented development. In several prominent cases, the station areas have been designated as mixed-use town centers, following the New Urbanist program of well-connected, pedestrian-friendly streets and a diverse mix of housing, retail and civic uses.
Orenco Station has emerged as perhaps the most prominent laboratory in that regional experiment, in part because it offers a real-world test of a great many specific aspects of that program. In Orenco Station there is a pedestrian axis to the light rail station, around which a grid of alley-loaded "skinny streets" extends; a walkable town center of mixed-use shops, services and residential; "liner" buildings with limited on-street parking and lots tucked behind; a range of housing types and prices, from $79,000 to over $500,000, as well as rental units; pedestrian-friendly street design and scale; "granny flats" and live/work units; loft units above retail; and of course, much higher density than is typical for the American suburbs, up to 25 units to the acre.
Skeptics suggested that PacTrust -- the pension fund partnership and master developer for whom I served as project manager -- was unwise to cooperate in creating this kind of development. After all, there were no real precedents even for attached product in that suburban market, let alone the kinds of radical densities and other features proposed. But while the company was certainly wary of the dangers, research also suggested an unmet appetite in the market for this kind of community, one that has since been borne out.
In addition, a number of steps were taken to mitigate risk, including early sale of some parcels to co-developers. Most significant, the company made it a condition that it would be given the flexibility to follow the market and protect its interests as needed; with that important limitation, it would commit to implementing the regional policy goals. This meant the company would become a full participant in writing the new zoning and working out the vision of the community, based on extensive market research, study of precedents, private-sector expertise and entrepreneurial vision.
This relationship of trust and pragmatic collaboration with public entities was perhaps the most critical element in the decision to move ahead, and to pursue all the ambitious features that were later realized. It may also have been the most critical element in the ultimate success of the project, as it set the stage for the detailed problem-solving with jurisdiction staff that is critical in such a complex project.
In spite of the early skepticism, it is increasingly clear that the community is an encouraging success. Initial sales and subsequent appreciation have been strong, and town center retail occupancies are at 99% in spite of the slump.
Moreover, a sociology study (Podobnik, 2002) has shown very high levels of resident satisfaction with the community, very high "social cohesion", and relatively high transit and alternate mode transportation habits (a 22% modal split versus about 6% regionally). Many of those automobile trips are also "captured" within the community, reducing overall travel. Considering the suburban setting, this achievement should not be underestimated.
But it is important to note that many features of the plan deviated substantially from planners' original prescriptive intentions. Most significant, the automobile -- still the choice of most suburbanites for most trips – has been realistically accommodated, though in ways that better mitigate its negative effects on livability.
Other aspects of the community show room for improvement. The natural character of the place has not fully developed, leaving a somewhat unreal quality, in part because of some unbuilt parcels now owned by other entities, and in part because of top-down design and production methods to achieve economies of scale and control. Both economic and ethnic diversity, though unusually broad for the American suburbs, are nowhere near true urban levels.
The live/work townhomes, while successful enough to prompt a second phase, were not the successes expected, in part because the workspace was too small to be effective, and the split-level design complicated ADA access.
Perhaps most importantly, the team did not have control – or, in one notable case, sold off control -- of key parcels of land surrounding the station. It was also an unhappy fact of history that the station location was eccentric to the community and removed from the major arterial that bisects the site. In a more ideal world, the team would have had better control over these conditions – and would have maintained it.
Some key "lessons learned":
Density demands design. Abstract land use designations are only the beginning, and the essential task is to create a coherent neighborhood structure with livable features and services.
Build a great team. Assemble a skilled and talented consultant team early on, led by private entities with vision and risk-management skills, to closely collaborate and problem-solve together.
Bring the jurisdictions onto the team. Major challenges are still posed by obsolete national building codes, traffic engineering practices, and local zoning; and their solution requires the close cooperation and collaboration of public entities – from elected representatives down to desk staff – as well as skilled private consultants.
Do your homework. The devil will be in the details of the design. Start with good market science, not only in assessing what buyers have already bought, but in understanding potential buyers and envisioning what they will want and need. Then be prepared for lots of detailed problem-solving and research.
Learn from history. There are many valuable lessons in successful older neighborhoods, and in how their mix of uses functions successfully. Do not slavishly copy, but do not ignore the great problem-solving resources collected in traditional design.
Keep a firm hand at the tiller. Do not let disparate owners or builders destroy the standard of design quality. Do not surrender control prematurely.
But let the design evolve. At the same time be prepared to allow many inputs and many hands, and let the design evolve with changing real-world conditions, while preserving a coherent neighborhood structure.
Perhaps the final lesson of Orenco Station – to be further established with ongoing research -- is that there is indeed great potential for such transit-oriented and mixed-use development to create more livable, more sustainable neighborhood development. At the same time, formidable challenges remain: the diseconomies of mixed use construction, the burden of obsolete codes, the complex entitlement process, the demands for top-notch design, and the political challenges to public infrastructure funding needed for light rail itself. But in our view, such public subsidies come under the entirely proper Constitutional mandate to provide for the general welfare. In that sense, the freedom of consumers to choose to live in such communities – as they clearly do – is matched by the freedom of voters to choose the kind of public realm they will create in a democracy.
Additional useful links:
---
Michael Mehaffy is president of Structura Naturalis Inc., a Portland, Ore. based urban design and consulting firm. For five years he has served as PacTrust's project manager for Orenco Station, and he now serves as a project manager and consultant for mixed-use projects on the Oregon coast and elsewhere.