New Urbanism Emerged in Response to Sprawl, but Does it Really Offer an Alternative?
Daniel Trudeau guest blogs about a recent article in the Journal of Planning Education and Research.
Guest Blogger: Daniel Trudeau of Macalester College.
Critics of New Urbanism like to point out that, where the movement appears in suburbia, it often creates "suburbs in disguise," effectively recreating the very problems the movement claims to work against. However, such a critique overlooks the multiple forms that New Urbanism takes, even in suburbia. I begin to address this blind spot in my recent article in JPER, titled "Tracing New Urbanism's Suburban Intervention in Minneapolis-St. Paul." I focus on the impact of two differently designed New Urbanism projects in the Twin Cities area by examining the built environment and residents' lived experiences in Clover Ridge, a greenfield traditional neighborhood development (TND) site on the urban-rural fringe, and Heart of the City, an infill transit-oriented development (TOD) site in a second-ring suburb. I compare these projects with Biscayne Point, a control site on the urban-rural fringe that represents conventional forms of development that manifest as sprawl. 
Proponents of the New Urbanism frame the sprawling landscape of post-WWII suburbs in America as problematic for its low-density, automobile-oriented landscape that lacks social diversity and produces social isolation. I investigate whether the New Urbanist developments actually provide alternatives by observing each project's urban design and land use and conducting a survey that tracks residents' travel behavior and attitudes toward their neighbors. This allows me to look closely at the physical, functional, and social dimensions of each site.
The results show that the New Urbanist neighborhoods simultaneously challenge and reproduce suburban sprawl. In comparison to a typical sprawling suburban subdivision, the application of New Urbanism in the suburbs of Minneapolis-St. Paul has worked to curb the physical dimensions of sprawl. Heart of the City's built environment is much denser, hosts a variety of non-residential land uses, and limits housing options to apartment- and townhome-style units. Single-family homes are the dominant land use in Clover Ridge, and the overall density of the built environment there is moderate. Although there are a variety of spaces that could accommodate nonresidential land uses, there were relatively few in use at Clover Ridge. Despite this divergence, both projects offer built environments that are denser than Biscayne Point and provide support for walking and public transit use.
A denser landscape does not necessarily lead to behavioral change. Considering transportation mode, residents of Clover Ridge and Heart of the City depend on automobiles for a majority of trips in their everyday lives. Residents in both places do, however, use public transportation at rates that meet or exceed the average for the metropolitan region (see table). Moreover, commuting via public transportation among residents of Heart of the City is considerably high and stands out from the other two communities. This high mode share for public transit was likely accomplished through the neighborhood's greater density and land use diversity. Indeed, the combination of these characteristics helps Heart of the City, but not Clover Ridge, break away from the functional dimensions of sprawl. At the same time, density and diversity present challenges for working against the social dimensions of sprawl.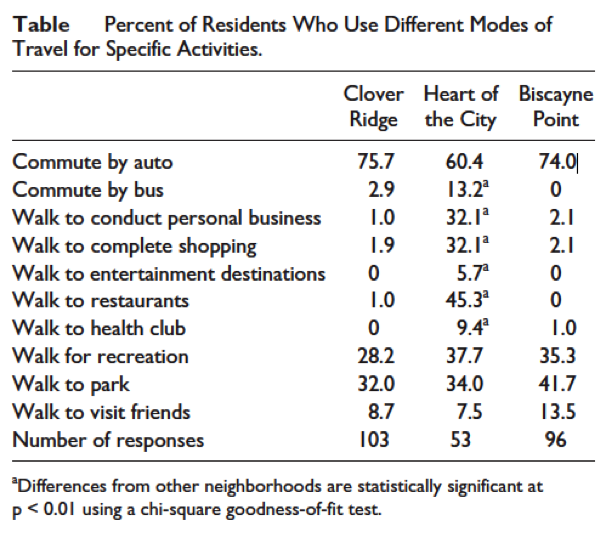 Both New Urbanist projects contain a large proportion of affordable housing, which has helped to generate income and racial diversity in each place. Tensions surrounding this social mix has emerged in both cases, however. Notably, residents of both New Urbanist projects in the study—mostly white middle-class property owners—indicate that they feel more detached from their neighbors and neighborhood than do their counterparts in the conventional suburban subdivision. In fact, it is common for such residents to indicate a desire to live elsewhere, preferring locations that they see as either more urban or more suburban. Application of New Urbanist design principles has thus produced spaces in Minneapolis-St. Paul wherein class-based differences become clear and those who are better off seem to seek separation from others who are worse off.
New Urbanism's intervention in the suburbs of Minneapolis-St. Paul can thus be seen as transforming the built environment in ways that break away from physical and, to an extent, functional patterns of sprawl. At the same time, this intervention has also struggled to host residents who appreciate or even engage in the ways of life that such environments afford. As a result, these New Urbanist places fail to address and even reproduce some of the critiques of sprawl. Applications of New Urbanism must and should do more to help make neighborhoods generate social interaction that is lasting and positive. I elaborate on a potential way forward in the article. 
Open Access Until March 1, 2017
Trudeau, D., 2016. "Tracing New Urbanism's Suburban Intervention in Minneapolis–St. Paul." Journal of Planning Education and Research
Topics