The debate about whether Millennials prefer urban or suburban misses a big, important point: what Millennials really prefer is possible in either setting.
---
A tremendous amount of thought (and money) goes into understanding the housing and transportation preferences of millennials. As it turns out, most young Americans want what people of all ages want. And, like everyone else, they're not getting it.
Let's look at a fact that, on the surface, is very disheartening to a city lover like myself: Young people are more likely to move from the city to the suburbs than vice versa. This is from a Ben Casselman article published last year:
According to U.S. Census Bureau data released this week, 529,000 Americans ages 25 to 29 moved from cities out to the suburbs in 2014; only 426,000 moved in the other direction. Among younger millennials, those in their early 20s, the trend was even starker: 721,000 moved out of the city, compared with 554,000 who moved in.1 Somewhat more people in both age groups currently live in the suburbs than in the city

Indeed, for all the talk of the rebirth of American cities, the draw of the suburbs remains powerful. Across all ages, races, incomes and education groups, more Americans are still moving out of cities than in. (Urban populations are still growing, but because of births and immigration, not internal migration.)
Some of the exodus to the suburbs has to do with economics. The cost of housing in cities is high and rising, outpacing housing costs in suburbs. But that leads us to another fact that's even more painful for city lovers: Most millennials say they would prefer to live in the suburbs.
Many national surveys have observed the preference for suburbs among millennials. Among them is one that my firm (RSG) and TransitCenter conducted in 2013. We surveyed nearly 12,000 Americans living in or near cities (as most Americans do) and asked them what their ideal neighborhood type would be. Respondents could choose between seven options:
Urban downtown, with a mix of offices, apartments, and shops
Urban, residential neighborhood
Suburban neighborhood, with a mix of houses, shops, and businesses
Suburban neighborhood, with houses only
Small town, with a mix of houses, shops, and businesses
Small town, with houses only
Rural area
Let's call 1 and 2 the ''urban" options, 3 and 4 the "suburban" options, and 5-7 the "small town/rural" options. Based on those groupings, the chart below shows the neighborhood types that respondents identified as their ideal.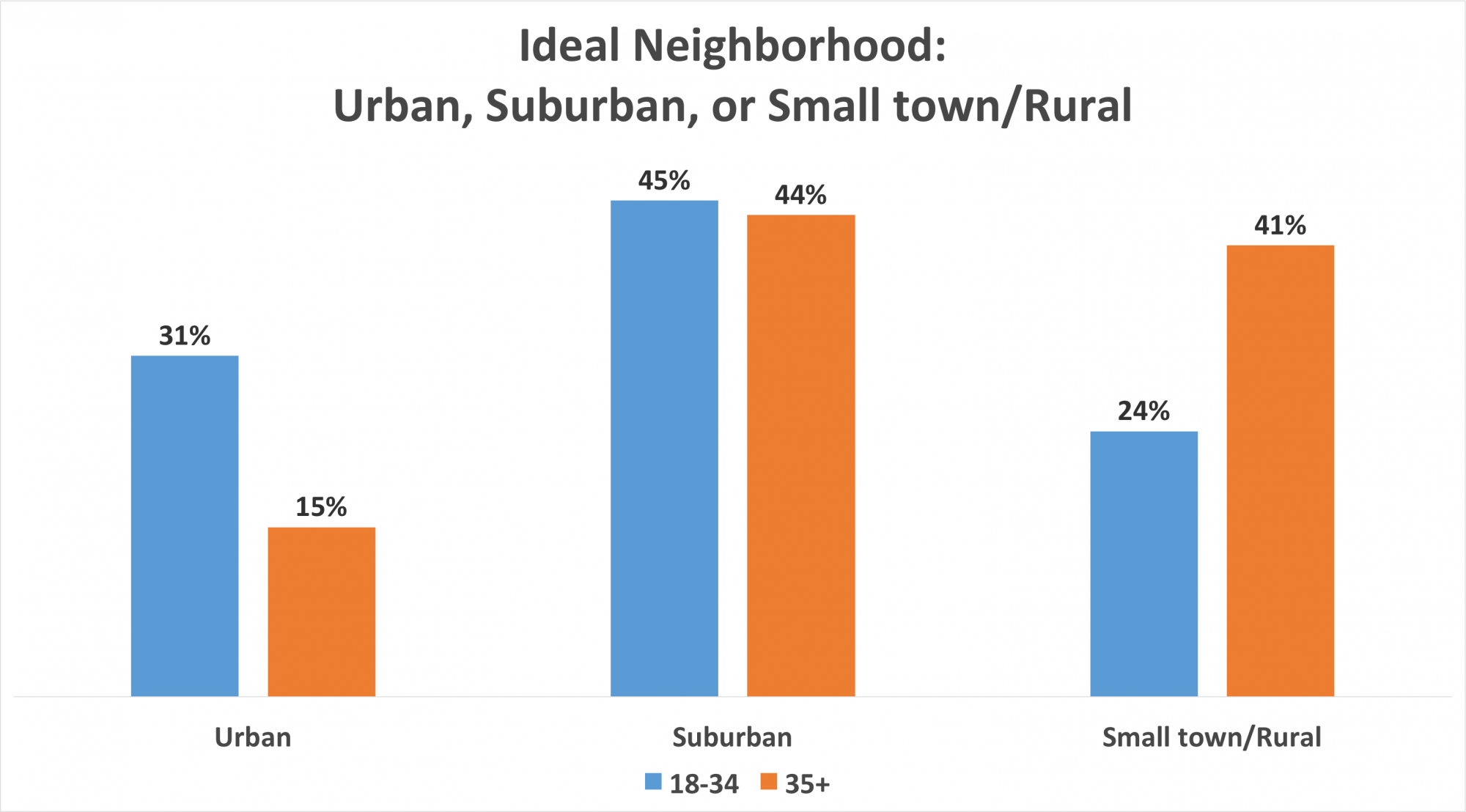 The younger cohort shows more interest in living in urban areas, but the majority still prefers the suburbs. More importantly, there's no evidence here (or really anywhere else) to show that younger respondents' preferences won't change to the suburbs as they age.
Planners and policymakers might be tempted to conclude that most people, young and old alike, want large lots in leafy suburbs. But there's an important element of this preference that's missing, and it's rooted in this question: what is a suburb, anyway?
Not all suburbs are the same, and the definition is at best loose, even in our own survey. What is much more clear in our survey is the idea of mixing different types of land uses ("…houses, shops and businesses") together. Let's see what happens when we categorize the neighborhood types in a different way. Let's call 1, 3, and 5 the "mixed use" options, and 2, 4, 6, and 7 the "residential" options.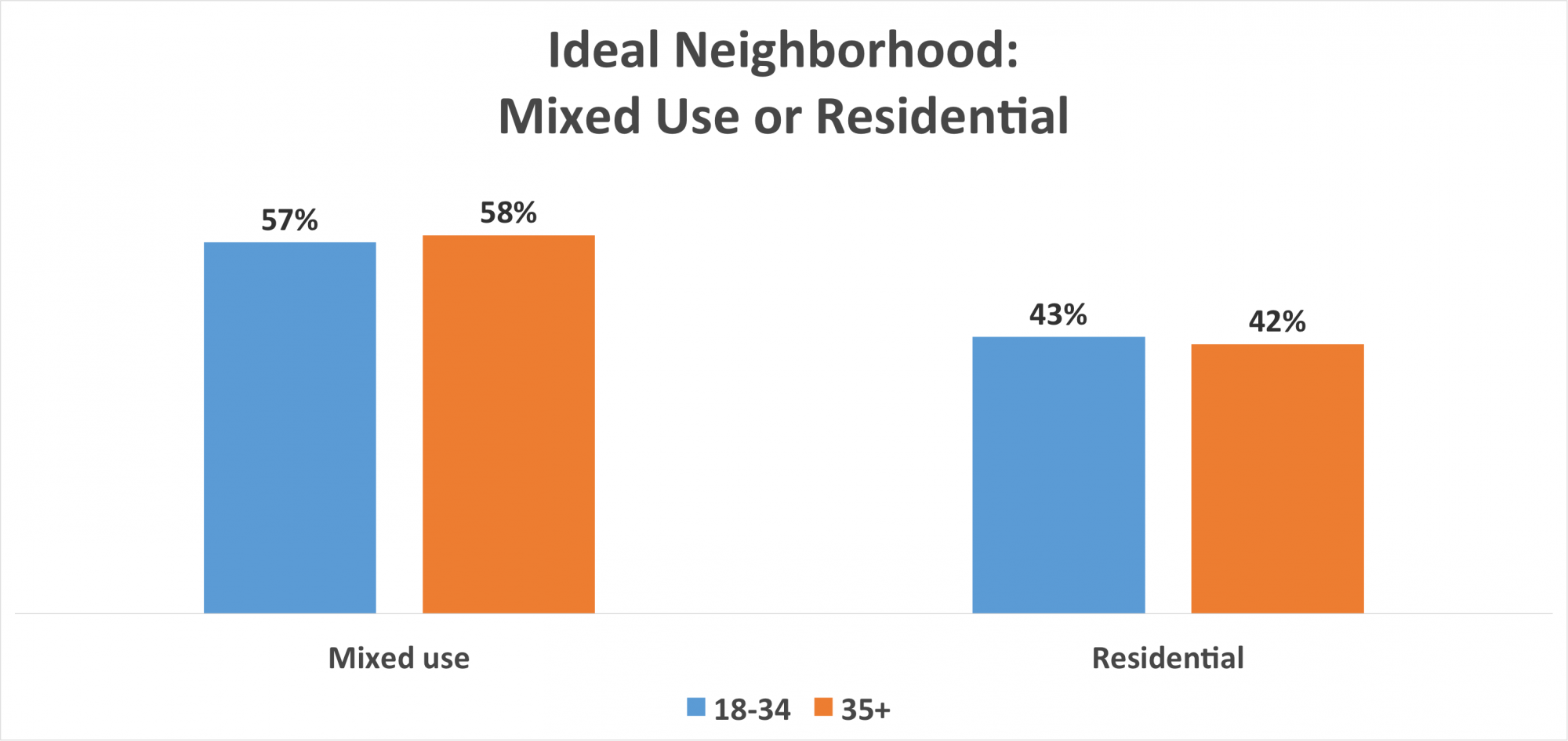 When we think of neighborhoods as "mixed use" and "residential" instead of "urban" and "suburban," a very different picture emerges across both age categories, and mixed use clearly wins out. So it's true that people prefer neighborhoods they describe as suburban, but they also want access to amenities that many suburbs do not offer.
Let's look at one last chart. This one shows the type of neighborhoods people of all ages currently live in alongside their ideal neighborhood type.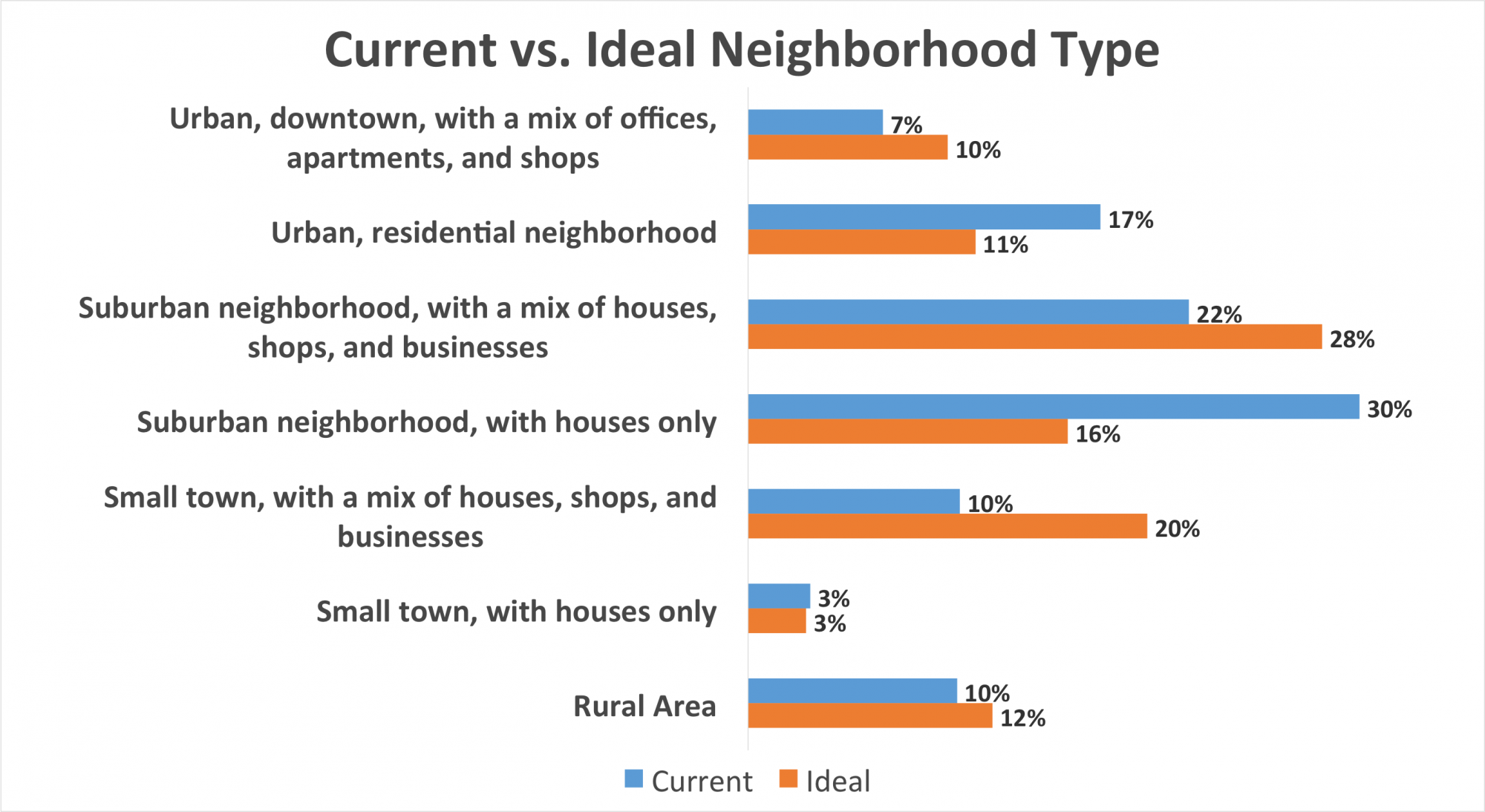 The takeaway here is that most people live in residential-only neighborhoods, but that's not where they'd like to live. The survey reveals a clear preference for mixed-use neighborhoods, regardless of the setting (urban, suburban, or small town). Millennials are no exception to this. A recent study from the Urban Land Institute found that "millennials represent a strong driver of demand for compact, mixed use development formats, in suburban or other locations." According to that report, most millennials desire single-family homes, though most also say they would like to live somewhere where they rarely need a car. Neither high-rises nor picket fences will do.
It's still unclear exactly what people have in mind when they are asked about a "suburban" or "small town" environment, and as survey researchers we can do better. What is already clear, however, is that wanting a coffee shop on your corner doesn't necessarily mean you want to live in Manhattan or San Francisco. Places like Burlington, Vermont and Silver Spring, Maryland fit the bill as communities that are hardly "urban," but confer the benefits of mixed-use living.
Understanding the preferences of millennials is important. There are a lot of them (70-80 million), and because they are, by definition young, they're likely to be around for a while. But the bottom line is that most Americans are not living in the type of neighborhoods they really like now. Planners needn't obsess about the future desires of young Americans. Instead, they can simply focus on how to provide the pleasant, walkable neighborhoods that people of all ages want to live in. 
Ben Cummins is planner and survey researcher living in Washington, D.C. He holds a Master's in Planning from the Department of City and Regional Planning at Cornell.
How Sharrows Became Cycling's Most Hated Symbol
Originally designed as a low-cost way to encourage safer road sharing between bikes and cars, the sharrow has become a symbol of the lack of commitment to protected bike infrastructure in many cities.
Sports Stadiums Bring Few Economic Benefits
While their developers often tout jobs and local economic development as benefits of major stadium projects, research shows these venues often make little impact on local economies.
This six-course series explores essential urban design concepts using open source software and equips planners with the tools they need to participate fully in the urban design process.
This course aims to provide an introduction into Urban Design Sketching focused on how to hand draw master plans using a mix of colored markers.
View More