Marc Doussard of University of Illinois guest blogs on his new work in the Journal of Planning Education and Research, available with open access through Dec. 15, 2015.
---
Guest Blogger: Dr. Marc Doussard 
Like a lot of planners, I came to the profession thanks to a deep conviction that cities—the worlds of our everyday lives—are the idea places from which to change society for the better. And like too many planners, my formal education amounted to something of a hazing experience: Cities' limited powers, tenuous finances, and mandates to pursue growth  over other concerns make action for economic fairness a bad idea in policy terms and a loser politically.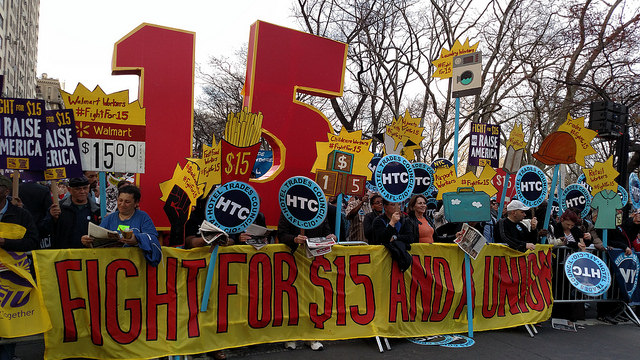 However, cities are now leading the way in addressing the wicked problem of economic inequality. The minimum wage will soon reach $15 in Seattle, San Francisco, and Los Angeles, $13 in Chicago, and double-digits in several other cities. On top of that, cities have taken the lead in addressing other problems, such as lack of access to childcare, declining access to sick and vacation days, wage theftm, and unpredictable schedules. This has happened even as state governments retreat from these issues.
In my recent article in the Journal of Planning Education and Research (free link until Dec. 15), I ask how this remarkable change came to be—and why it has gone unnoticed. The first question was relatively easy to answer. I compared two similar policy proposals in Chicago: A 2006 campaign for a $10 minimum wage for big box retailers, which failed, and a 2014 campaign for a $13 citywide minimum wage. 
These two campaigns were similar in most of the ways that count—they consisted of the same unions and community organizations, drew on the same research apparatus, and used similar arguments. But they differed in their approach to urban politics. The 2006 "Big Box" campaign attempted to win what scholars refer to as the "inside game" at City Hall: It counted wards, precincts, blocks and votes, made compromises to win over opponents, and tried to bargain a victory out of a hostile legislative environment. Ultimately, those tradeoffs sapped support for what appears in hindsight as a very limited policy ask: By advocating a small pay increase for a limited subset of employment, the campaign created divisions within and across the neighborhoods where it needed support.
By contrast, the 2014 minimum wage campaign achieved its goals by ignoring deal-making in City Hall. Rather than pressure the city council and the mayor to raise the pay level, the Fight for 15 campaign simply demanded a raise, and kept the issue of low pay in the news. The campaign's success validates some of the criticisms long attached to the practice of equity planning, or the use of public power and advocacy to steer resources and power to those with few of either.
When Norm Krumholz and the Cleveland Planning Department initiated the practice in the 1970s, friendly critics warned that channeling a social movement's energies into the technical details and legislative minutiae of city government was a bad trade. Most prominently, they argued that steering advocacy from protests to policy would rob social movements of the underlying enthusiasm that constitutes their greatest power. Of equal importance is the fact that advocacy directed at City Hall activates a well-resourced and meticulously organized pro-growth coalition that can easily defeat reform legislation.
My research shows that Fight for 15 upheld the ideals of equity planning by ignoring the central tenet of working through City Hall. The campaign made a big demand, and did not tie that demand to any particular bill or legislative bloc, which allowed its organizers to generate political pressure that ultimately compelled Chicago's mayor to act on his own.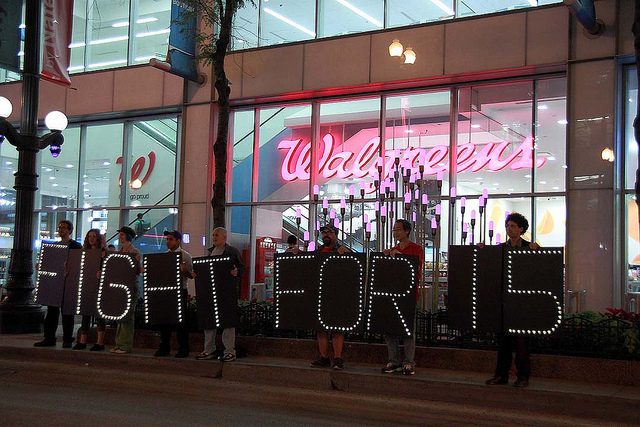 Why, then, has this remarkable development in urban policy received so little discussion? Regardless of their long-term impacts, municipal minimum wages are a remarkable phenomenon for the simple fact that they have won support from legislative bodies hardwired to oppose them. Why hasn't this transformation drawn more scrutiny? A lot of the answer goes to changes in how we understand our work as planners. Community and economic development have always occupied an uncomfortable place within planning, for the simple fact that they are open-ended, constrained, indirect, and political. Like many people who practice economic development, I envy the comparative simplicity and authority of land use planning. Because community and economic development involve politics, and because their practice involves indirect power, they don't look like other types of planning. They're certainly not amenable to the same technical simplicity.
Seen this way, the neglect of the Fight for 15 by planning makes sense—it's about policy, organizing and distribution, issues seen to be increasingly removed from land use, design and transportation. But we pay a big price for that neglect. Ten years from now, cities with $15 wage floors will have developed in distinct ways. They will feature different mixes of industries and a more robust local consumption base, and they'll have citizens more engaged in planning, politics and the development of their own long-term futures. These changes will be substantial, and I believe they will make clear the importance of community and economic development to all sub-fields of planning, if we learn to look for them.
Doussard, Marc. "Equity Planning Outside City Hall Rescaling Advocacy to Confront the Sources of Urban Problems." Journal of Planning Education and Research (2015): 0739456X15580021.
Dr. Doussard is Assistant Professor of Planning at University of Illinois.
---
How Urban Trees Save Lives
New research shows a strong connection between a healthy urban tree canopy and lowered mortality rates.
How To End Homelessness: The Houston Model
While the numbers of unhoused people in other major U.S. cities grow, Houston has managed to effectively end veteran homelessness and house more than 26,000 people since implementing a 'Housing First' approach a decade ago.
This six-course series explores essential urban design concepts using open source software and equips planners with the tools they need to participate fully in the urban design process.
Learn the tools for implementing Universal Design in planning regulations.
View More