Charlotte Fagan and Dan Trudeau (Mcalester college) study two New Urbanist neighborhoods in Minneapolis to understand the ways in which New Urbanism impacts the empowerment of women.
---
Two decades on, New Urbanism's efforts to reform American suburbs have produced hundreds of new places and scores of inquiries about whether this smart growth movement realizes its claims of densely developed, diverse, sustainable communities. Charlotte Fagan and Dan Trudeau's study of two New Urbanist neighborhoods in the suburbs of Minneapolis-St. Paul joins a burgeoning core of research examining the lived experience of New Urbanism (Open Access Link, http://goo.gl/dOhYXO).
Fagan and Trudeau's work represents a departure from the norm, however, in focusing on the lived experience of women. Their inquiry begins to address Dolores Hayden's question of whether New Urbanism offers a new neighborhood strategy for women by studying how women interact with the built environments of two New Urbanist neighborhoods and one conventional suburban subdivision. Fagan and Trudeau pay particular attention to the ways in which these different built environments might help women redistribute the 'second shift' of domestic labor within the home and if the physical setting enables women to forge inclusive social networks in suburbia.
This inquiry is inspired by several points of convergence between New Urbanist design principles and feminist planning. Both movements prioritize dense, socially diverse, multi-use places that feature an accessible array of transportation modes and inclusive public spaces. Where New Urbanism's prescription for the supposed social ills of suburbia is to make suburbs more urban, feminist planning is also critical of the ways urban environments may disadvantage women as well as other marginalized groups. Given this mix of alignment and departure, Fagan and Trudeau studied the ways in which living in New Urbanist places might empower women residents.
Fagan and Trudeau's study is primarily qualitative, using survey responses and in-person interviews to examine two aspects of the lived experiences of women. They first ask if women in New Urbanist neighborhoods interact with their neighborhoods and built environments to meet the demands of domestic labor in new ways or if domestic labor is reconfigured among household members vis-à-vis traditional neighborhoods. They also analyze the social interactions of women and consider the extent to which New Urbanist design combats the isolation that often accompanies suburban living for women.
The study evaluates women in two different types of New Urbanist neighborhoods – one that features Transit-Oriented Development (TOD) and another that promotes a strong neighborhood feel through Traditional Neighborhood Design (TND) – both of which are located in suburban contexts of the Twin Cities. Fagan and Trudeau compare these sites to women's experience living in a typical 1990s suburban development, which serves as a control.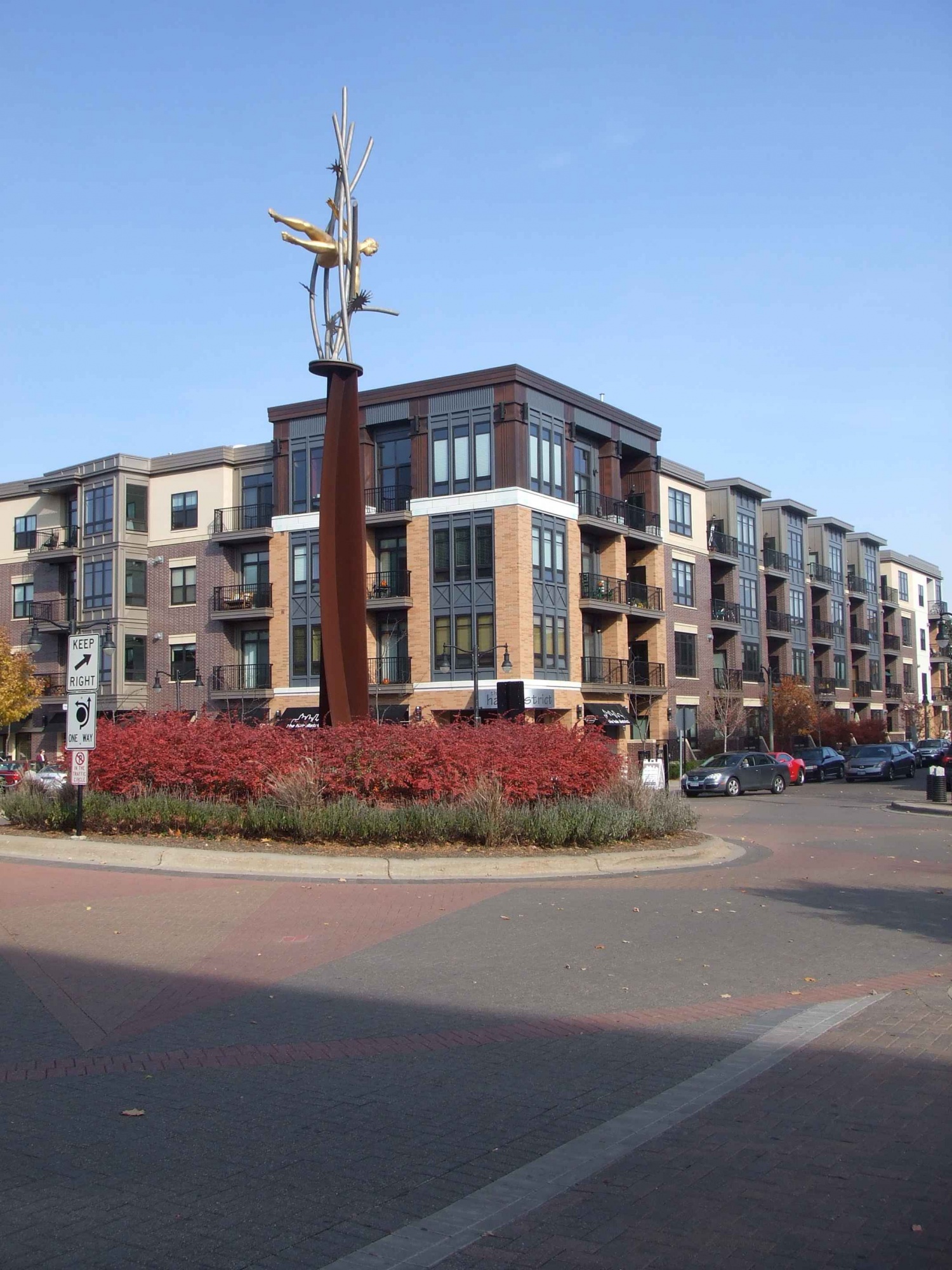 The analysis shows that women in the TOD-themed neighborhood engaged with the compact and mixed-use features of the built environment to meet the demands of daily life in new ways. Some even used the features of the neighborhood to help forge a more even distribution of responsibilities. However, the landscape of the TOD New Urbanist neighborhood did not include many casual opportunities to meet and interact with neighbors. Consequently there was a more anonymous quality to living there, though interested women could participate in place-based social networks. In contrast, women in the TND-themed neighborhood were prolifically involved in place-based social networks, which served to both combat loneliness and to complete demands of the second shift. Ultimately, each model of New Urbanist design proved to offer a distinct set of resources that women used to manage the demands of the second shift.
These qualities notwithstanding, Fagan and Trudeau find that New Urbanism does not offer a new neighborhood strategy that empowers women precisely because the built environments of these places assist with completing existing transactions and do not necessarily lead to transformations in the gendered divisions of labor.
At the same time, this is not cause for feminist planning to dismiss New Urbanism outright. While New Urbanism currently is not a viable vehicle to bring the type of structural overhaul that feminist planning calls for, it does offer a stopgap resource for women to forge place-based networks that can alleviate feelings of loneliness and isolation. These environments enable women to manage domestic labor, even dividing tasks more evenly amongst members of the household. Indeed, Diane Dorney, creator of TheTown Paper, attributes her entrepreneurship to the design of the built environment and sense of community she felt living in the iconic New Urbanist neighborhood of Kentlands, which allowed her kids to range free through the neighborhood and walk to school and after-school jobs, saving her from spending time as a chauffeuring soccer mom.
For a free link to the article courtesy of SAGE Publications click here: http://goo.gl/dOhYXO.
Fagan, Charlotte, and Dan Trudeau. "Empowerment by Design? Women's Use of New Urbanist Neighborhoods in Suburbia."Journal of Planning Education and Research(2014): 0739456X14539353.
Post by Dan Trudeau (Macalester College) and Charlotte Fagan. 
Follow JPER on Twitter @JPER7
---
Making Healthy Places
The editors of the book "Making Healthy Places," recently published in a second edition by Island Press, discuss the intersections of public health and planning, including key concepts such as green gentrification, health impact assessments, and AI.
The Great American Exodus: A Conservative's Perspective
During his keynote speech on September 11 at the National Conservatism Conference in Miami, Florida Governor Ron DeSantis describes the demographic shifts in America since he became governor in 2019 in what he calls the 'Great American Exodus.'
This six-course series explores essential urban design concepts using open source software and equips planners with the tools they need to participate fully in the urban design process.
This course aims to provide an introduction into Urban Design Sketching focused on how to hand draw master plans using a mix of colored markers.
View More