Planning education and practice fail to recognize the importance of physical design and spatial planning. Randall Arendt diagnoses the root of the disorder and suggests some treatments for returning urban planning to good health.
---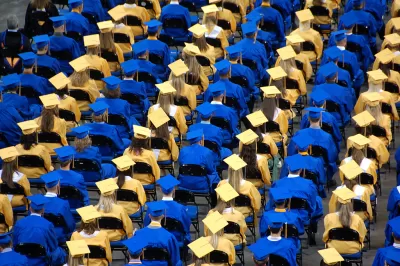 An Incomplete Education

Although the importance of physical planning has gained recognition over the last 20 years, planning education has lagged, becoming less relevant to the needs of graduates who are required to take many courses peripheral to jobs offered by state and local agencies, and by consulting firms.
Unfortunately, few planners' training includes detailed study of traditional towns and cities, or new and emerging urban forms meeting 21st century challenges. Planning students are generally not required to analyze how the scale and arrangement of a community's component parts (such as neighborhoods, streets and boulevards, parks and open spaces) contribute to its functioning as a livable, walkable, bikeable, sustainable place.
Many planning schools have focused instead on demographic trend analysis, sociology, engineering basics, planning theory, land-use law, public policy formulation, citizen participation, quantitative methods, transportation planning, social and health planning, local planning administration, gender studies, and GIS. All of these are important (particularly engineering basics as they pertain to slopes and hydrology), but it is curious that one of the profession's central subjects (i.e., the physical layout of towns and cities) is studied so little.
As Prof. Tom Campanella of UNC has observed, "Once the traditional focus of physical planning was lost, the profession was effectively without a keel. It became fragmented, creating a chronic identity crisis - a nagging uncertainty about purpose and relevance By forgoing its traditional focus and expanding too quickly, planning became a jack-of-all-trades, master of none." In the view of Prof. Eugenie Birch of the University of Pennsylvania, "Planning schools place too much emphasis on subfields such that students do not identify with being planners or with the sole distinguishing feature of the profession -- the town planning or physical planning knowledge that should unite the field"
As a result, planning education at most universities significantly underserves the needs of their graduates. In the words of Karen Hundt, who directs the Community Design Group at the Chattanooga-Hamilton County Regional Planning Agency, "Because too many planners focus on zoning and land use, rather than on three-dimensional aspects, they often cannot visualize what the codes and policies they write will produce."
Doug Kelbaugh, Professor of Architecture and Urban Design at the University of Michigan, adds that "cities and towns need more generalists to complement specialists on their staffs. If MUP graduates had more urban design and physical planning skills, it would improve our communities, as well as their career prospects."
The committees determining academic accreditation standards should take notice and greatly expand the number of their members who understand and appreciate the spatial and physical (as well as the economic, ecological, and social) aspects of community design. Otherwise, it is unlikely that curriculum imbalances will be redressed, as the ever-growing list of required nondesign courses crowds out opportunities for design training. As Prof. Emily Talen of Arizona State University notes, "I've never agreed that education for planners should elevate economic theory and methods above urban design. Why should input-output analysis be more important to an urban planner than knowing the elements of a walkable street?" The problem is so critical that some planning firms prefer hiring landscape architecture graduates instead of planners, as they possess solid design backgrounds and can learn most technical aspects of planning on the job.
Ill-Prepared Practitioners
Rick Bernhardt, Executive Director of the Metropolitan Nashville-Davidson County Planning Department, notes that "the largest deficiency in planners I've hired over the last 40 years is their complete lack of understanding of urban design basics. Successful implementation of planning programs for building more sustainable, efficient, and livable communities must be based on a solid urban design foundation."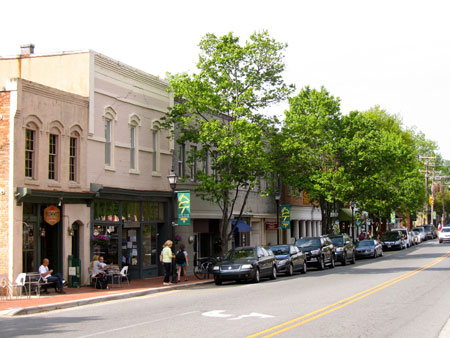 Davidson, NC has selected architects and landscape architects to fill its planning positions for decades. According to Dawn Blobaum, such design education trains one "to think broadly, to envision a future and articulate that vision, both verbally and through drawings. This serves you well as you puzzle through the many issues in town planning, as you discuss those issues with citizens, and as you codify those issues in ordinances."  An architectural graduate she hired as a planner (Kris Krider) recalls that the department was therefore able to create its own design unit which was useful in commenting on public works projects, in-house small area planning efforts, and site plan review.
In nearby Huntersville, Planning Director Jack Simoneau agrees: "Some design background is important. We've hired landscape architecture graduates, as their sense of design and ability to draw concepts are very helpful to developers and staff. We hired interns from landscape architecture and architecture programs to prepare our illustrated Design Guidebook."
Bill Collins, former planning director for Teton County WY, recalls that he "always filled at least one planning position with a design professional. Because of their lack of design skills, most planners work more as regulators. They learn to interpret codes and regulations but don't plan. Physical form has profound impacts on the character of places, yet planning the physical form is typically left to developers, with planners becoming bystanders."
Curriculum Imbalances
The Planning Accreditation Board (PAB), which conducts accreditation for all academic planning programs in North America, contains a wide range of academics, practitioners, and officials, including some designers. Its members are selected by four organizations: the APA appoints a public member (often an elected official or issue advocate); the AICP appoints three practitioners; and the Association of Collegiate Schools of Planning appoints one university administrator and three planning educators. Over the years the PAB has been divided on whether design should be a core curriculum requirement or just an elective or specialization, with the result that planning curricula at many universities have drifted away from having robust design and plan-making components to ones dominated by other fields of interest. To be fair, PAB members reflect the policies and priorities of the three organizations that appoint them, and are in essence messengers for those groups which have overseen the continued drift of planning away from its roots, ceding much professional ground to architects, landscape architects, and engineers in the process.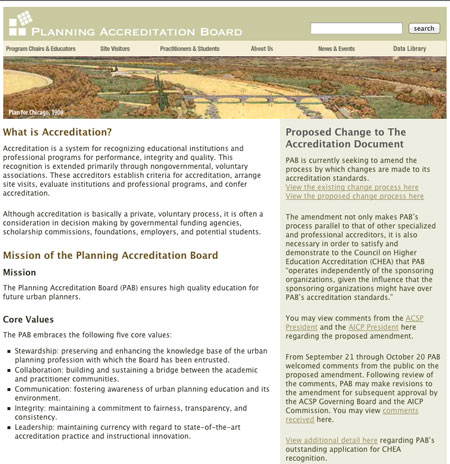 One consequence of not requiring more design and plan-making in curricula is that much faculty hiring has veered away from those core aspects of the profession. Faculty weak or uninterested in design produce more policy-oriented planners who then fill the ranks of the APA/AICP, providing little opportunity for breaking the cycle and infusing the profession with graduates sensitive to design issues and trained in spatial and physical aspects. The goal of planning education reform would not be to train all planning students to become designers, but to train some that way and to engage others in design issues so they learn physical design fundamentals. Many would agree with Lisa Wise, a Cal Poly lecturer who finds it "frustrating that physical planning is dominated by architects and landscape architects and that planning has become synonymous with permit-processing". 
Thirty-six years ago Mel Levin, a planning professor at Rutgers University, then with 11 years experience working for planning agencies and consulting firms, wrote "Why Can't Johnny Plan?", an article arguing for a spatial and physical planning component in planning education. In it, he asserted that students are not receiving "usable professional training" because faculty "haven't spent enough time in the real world of planning agencies and consulting firms. They have given their energies to earning Ph.D's and writing scholarly tomes, not drafting and implementing zoning ordinances If they can't teach students how to do the practical work of a planner, it's because they've never been real planners themselves."
As noted by Prof. Jon Rodiek of Texas A&M, 'Physical planning has become the unwanted child of many planning programs, where few faculty can teach physical planning /land use planning/ urban development because they have not been trained or experienced in these aspects themselves." Lamenting the wide "fissure between the practice of planning and the teaching of planning", Levin suggested that "faculty be required to have stipulated amounts of field experience as part of the procedure for hiring, promoting, or granting tenure", adding that "the younger untenured faculty could be granted one- or two-year leaves of absence to work for agencies and consultants."
Rodiek recommends that university departments break this cycle by proactively recruiting faculty trained and experienced in spatial/physical planning, form-based codes, and conservation design. "The purpose for introducing this physical planning capability is not to derail existing programs but to strengthen those programs' teaching skills and the employability of graduates." Of course, changes in faculty composition must be approached carefully so that existing faculty will not feel threatened.
Interestingly, academic planning departments were originally much stronger in design. The first independent department and graduate degree in city planning was created at Harvard by its landscape architecture faculty. Tom Comitta, a consulting planner from West Chester PA, writes that "From 1904 to 1935, students of city planning, landscape architecture, and architecture attended many classes together and learned how to become multi-disciplinary by cross-registering and learning each other's craft.  At MIT, in 1938, according to Vincent Kling, Sr., 'we all took classes together' (the students of architecture, planning, and civil engineering)." However, policy makers gradually tended to replace plan-makers after WWII, virtually excluding physical designers. Silo-building had begun.
APA's Urban Design and Preservation Division (UDPD) encouraged the PAB during the latest round of accreditation standard revisions "to place greater importance on urban design and physical planning in academic planning programs." The rationale, according to Jason Beske, past UDPD chair, is that "urban design courses provide valuable skills to help planners illustrate and implement planning policies and produce better projects." APA and AICP weighed in on this issue as well. Although this impassioned plea failed to produce any improvements, it did help avoid detrimental changes that would have further eroded design components.
Perhaps PAB members – and those who appoint them -- need to speak more with planning directors such as Jack Simoneau, who observes that "When planning departments have enough design work to keep an LA or architect on staff that's great, but an overwhelming majority don't. Therefore, reintroducing design into planning education is essential. Without it, each planner is on his own to figure things out. Every community would benefit, not just those with design standards. Such training would be invaluable in preparing long range/small area plans, helping to influence or demonstrate alternatives to developers, and helping communities recognize the importance of good design."
A Path Forward
For starters, all university planning departments should do as some already do, and invite graduates back after 5-10 years to speak candidly about which courses they have found most helpful -- and least helpful. The results, to be shared with the PAB, could help departments better prepare their graduates for jobs outside academia, and could help the PAB when revising accreditation criteria.
Changing the criteria upon which tenure decisions are based, to include recognition of professional accomplishments, is necessary as well. It's not uncommon for junior faculty to be denied promotion when he/she has focused more on professional practice and plan creation than on producing peer-reviewed articles for scholarly journals. This doesn't imply that any plan should be considered. In the words of Prof. Eugenie Birch, "such work must rise above the ordinary (advancing knowledge), and tenure committees would need to set criteria for judging such".
Talen suggests a middle ground: "There should be more non-tenured practitioners on faculty – 'professors of practice' (not simply adjuncts). Many schools take this approach and we should support that idea, not force these valued practitioners to become academic scholars too."
Apart from the few schools that emphasize physical planning, some others offer multiple tracks:
Nature abhors a vacuum and, unsurprisingly, architects have re-entered the planning realm (where they had been very active before WWII), to educate a generation of planners in designing livable towns and cities, chiefly through the CNU and the Form-Based Codes Institute. Similarly, landscape architects have also stepped in, advocating ecological planning and conservation design. To its credit, the planning establishment has gradually embraced these breaths of fresh air, although it continues to virtually ignore design education when shaping curricula. Sadly, not every planning school offers design courses, and very few require them.
It might be helpful if APA were to survey planning directors to determine how many municipalities have ordinances containing some design-based standard (e.g., highway overlay zones, TNDs, conservation design, form based codes). Communities with such standards would be asked if any staff has design training and, if not, would the directors see value in having personnel with such training. The results could inform the debate over striking a better balance in planning curricula.
On a final, hopeful note, the UDPD has been furthering the idea, originally proposed by AICP, of creating an Advanced Specialty Certification in Urban Design for AICP planners. And the Form-Based Codes Institute recently began looking at planning education and the role of design, with a view toward creating a coalition of advocates.
The time might therefore be growing ripe for substantial change, not merely another deck-chair rearrangement.

A longer, more complete version of this article, plus an updated list of co-signatories, will be downloadable after 11/9 at http://www.greenerprospects.com/products.html

---
Randall Arendt is a landscape planner, site designer, lecturer, and author of six planning books, all of which contain the word "design" in their titles. He is the former Director of Planning and Research at the Center for Rural Massachusetts, University of Massachusetts at Amherst, where he also served as an Adjunct Professor.
Signatories

The professionals listed below have added their names because, even though not all of them necessarily agree with every aspect of the article, they do feel that it raises very important issues that should be seriously discussed and addressed.
Ellen Dunham-Jones, Professor, Coordinator Master of Science in Urban Design, College of Architecture, Georgia Institute of Technology
Douglas Kelbaugh, FAIA, Professor of Architecture and Urban Planning, University of Michigan
Emily Talen, FAICP, Professor, School of Geographical Sciences and Urban Planning School of Sustainability, Arizona State University
Timothy Beatley, Teresa Heinz Professor of Sustainable Communities and Chair, Department of Urban and Environmental Planning, University of Virginia
Eugenie Birch, Lawrence C. Nussdorf Professor and Chair, Graduate Group, Co- Director, Penn IUR, University of Pennsylvania
Lawrence Vale Ford Professor of Urban Design and Planning, Department of Urban Studies and Planning, Massachusetts Institute of Technology, Cambridge, MA
Nan Ellin, Professor and Chair, Dept of City and Metropolitan Planning, College of Architecture + Planning, University of Utah
Jon Rodiek, Professor, Coordinator of Master of Landscape Architecture, Department of Landscape Architecture and Urban Planning, Texas A&M University, College Station, TX
Jack Ahern, FASLA, Vice Provost for International Programs, Professor of Landscape Architecture, University of Massachusetts Amherst
Frederick Steiner, Dean of the School of Architecture and Henry M. Rockwell Chair in Architecture, The University of Texas at Austin
R. Bruce Stephenson, Professor of Environmental Studies and Director of the Masters of Planning in Civic Urbanism Program at Rollins College, Winter Park, FL  
David Hopman, ASLA , PLA, Associate Professor, Landscape Architechture Program, The University of Texas at Arlington
Hemalata C. Dandekar Ph.D., Professor and Head, Department of City and Regional Planning, College of Architecture and Environmental Design, California Polytechnic State University, San Luis Obispo
David L. Prytherch, Associate Professor Sustainability Coordinator, Department of Geography Miami University, Oxford, OH
Will Green, Professor and Chair, Department of Landscape Architecture, University of Rhode Island
Paul Wack, AICP, Professor Emeritus, City & Regional Planning Department, Cal Poly, San Luis Obispo
Eric Sanden, Professor of Community Planning, College of Agriculture, Food, and Environmental Science, University of Wisconsin-River Falls
Andres Duany, FAIA, Founder and Principal, Duany Plater-Zyberk Town Planners, Miami, FL
Rob Robinson, AIA, Chairman, Urban Design Associates. Pittsburgh, PA
Judith Corbett, Executive Director, Local Government Commission, Sacramento, CA
Elizabeth Humstone, Lecturer, Boston Architectural College
Lisa Wise, AICP, Lecturer, California Polytechnic Institute, and lisa wise consulting, inc, San Luis Obispo, CA
David Dixon, FAIA, Principal in Charge of Planning and Urban Design, Goody Clancy, Boston, MA
Robert Orr, FAIA, Adjunct Professor, College of Engineering, Technology, and Architecture, University of Hartford, West Hartford, CT, and Principal, Robert Orr & Associates LLC, New Haven, CT
Todd Zimmerman, Co-Managing Director, Zimmerman/Volk Associates, Clinton, NJ
Daniel K. Slone, Esq. McGuireWoods LLP, Richmond, VA
Rick Bernhardt, FAICP, CNU-A, Executive Director, Metropolitan Nashville-Davidson County Planning Department, Nashville TN
Peter Katz, author, The New Urbanism; founding executive director, Congress for the New Urbanism; co-founder, Form-Based Codes Institute, Arlington, VA
Stephanie Bothwell, ASLA, CNU, Urban and Landscape Design, Washington, DC
Mark Hinshaw, FAIA, FAICP, LMN Architects, Seattle, WA
Alan Feinberg, AICP, FeinDesign, Frederick, MD
Victor Dover, FAICP LEED-AP CNU-A, Dover, Kohl & Partners Town Planning, Coral Gables, FL
Joseph Kohl, CNU-A, Principal, Dover, Kohl & Partners Town Planning, Coral Gables, FL
Jeff Speck, Principal, Speck & Associates LLC, Washington, DC.
John Francis Torti FAIA LEED AP, BD+C, President, Torti Gallas and Partners Inc, Silver Spring, MD
Doug Farr, AIA, Farr Associates, Chicago, IL
Roger Millar, PE, AICP, CFM, Vice President, Smart Growth America and Past President, Montana Association of Planners, Billings, MT
Connie B. Cooper, FAICP, President, Cooper Consulting, Dallas, TX
Carolyn Radisch, AICP, ORW Landscape Architects and Planners, White River Junction, VT
Theo H.B.M. Holtwijk, Director of Long-Range Planning, Falmouth, Maine
Thomas E. Low, AIA CNU LEED AICP ASLA NCARB, Partner, Director of Town Planning,
DPZ Architects and Town Planners and Chair, Civic By Design Center, Charlotte, NC
Jim Constantine, PP, Principal, Looney Ricks Kiss, Princeton, NJ
Donald Broussard, Principal, Town Planning & Design LLC, DeKalb County Planning Commission 2002-2006, Planning Accreditation Board member 1980-81, Atlanta GA
Tony Redman, AICP, Founder and Principal, Redman/Johnston Associates, LTD, Easton, MD
Marie L. York, FAICP, President, York Solutions LLC, Jupiter FL; Senior Fellow, Center for Building Better Communities, University of Florida.
Clayton W. Preston, RA, AIA ret., AICP ret., President, Village Habitat Design, LLC, Atlanta, Georgia.
Gonzalo Echeverria Halley-Harris, Senior Associate LRK Princeton, NJ and Lecturer at the Bloustein School of Planning and Public Policy, Rutgers University, New Brunswick, NJ
Jason Beske, AICP, Principal Planner, City of Arlington, VA and past chair of APA's Urban Design and Preservation Division
Harry Dodson, FASLA, Principal, Dodson & Flinker, Ashfield, MA
William J. Johnson, FASLA, Holland, MI
Carlos Rodrigues, AICP, Design Solutions for a Crowded Planet, Princeton, NJ
J. Kris Krider, Assoc. AIA, LEED Assoc.- Benchmark CMR Inc., Planning Director, City of Kannapolis, NC
Karen Hundt, AICP, Director, Community Design Group, Chattanooga-Hamilton County Regional Planning Agency, Chattanooga, TN  37402
Christine Dettore, Director, Monroe County Planning Commission, East Stroudsburg, PA
Anthony Flint, Director of Public Affairs, Lincoln Institute of Land Policy, Cambridge, MA
John Fernsler AIA, Principal, Wallace Roberts Todd, Coral Gables FL
Dawn Blobaum, Assistant Town Manager and former Planning Director, Davidson, NC
Charles M. Hanlon, Principal, Land Vision, Inc., Chicago, IL
Kara Wilbur, CNU, Director, Town Planning & Urban Design Collaborative, Gardiner, ME.
Michael Welti, AICP, Director of Planning Services, Behan Planning and Design, Saratoga Springs, NY
Carron Day AICP, CEP, CNU-A, Project Manager, PlanIt EAST, Swansboro NC
Lara K. Diettrich, Principal of Diettrich Planning, LLC; Florida Planning and Zoning Association State Board of Directors and Northeast Florida Past President; and Northeast Florida Regional Representative for the Florida Redevelopment Association
Ted Brovitz, Manager of Community Planning and Design, Howard/Stein-Hudson Associates, Boston Massachusetts.
Craig N. Benedict, AICP, Planning and Inspections Director, Orange County Government; Hillsborough, NC
J. Theodore Fink, AICP, Principal, GREENPLAN Inc., Past Professor of Land Use Planning, Bard College Graduate School of Environmental Studies (now the Bard Center for Environmental Policy).
Robert G. McKay, AICP, Director of Planning and Development, City of Lee's Summit, Missouri
Buzz Constable, Land Use Attorney, Investor, Conservation Planner, Loeb Fellow, Boston MA
Tony Sease, RA, PE, LEED-AP, President, Civitech, Inc., Durham, NC
Hazel Borys, Managing Principal, PlaceMakers, LLC; Organizer of the Placemaking@Work Education Series
Bill Dennis RA, Principal, B. Dennis Town Design, Providence RI
Sandy Sorlien, CNU-A, Principal, SmartCode Local, Philadelphia, PA
Deana Rhodeside, Director, Rhodeside & Harwell, Alexandria, Virginia.
Ken Suddreth, Community Development Director, Smyrna, GA
Kirk Johnson AICP, Senior Planner/Team Supervisor, Envision Skagit 2060 Project Manager, Skagit County Planning & Development Services, Mount Vernon, WA  
David W. Woods, Ph.D., AICP/PP, Principal, GreenWoods Associates, Port Jefferson, NY
Christopher G. Parker, AICP, Director of Planning and Community Development, Dover, NH
David A. Hoover, AICP, Owner, PlanThis, Galveston, Texas
Dave Waden, ASLA, Senior Planner, City of Elgin, Elgin, IL
Wayne Feiden, FAICP, Director of Planning and Development, City of Northampton, MA
Robert D. Cotter, FAICP, PP, Planning Director, Jersey City, NJ
W.J. "Bud" Melton III, Vice President, Bowman-Melton Associates, Inc., Dallas, Texas
Richard K. Magee, AICP, Deputy Director Metroplan Little Rock, AR
Roger Eastman, AICP, Zoning Code Administrator, Flagstaff, AZ  
Tom Comitta, FAICP, President, Thomas Comitta Associates, West Chester, PA
James A. Moore, Ph.D., AIA, AICP, LEED AP BD+C, Director of International Urban Planning, Henningson Durham & Richardson International, Inc., Tampa, FL
Milt Rhodes, AICP, CNU, Urban Designer, New Urban Water Works, Raleigh, NC
Roger Hawk, President, Hawk Planning Resources LLC, Concord, NH
Lawrence Calderon, MAURP, Chief of Current Planning, Planning & Development Services Department, City of Gainesville, Florida
Milton Herd, AICP, Herd Planning & Design, Leesburg, VA
Tim Brennan, Executive Director, Pioneer Valley Planning Commission and Adjunct Faculty Member at University of Massachusetts Amherst and Westfield State University
Jack Simoneau, AICP, Planning Director, Huntersville, NC
Joel Russell, Esq., Principal, Joel Russell Associates, Northampton, MA
David Clear, Senior Management Analyst, San Antonio Metropolitan Health District, City of San Antonio, TX
Al Zelinka, FAICP, CMSM, Community Development Director, City of Riverside, CA
Dallas Jasper, CSBA, Executive Director, Sustainable Building Advisor Institute, Seattle WA
Terry H. Martin, Ph.D., formerly Chief Planner, Cattaraugus County, Little Falls, NY
Miguel Angel Vazquez, AICP Healthy Communities Planner, Riverside County Department of Public Health, Riverside, CA
Dean L. Bennett, Director of Community and Economic Development, Hampden, Maine
Amelia C. Sondgeroth, AICP, Principal, Canales-Sondgeroth & Associates, Austin, TX
Susan Britt, AICP, Planning & Community Development Manager, City of Tega Cay, SC
Peter Kasabach, Executive Director, New Jersey Future, Trenton, NJ
Mike Hollibaugh, PLA, AICP;  Director, Department of Community Services, City of Carmel, Indiana
Greg Kessler, Planning Director, New Berlin, WI, and Adjunct Assistant Professor in land-use planning practice, UW Madison School of Architecture and Urban Planning
Susan E. Caswell, AICP, Assistant to the Director, Community, Environmental, and Development Services Department, Orange County, Orlando, FL
Michael Behrendt, AICP, Planning Director, Durham, New Hampshire; Board member of CNU New England
Tim Goodfellow, AICP, Principal Planner II, Frederick County Department of Planning and Development Review, Frederick MD
Sharon Wason, AICP, Town Planner, Foxborough, MA
Edward J. Mitro, Town Manager and former Director of Planning, Zionsville, IN
Erin A. Degutis, RLA, ASLA, AICP, Senior Project Manager, TRC Solutions, Denver, CO
Jonathan J. Reiner, AICP, Director of Planning and Community Development, North Kingstown, RI
Richard G. Gertson, ICMA-CM, AICP, Community Development Director, City of Mesquite, Texas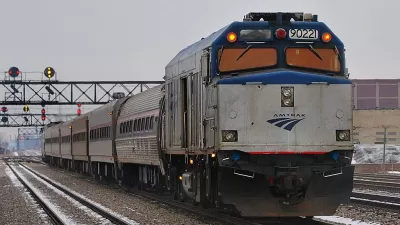 Amtrak Ramping Up Infrastructure Projects
Thanks to federal funding from the 2021 infrastructure act, the agency plans to triple its investment in infrastructure improvements and new routes in the next two years.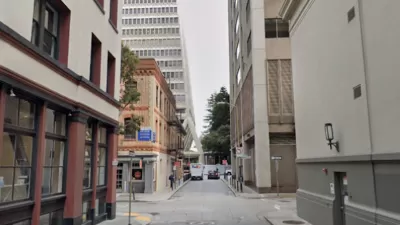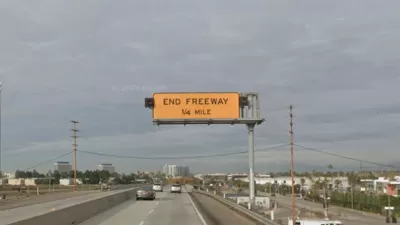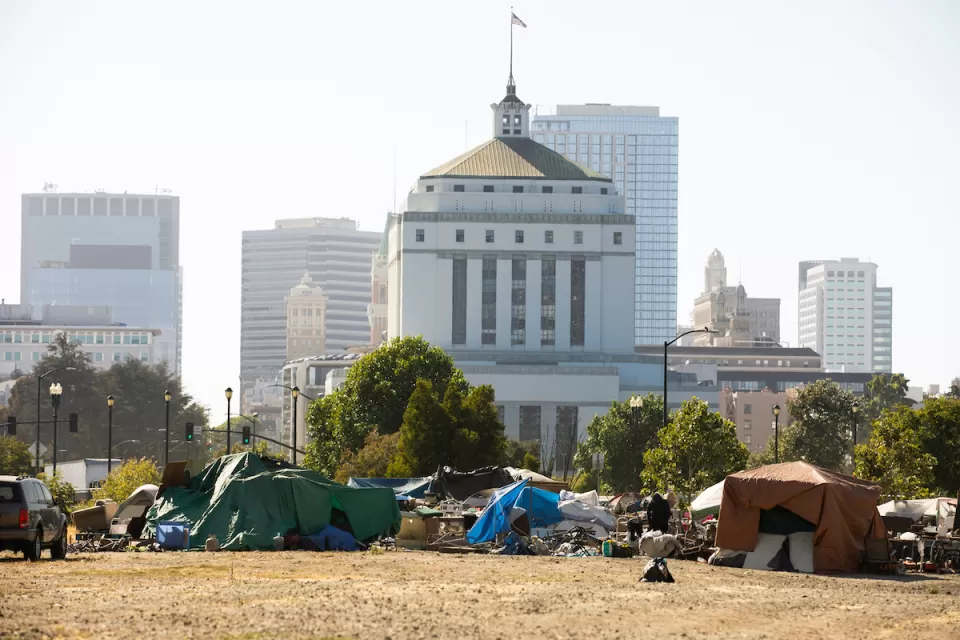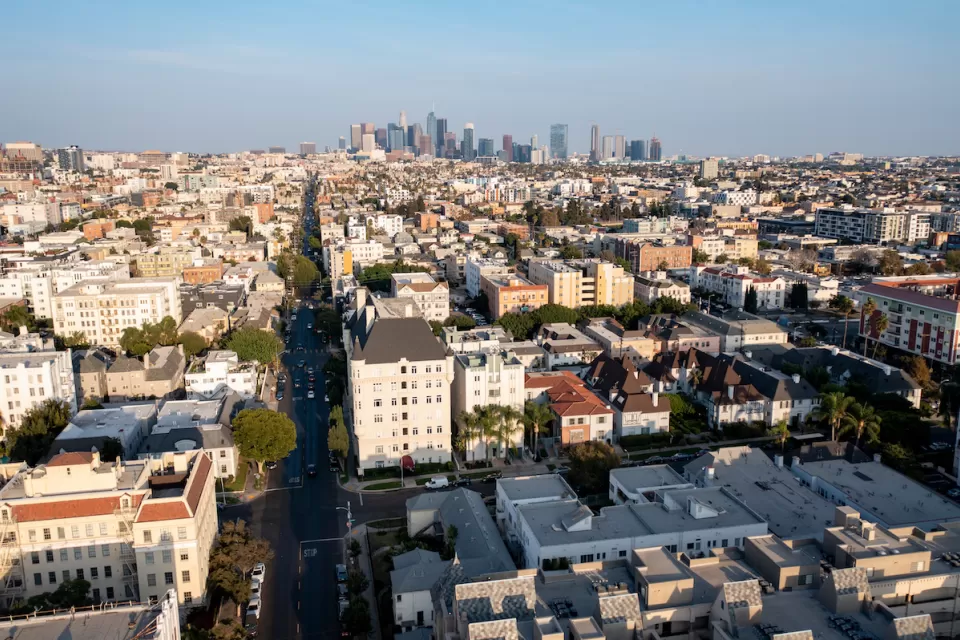 Advancing Shade Equity in LA's Koreatown
Koreatown is one of Los Angeles's densest and most park-poor communities. A privately funded tree planting initiative will bring some much needed greenery and shade to the area.
This six-course series explores essential urban design concepts using open source software and equips planners with the tools they need to participate fully in the urban design process.
Learn the tools for implementing Universal Design in planning regulations.
View More